Everybody needs a dotting tool. There are lots of things lying around the average house that you can use as a makeshift dotting tool – bobby pins, the ends of makeup brushes (these will give you big dots), the tip of an old biro (remove the ink well first), cocktail sticks.. use your imagination.
But proper dotting tools to add to (or even to begin) your nail art arsenal are SO cheap, there's no reason not to get them. You can get sets of 5 on eBay for like, less than £2 – basically every single one of those Hong Kong based nail art sellers will have them.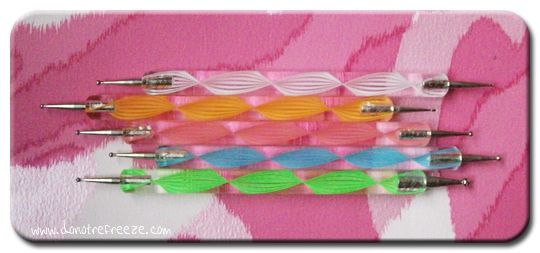 Just trust me, you NEED dotting tools if you're at all interested in nail art. It's the first place to start, really! Don't be put off by thinking 'oh, but all they can do is polkadots' – so not true! Just use a bit of imagination – even if they primarily are for making dots on the nails, think about all the millions of different designs you could incorporate dots into. And don't be put off if you're not sure how to use them – literally all you do is get a blob of nail polish on a palette/piece of paper/whatever, dip the tool in it, and dot it onto the nail.
They seriously couldn't be easier to use, and they couldn't be more invaluable to a nail artist. All of the following nail designs featured on my blog used a dotting tool for something!
:: Current Nails (circuit board inspired)
:: Candy Stripes (MUST get around to recreating this one!)
:: The Original Easy Peasy nail art tutorial!
:: Peachy Keen Leopard Print (Check how frigging long my nails were back then!)
:: Some massively old and messy polkadots
So I hope that extensive list has helped you to see how awesomely versatile dotting tools can be, and has convinced you that if you don't already have any, you NEED them in your life. That is all! :)