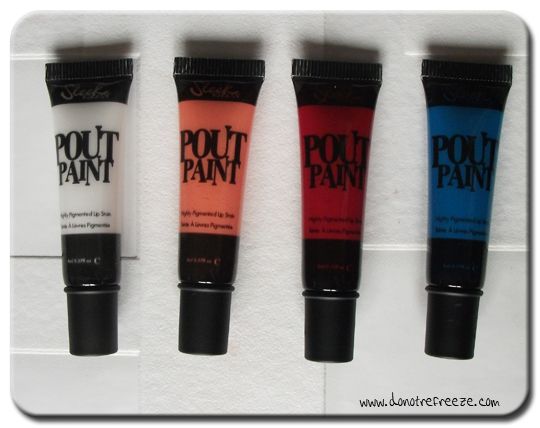 You MUST have seen a bit about these by now – the high street's answer to the infamous OCC Lip Tars. We actually had a chance to play with these way back at the beginning of April at the Destination S event – I mixed a beeeautiful peachy pink colour that I named Refreeze, naturally ;P. I wish I had it now! But anyway, the Pout Paints are now on the shelves of Superdrug – quelle excitement!
Sleek were nice enough to gift me with 4 of the 11 available shades. Pictured above, from L-R; Cloud 9, Peachy Keen, Pin Up and Peek-a-Bloo. Like I said, I'm sure you know a little about these anyway but for those who don't and are having a WTF moment at white and blue – similar to OCC Lip Tars, Sleek MakeUP Pout Paints are meant for mixing and creating your own shades; Cloud 9 is meant for cooling (lightening) shades and Peek-A-Bloo for warming (darkening) them. Although, if you can comfortably rock pure white or blue lips then big respect to you! Haha.
Again, for those who aren't familiar with this product or it's Obsessive Compulsive cousin, I'm not kidding when I say you only need the TINIEST amount of product to cover your lips. You literally need no more than the size of a pinhead. So just imagine how long these will last you! And I would highly, highly suggest not even trying to apply without a lip brush!
Now I really need to talk about why I think these are BETTER than Obsessive Compulsive Cosmetics' cult Lip Tars. To put it succinctly:
:: They are cheaper (£4.99 for 8ml vs around £8.99 for 8ml)
:: They are more accessible, being available in Superdrug. Correct me if I'm wrong but I don't believe there's anywhere in the UK that you can buy OCC in a store, I think it's just online only so with Sleek's version you can try before you buy.
:: They are less drying – I'm too lazy to compare lists of ingredients, but whilst OCC dries down to a matte finish and tends to dry out the lips, Sleek dries without going matte and keeps the lips soft.
:: They last longer – When I say all day I mean all day. Although I don't tend to really eat during the day, so I might need a second opinion there! But they hold fast through drinking and my afternoon smoke whilst still looking freshly applied. I always found that OCC would start to fade after 4 or 5 hours, around the time it began to make my lips too dry and flaky to bear!
:: They don't bleed – Don't even think about wearing an OCC Lip Tar without a lipliner, else you'll be feathering all over the shop. But you can easily get away sans-lipliner with the Pout Paints.
:: They have better packaging – This is demonstrated in the picture below. With both products you need only a tiny, tiny speck of product and this is MUCH easier to achieve with the Sleek one whereas you can see on the OCC one there's product all over the place. I much prefer the long nozzle (is that the right word for it?) on the Sleek one.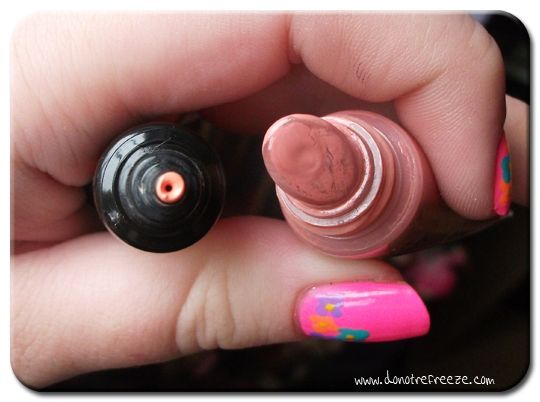 Mind you, all this isn't to say that I dislike OCC Lip Tars. I've been quite the fan of them for a long time, but I honestly have to say that I like Sleek's version better. To be honest with you, I can't fault them (and you know I'm not afraid to fault things, haha) and I am definitely going to collect a few more shades!
Below is a shade I mixed with Peachy Keen, Pin Up and Cloud 9. It was a ratio of about 3:1:1 – in miniature!
Have you tried Sleek MakeUP's new Pout Polishes yet? And how about OCC Lip Tars? If you've tried both, which did you prefer and why?