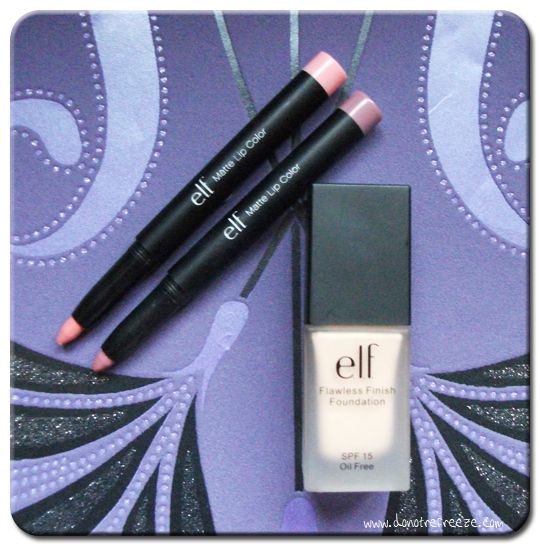 I have big love for ELF Studio. I use several of their products in my everyday face routine, so they must be doing something right! I've tried a vast amount of products in the range at one time or another and I've never really disliked anything. I did have a bit of a gripe with the mineral infused primer last summer, but they have been forgiven because they've gone on to impress me time and time again.
These two new additions to the range were released recently – Flawless Finish Foundation and Matte Lip Colour. Just to clarify, these were sent to me but I buy a LOT of ELF Studio products with my own money because I love it. Here's a quick review of each!
Flawless Finish Foundation
With an oil free formula and SPF 15, it also comes in a shade that is actually light enough for me! Rejoice! Funny though how the shades don't necessarily hold true through the whole range – My shade in this foundation is Porcelain, which is very pale. I also use the Tinted Moisturiser in Porcelain but that's much darker by comparison. Odd! Anyway, here's those before and after shots that you love so much – sorry, I'm at the spotty part of my cycle at the moment!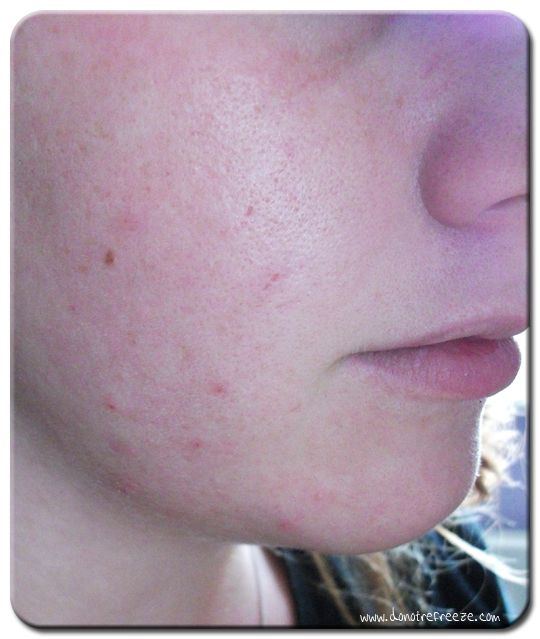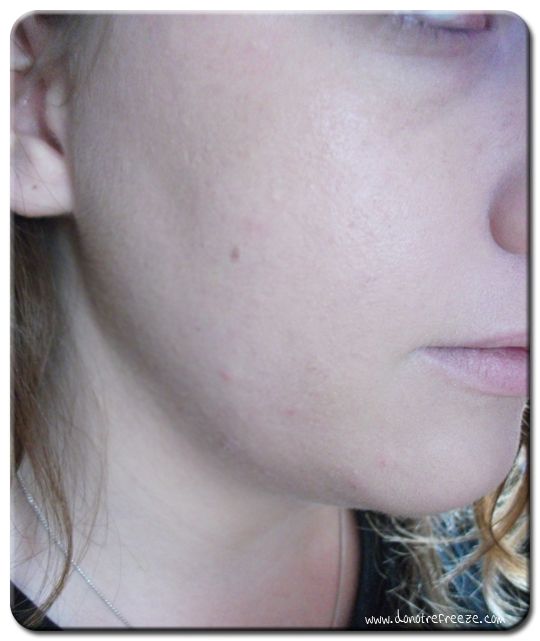 This is one of those hard-to-find foundations that doesn't go shiny within a couple of hours on my oily skin, presumably thanks to the oil free formula. I like the way it applies, although it is a moderate to high coverage foundation (at least in my opinion, but I'm a tinted moisturiser kinda girl more often than not). But I just buff it in to within an inch of it's life (with an ELF Studio flat top powder brush, incidentally) to make it a coverage I'm more comfortable with. Also, it does tend to exacerbate any dry patches I might have. Having said that, most foundations do in my experience. I also have a bit of an issue with the smell. I had a quick look at the ingredients list and it whilst it doesn't say 'Parfum', it has a really perfumed smell. That's something you might want to bear in mind if you have sensitive skin – luckily I don't, I just hate the smell! It smells like old lady perfume. Once it's been on my skin for 20 minutes or so and has set in, the smell goes. Either that or I just get used to it, but either way it annoys me!
The packaging's great, though – sleek shape, heavy and sturdy feel, luxury-looking frosted glass, and of course a pump. It should be illegal to release foundation in a bottle without a pump. Overall this hasn't blown me away, but I'm liking it nonetheless.
Matte Lip Colour
I love these! I have the shades Tea Rose and Coral. I was expecting Coral to be bit darker and more orangey/reddy, but it's much more on the peachy pink side of coral. Take a look:
Tea Rose has quite a lilac tone to it, it's an interesting shade that surprisingly suits my skintone, but it definitely makes my teeth look even more yellow than they already are.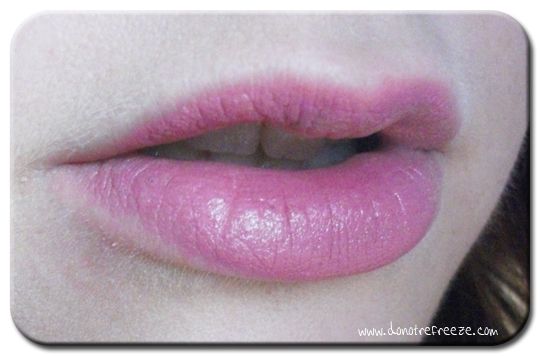 Regardless of shades, I really really like these! I usually have a bit of trouble with matte lip products. Despite my worrying addiction to lip balm, my lips can become dried out VERY quickly if I use a product that they don't like. These haven't given me any problems whatsoever – whilst their finish is definitely matte, they don't look or feel dry. I sometimes think matte lips can be very ageing if they don't wear nicely but these just don't look dry. Which is great! They are also moderately long lasting, they survive a smoke no problem but you will need to reapply after eating. There's two more shades in the range, Natural and Praline, but it's a shame there aren't more shades because I love these! I hope they bring out more eventually.
So – you might like to try the Flawless Finish foundation (£6.50) if you have oily skin and like a medium coverage. But really, I think everybody should try at least one of the Matte Lip Colours (£3.50)!
Are you an ELF fan?