I decided against doing a July Favourites post, since the small amount of makeup I wore for the whole month was all comprised of old tried and tested favourites which have been featured in previous monthly favourites, so I didn't just wanna regurgitate the same stuff. :) Have some nails instead!

When I'm pressed for time, I know I literally cannot go wrong with leopard print which is why it's one of my most commonly worn nail designs. But it never looks the same twice because it looks great with so many colour combinations, like pink and gold, or purple, or even multi coloured on a cream background.

Because I always opt for leopard print in a pinch, I'd somehow managed to forget that there's something even easier and faster. Polkadots! Duhhh.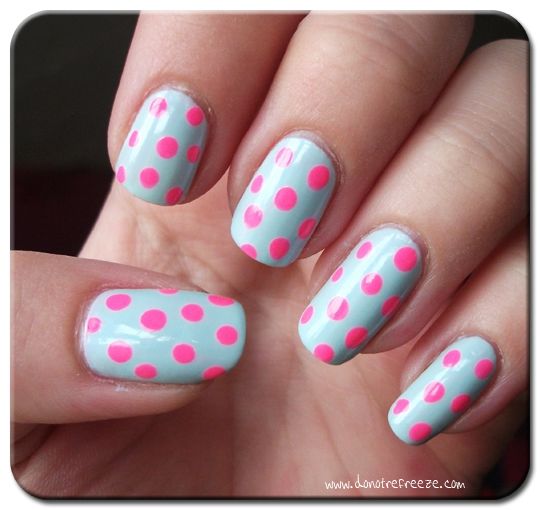 I used Hard Candy Sky for the base colour. When I bought this I thought it would be a pretty good dupe for Eyeko Pastel Polish (you can see that in action here), just with slightly less shimmer. Speaking of Eyeko, can you believe that they're discontinuing their nail polishes? WHY? Fail.
Anyway! I used three thin coats of Sky for opacity but I could have got away with two slightly thicker ones. I did the dots with a dotting tool (no shit) and Sinful Colors 24/7. That is one BRIGHT pink! I've been wearing it on my toes lately and it's amazingly bright. Because 24/7 is pretty much a neon, the dots dried quite matte. I liked how it looked and was almost tempted to add a matte topcoat to the whole manicure, but went with a normal one so it would last longer.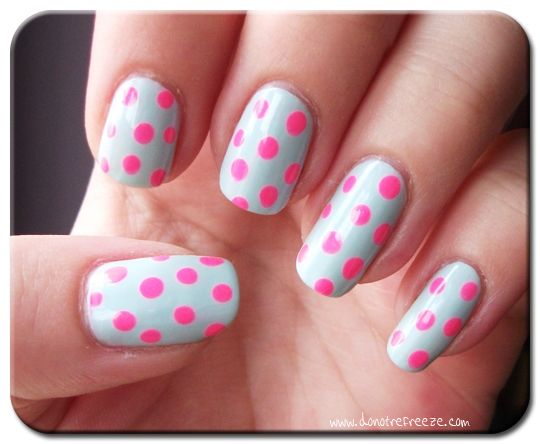 One little thing that bugs me about doing simple manicures, though, is that they get more compliments! I had at least 6 customers comment on them at work in one day*, and that always seems to happen when I do something really easy. But conversely when I do something more intricate and time consuming, no one ever seems to notice! Haha. Am I the only one who finds that? I guess it's because simpler designs tend to be more bold and in-yo-face?
I love the colour combination here. It makes me feel so happy and summery! I hope you enjoy it too :)
*Speaking of work, don't you think it's awesome that one of the girls at work calls me Nails? My boss's name is Leanne too, so to save confusion she's Boss and I'm Nails. Awesome. Hi Katie :3