Hello! I'm sorry I'm a couple of days behind my posting schedule. I was supposed to be off work over the bank holiday weekend but I had to work at the last minute all three days so I haven't had a chance to get on!
Today I have a guest post kindly written by the gorgeous Mel. Mel lives really close to me, actually – big up Essex bloggers yeah? ;D (I kid I kid…). Anyway, here's Mel!
**********
I volunteered to do a guest post for the lovely Leanne and so she sent me a couple of bits in the post with some great headed letter paper (Sorry couldn't resist!!) to review.
I love nail products, especially varnish but am open to trying new things and was pleasantly surprised when I saw these Nailene Nail Studio Nails and Nailene Ultra Adhesive Tabs. Last time I think I ever tried false nails was when I was about 16 so I'm sure things have come a long way since then and that was using nail glue!
Nailene Ultra Adhesive Tabs take the pain out of gluing with false nails! In fact they save a lot of time and mess and in my opinion are much more gently to you real nails underneath! They guarantee that they will last up to 5 days when you use them; they are also easy to put on and remove after.

I was quite interested by these as I have very weak nails at present from removing my acrylic nails and am trying to get them back to peak condition. The thought of using something that is non-damaging to my nails is appealing.

The best way to describe Nailene Ultra Adhesive tabs is they are like double sided bits of tape but a little thicker. The tabs are transparent pink so you won't see them under colored false nails nor under the French white tips I will be using in this review.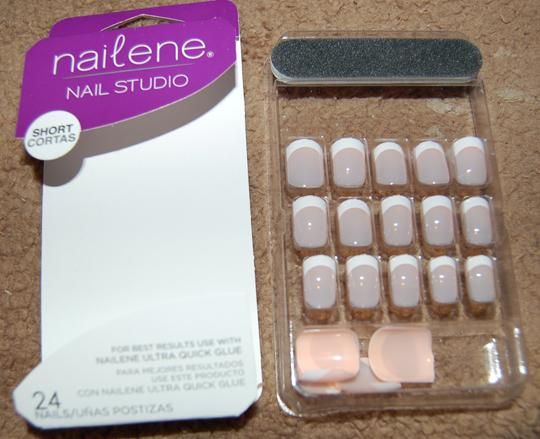 Nailene Nail Studio Nails are good quality nails that feel quite strong without being super thick and fake looking. The ones I am using are French white tips and are short so they don't look like talons! I really liked the look of the nails firstly, as they did look quite natural but also as I'd never tried a Nailene product and had heard good things about them.

In the false nails pack you have a selection of different size nails. You also have an emery board (nail file) but this is namely for use when you are using nail glue and not tabs. I tend to go through the pack (Much like when I am doing nail tips) and choose which nail matches mine for size (width) and put them aside in order so I can apply them quicker.
This nail system is very easy to apply; you look at the tabs and choose one that is closest to your nail width.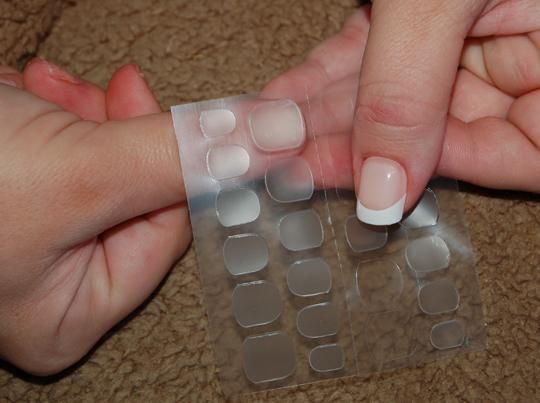 Take the tab off of the backing paper either with your fingers or some tweezers and apply it to your nail as close to the nail bed as possible.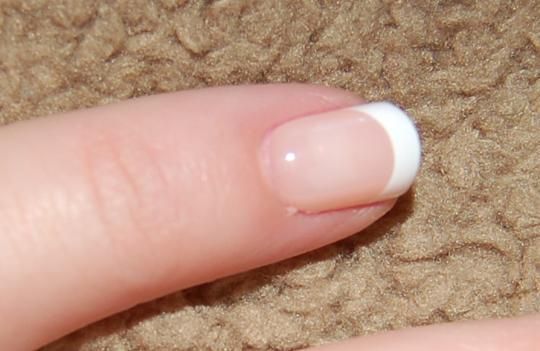 Smooth it out so there is no air bubbles with your finger and then apply the false nail and press firmly. Repeat this process for each nail.

Voila you have perfect looking nails that look natural and beautiful!
When you are fed up with your nails, or maybe have lost a few and want to remove them it's so much easier than if you have used nail glue! Just gently push the false nail down your nail, remove it and then peel any glue that is left behind off with your fingers. If you do have some residue still you can easily remove this with nail varnish remover. You now have your original nails in EXACTLY the same condition as they were before!
These Nailene False Nails should last up to 5 days when using the Nailene Ultra Adhesive Tabs. I found it was 3 days before I lost my thumb nails as they slid off. I will be honest and say I wasn't careful with them and did all the normal things I usually do; housework, washing up, cleaning, playing with the kids etc. Every one commented on how natural they looked and it wasn't till I said they were false nails people realized! They had a lovely high gloss to them and were so smooth they felt lovely on!
Nailene has changed my views on false nails from years ago, especially with the use of Nailene Ultra Tabs! I would consider using them again especially at present where my own natural nails are so weak and you could easily wear these over the top till you own have grown and are strong again!

Nailene Ultra Tabs are priced at £2.49 and the Nailene Nail Studio Nails are £4.69. You can purchase them in Boots, Superdrug, Tesco and Asda.
Lots of Love,

Mel xxxx

Http://www.30somethingmel.co.uk
**********
Thanks Mel, great review :)