I'd be surprised if you hadn't noticed by now, but my nails have been pretty short for a while. Well, whenever I say that I always get people telling me my nails are still long, but I mean short by my own standards! Haha. Anyway, I decided it was about time to dust off the old Konad, which only ever comes out when my nails are stumpy.
I don't think I'd ever used this particular Konad design until this manicure. It's from plate M64, and I like it more than I thought I would. I wasn't quite sure about it on the plate, but once I gave it a go on the nails I actually really liked it! I also made a conscious effort to stamp the image a different way round on each nail so it didn't look too uniform.
Naturally this manicure didn't last long, since the base colour is that infernal GOSH Holographic. Beautiful polish, atrocious wear time! I did the stamping with Illamasqua's Scorn, which I've discovered isn't super good for stamping. Whilst Scorn is a perfectly opaque matte black when painting the nails, it comes out quite weak and sheer with stamping.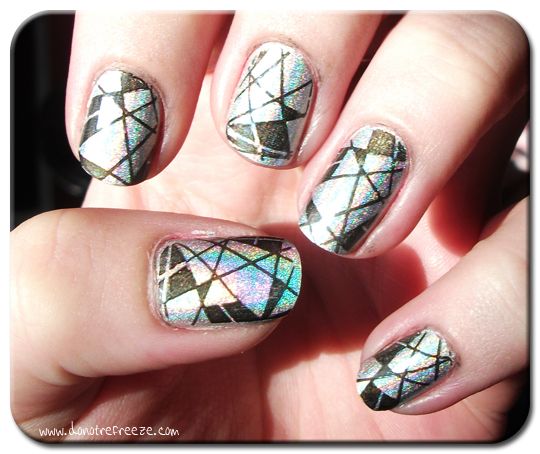 So yeah, I thought this was pretty awesome and futuristic-looking. You like?