Half of these monthly favourites are new acquisitions, and the other half are mega old! Funny how things are sometimes :)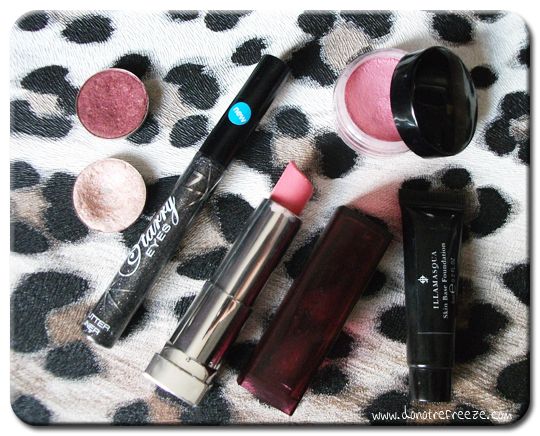 :: MAC Eyeshadow in Grand Entrance – I think I actually included this in my monthly favourites once before last year, in September or October or something. There's just nothing not to like about it, really! I've just about hit pan on this one now, and I'll be really disappointed when I eventually use it all up as it was limited edition. I think it was part of the Love That Look collection in 2009.
:: MAC Eyeshadow in Cranberry – I've always loved this one, always will. I think it's a colour that quite a few people are apprehensive of, but I like to use it in all sort of ways – I'm not afraid to use it all over the lid as seen here! One of my favourite effortless ways to wear it, though, is just blended through the crease with Grand Entrance on the lid and some precise black liner. An easy everyday eye for me.
:: 17 Starry Eyes eyeliner in Supernova – A pretty new purchase. I've got a few glitter eyeliners, but not actually a black one until now, believe it or not! It's actually quite opaque on it's own, it seems to be suspended in a black gel as opposed to a clear one and I find the brush on this easier to work with than the Collection 2000 Glam Crystals brushes. Even though it's pretty opaque alone, I prefer to wear it over ELF Studio Cream Eyeliner to give it an even darker base colour. This is so great for adding just that little something extra to a plain eye (I don't bother with eyeshadow most days) and all it takes is an extra 60 seconds!
:: Inglot cream blush shade 80 – This was featured in my last post so there's not much I can say without regurgitating what I said in that post, but it's just amazing. The Inglot cream blushes have a really creamy, almost mousse like texture and blend out wonderfully. This shade is PERFECT for me.
:: Illamasqua Skin Base Foundation – I promise I'll review this properly at some point soon, but it's uh-maaazing I swear. I'm nearly out of my little sample tube so I'm definitely going to have to buy a full size bottle. This offers fantastic coverage without looking heavy or cakey, and aaahh I just love it. Review soon, promise!
:: Maybelline Color Sensational lipstick in 112 Ambre Rose – I got this when the Color Sensational lipsticks first came out. In fact, it was probably one of my first lipstick purchases when I really started getting into makeup – and I love it just as much now as I did back then. I sort of 'rediscovered' it recently, I have to confess I'd forgotten about it, but I'm so glad I've found it again. Such a pretty, easy to wear colour. It's nearly empty, though – gonna have to get me a back up, aren't I?

Grand Entrance, Cranberry, Supernova alone, Supernova over ELF cream liner, Inglot 80, Ambre Rose, Illamasqua Skin Base (shade 5)
What were your favourite products in June?