I'll be coming home on the day you read this! Today we have an awesome ombre manicure from Sonja at Happily Polished. Hope you like!
**********
Hi everyone,
My name is Sonja from Happily Polished. I have the great honor of making this guest post while Leanne is away. I am fairly new in the blog-world and I have never tried guest blogging before, so when Leanne mentioned that she was going away for a while I thought this would be a fun opportunity.
Since this is a guest post, I asked Leanne what she wanted to see and after she'd looked around on my own blog she mentioned that she liked the ombre manicures, so I promised to look through my stash and see if I could come up with something fun. At the moment I'm really into taped mani's so I tried to combine the those to with each other and make some kind of blocking-ombre manicure. This was the result: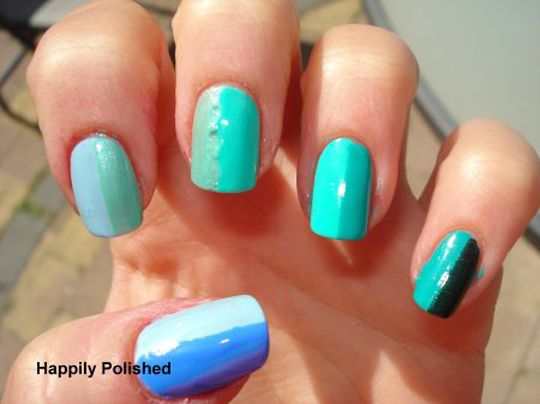 I originally didn't like the outcome of this because I had a slight tape failure on my middle finger so I didn't bother with the clean up and thought I just take some pictures to see how it would look on camera. It turned out that on the actual camera display there was not colour difference on my index, middle and ring finger. In order to try and save the manicure I decided to give it a coat of glitter and this is how it turned out: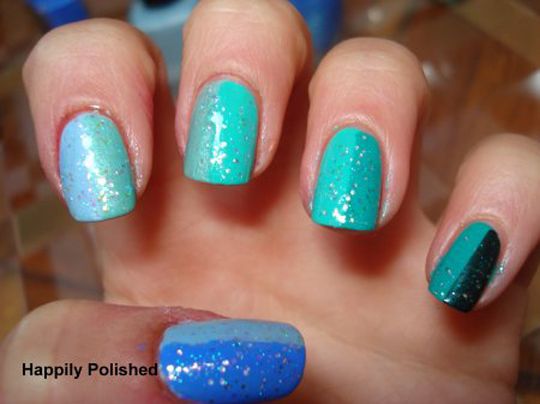 Though it the colour became less distinguishable I actually like it better with the glitter.
I used the following products:
- H&M – Blue my mind
- Inglot 970
- Franken minty shimmer green
- Depend (turquoise)
- Maybelline Colorama –Urban Turquoise
- Sally Hansen – Jumpin' Jade
- OPI – Last Friday Night
That's all I have for you guys, I hope you liked it
Xoxo
**********
I love it, thank you Sonja! The next guest post will be by Daniella of Madame Gourmand – and I'll be back resuming normal service shortly!