Hello! Are you missing me yet? I wouldn't be surprised if you weren't since there's been lots of fantastic guest posts going on! Here's a mouth-watering one from Louise of GretalRabbit Writes – enjoy, but try not to salivate on your keyboards!
**********
Hi, I'm Louise from GretalRabbit Writes; and whilst the lovely Leanne is off enjoying herself on holiday I thought I would share a delicious cupcake recipe with you :)
Red velvet cupcakes are amazing; not only do they taste great but they look beautiful (and very impressive) and they're not difficult to make. I've taken (and tweaked) this recipe from the hummingbird bakery recipe (cupcake GODS!) I know there are quite a few steps and ingredients, but it really is an easy and foolproof recipe, honest!
You will need: (this will make 12 smallish cupcakes or 10 large ones)
60 g unsalted butter (at room temperature)
150 g caster sugar
1 egg
10 g cocoa powder
20 ml red food colouring (this makes the washing up look like a murder scene)
½ teaspoon vanilla extract
120 ml buttermilk (or 5ml lemon juice and 125ml milk; mix together and leave to stand for 5 minutes before using, it will curdle and look/smell gross but don't panic, it's supposed to)
150 g plain flour
½ teaspoon salt
½ teaspoon bicarbonate of soda
1½ teaspoons white wine vinegar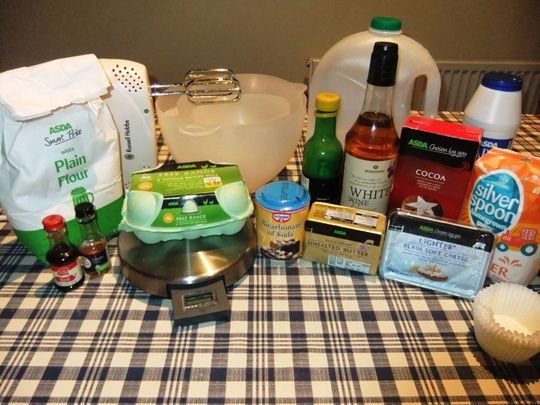 1. Put the butter and sugar in a bowl, then mix together (I use a hand-held whisk, but you can probably use a spoon, it'll just take longer) on medium speed, until it's fluffy. Make your 'buttermilk' milk/lemon mixture if you're not using real buttermilk.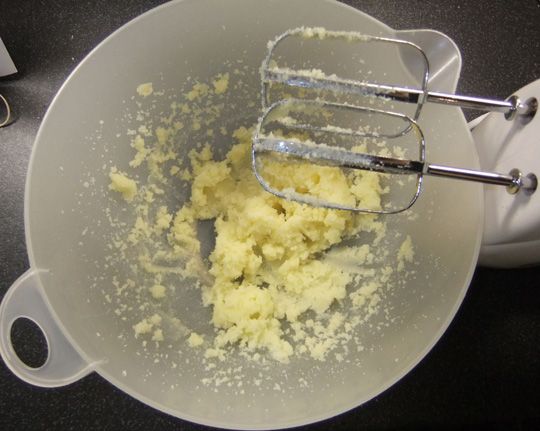 2. Add the egg to your mixture, and beat on a high speed until evenly mixed.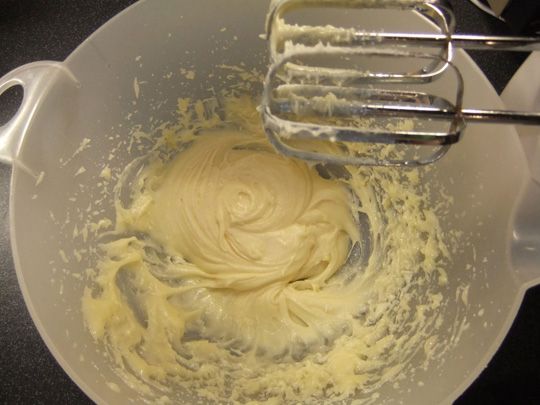 3. In a separate bowl, mix the cocoa power, red food colouring and vanilla extract to makes a thick paste (a lovely deep red colour)
4. Add the cocoa paste to the butter mixture and whisk thoroughly.
5. Turn your whisk to its slowest speed, and gradually add ½ of the buttermilk (or the milk/lemon juice mixture, which is what I always use- buttermilk is expensive!)
followed by ½ of the flour. Repeat until all the buttermilk and flour have been added then beat on a high speed until your mixture is smooth.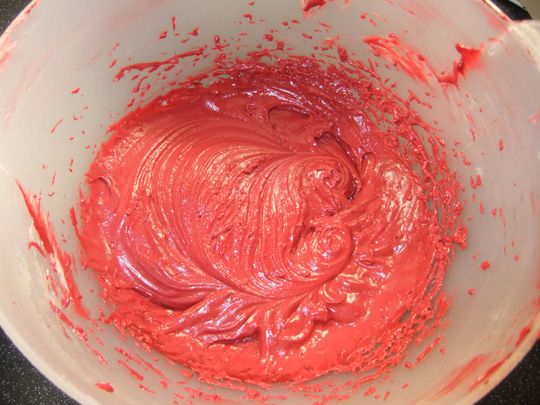 7. Add the salt, bicarbonate of soda and white wine vinegar (I like this step- it gets all fizzy! though it does smell foul…) Mix on a low speed until it's all combined, then give it one last mix on high speed for about 2 minutes.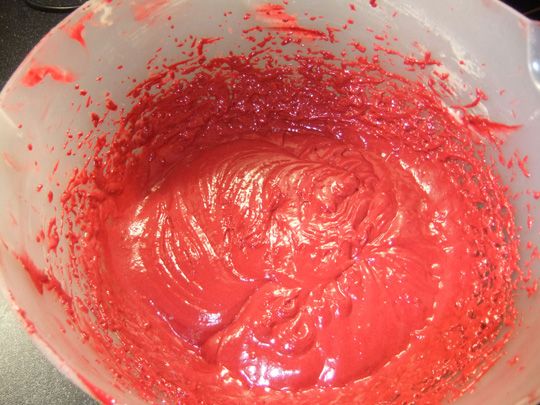 8. Spoon into cases, about 2/3 of the way full, (use the 'two spoons' method to make it easier) and bake in a preheated oven at 170°C /325°F/Gas mark 3 for 20- 25 minutes. Stick a skewer/knife into the centre- if it comes out clean they're done. They should feel springy and bouncy on-top, and smell delicious.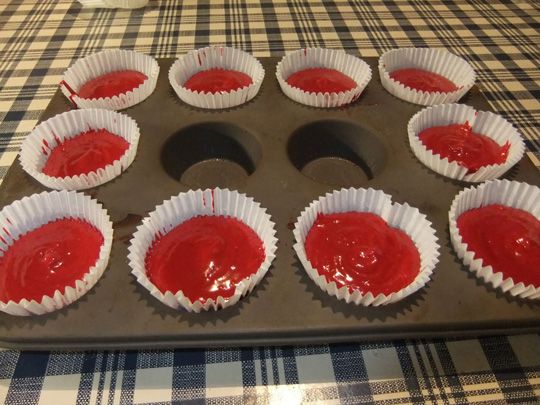 9. Place your cupcakes onto a cooling rack to cool completely, and then frost them.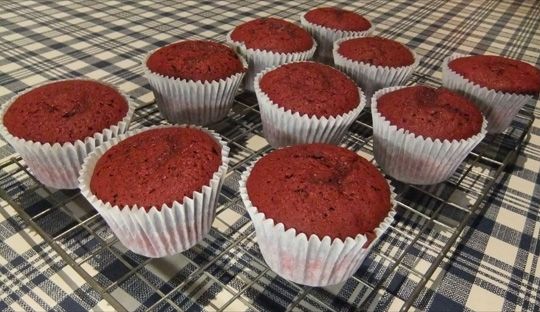 For the frosting you will need:
300g icing sugar (sifted)
50g unsalted butter (at room temperature)
125g cream cheese
1. Beat the icing sugar and butter at a very low speed (otherwise you'll get icing sugar all over you kitchen, I don't think I'll admit how many times I've managed to do that, I sometimes just add the icing sugar, butter and cream cheese all at the same time- it's less messy!) until it's well combined.
2. Add the cream cheese and beat until evenly mixed. Then beat on a high speed until the frosting is light and fluffy (probably about 3-5 minutes, your arm will ache but it is SO worth it!) but be careful not to overbeat- it'll get a bit too runny like mine!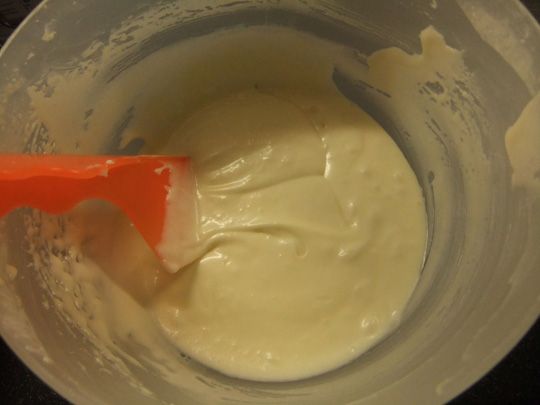 3. Frost! I usually splodge it on, then smooth it out with the back of a spoon.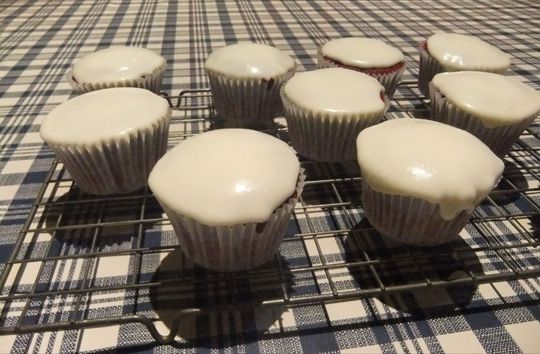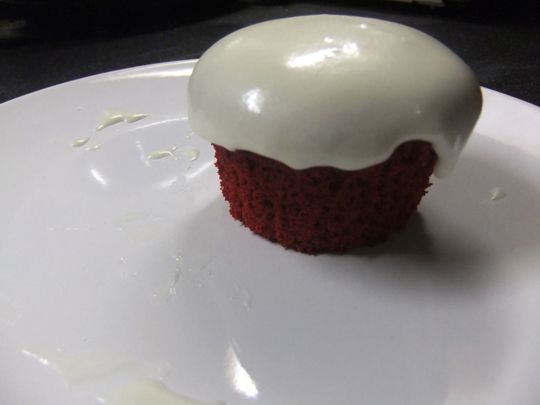 4. Try your very hardest not to eat them all in one go (this is by far the most difficult step)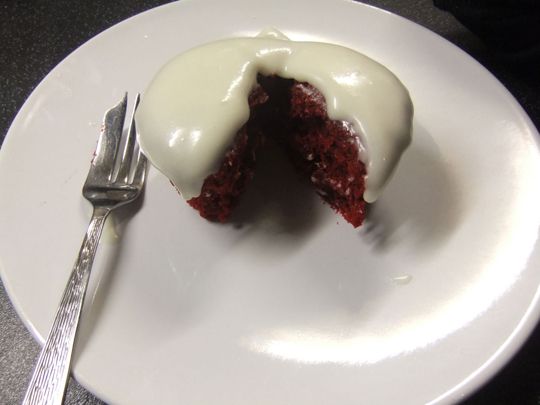 I'd love to hear about it if you make these, and I hope you enjoyed my guest post- happy baking :)
xGretalRabbitx
**********
Mmmm! Thank you for such a tasty post Louise :)
Look out for the next guest post, by Kia of Nails N Cupcakes! Incidentally, they're cupcake nails ;P