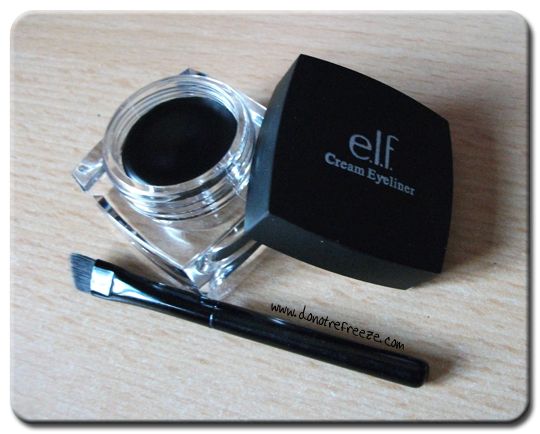 Short version: I love this. Get it.
Okay okay…
Slightly longer version: This doesn't need to be a particularly long review because I can concisely tell you everything that's good about it! If you like gel liners, you will LOVE this offering from ELF. I know it's called Cream eyeliner, but it's basically the same thing as gel.
I was an Illamasqua Cake Eyeliner devotee up until I got this, and my reason for getting this was that cake eyeliner requires a little longer to prepare as you have to mix it with water or a sealant to 'activate' it and it takes a bit of time and patience to get just the right opaque consistency. So I wanted something I could use immediately when I'm in a rush in the mornings without having to mix up the product myself, and this has WAY exceeded my expectations. It's the perfect consistency for me and applies really easily with no skipping or anything. The smooth and workable formula make it so easy to achieve the classic cat-eye liner look.
If you like to use an angled brush to apply this sort of eyeliner (personally I prefer a fine liner brush), the mini one that comes with it is actually great quality. I would say 'it'd be great to keep in your makeup bag for touch ups' – but this eyeliner will seriously never need a touch up! It isn't marketed as waterproof but remained perfect when I got caught in some torrential rain. My favourite thing about it, though, is it's opacity. It's SO PIGMENTED! Check the scribbly swatches below, each just one stroke of a brush (apart from the big splotch obviously..)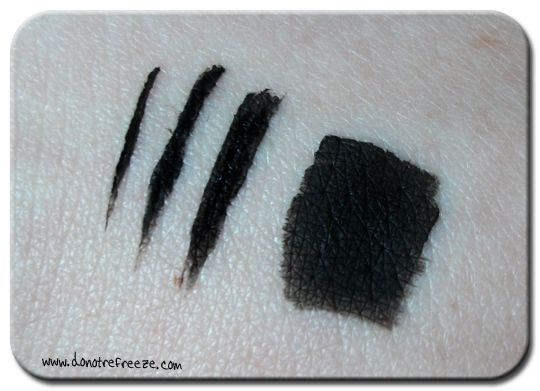 Honestly, this has got to be one of the best things I've ever spent £3.50 on. You NEED it. They have several other colours – Coffee (brown) and Midnight (navy) for those who prefer something a little less harsh than black, along with white, and a recent addition of four new shades with shimmer! I'm quite tempted by Purple, Copper and Gunmetal!
ELF Studio Cream Eyeliner is available online for £3.50.