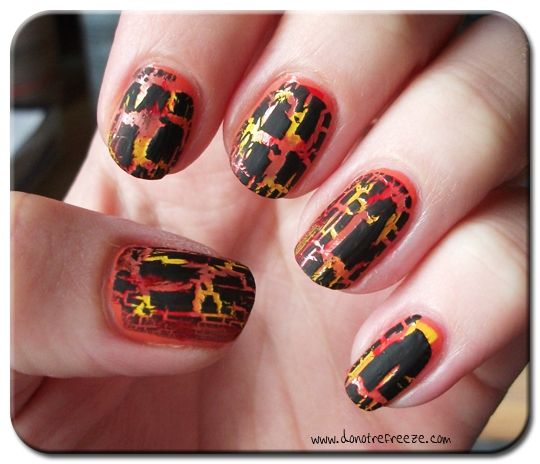 This was one of my favourite suggestions from my Nails Supreme giveaway a couple of months ago. Zara suggested 'I'd love to see you do a manicure that looks like lava with a cooling crust on top'. Awesome idea!
She provided a link to a photo, and I'm gonna link you to it as well… Click here. Sorry for the extra effort of having to follow a link to see a picture, but Sunday night's #bbloggers Twitter chat and Helen's new post about copyright have got me scared! So just click it, okay :)
Whilst this might not exactly like the photo, I'm sure you can tell the inspiration. I started with one coat of Revlon's Mad About Mango (one of their scented ones… not super impressed with them, would you like a review?). Mad About Mango actually needs at least two coats for full opacity but I knew I'd be covering it with other stuff so I didn't bother with a second coat. Then I randomly splotched on Barielle's Lemon Drop and Orly's Haute Red. Naturally, the 'cooling crust' was achieved with Barry M's black Instant Nail Effects.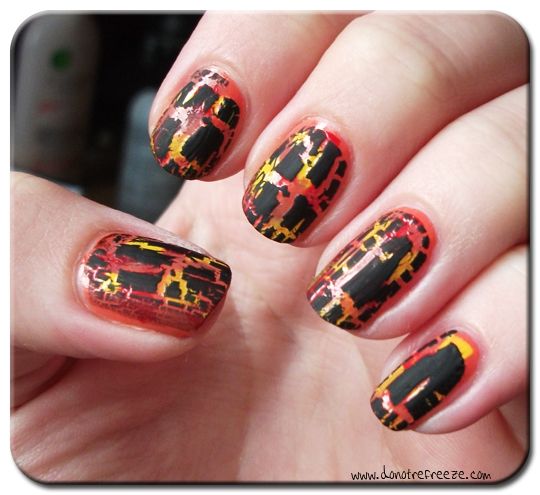 Overall, really easy but really effective I reckon. I know we're all getting pretty bored of the whole crackle/shatter thing now, but this has made me realise that using multiple colours underneath the crackle polish makes it much more interesting! I don't know why I'm surprised – I did it once before with these rainbow ones.
So, what do you think to the lava nails? Thanks again Zara for such a brilliant suggestion!