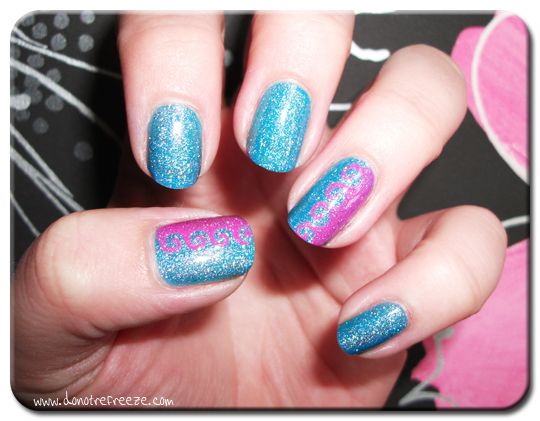 This was a third-time-lucky manicure for me. I was let home early from work one day last week, and decided to spend my unexpected free time doing something fun with my nails. I wanted to do something similar to my recent lava nails – multicolours under a crackle polish. First of all I tried several shades of pink with white crackle, but the shades of pink were too similar so it didn't look as awesome as I'd anticipated. Then I decided on shades of blue, with pink crackle on top… but my pink crackle polish had dried COMPLETELY solid. Of course, I didn't realise this until after I'd done all the blue… What a waste of time! And money – I'd only used that pink crackle once *sigh* I must not have screwed the lid on tightly enough or something.
ANYWAY! This is what I ended up with on my third attempt. I decided to screw the crackle (it's boring now anyway) and break out some nice holos instead. I've not worn a good holo in ages – and in keeping with the use of forgotten gems, I also whacked out some SmART Nails stencils (N019′s to be precise in case you wanted to know). In the end I really liked the result I got and it was worth all the previous dramas!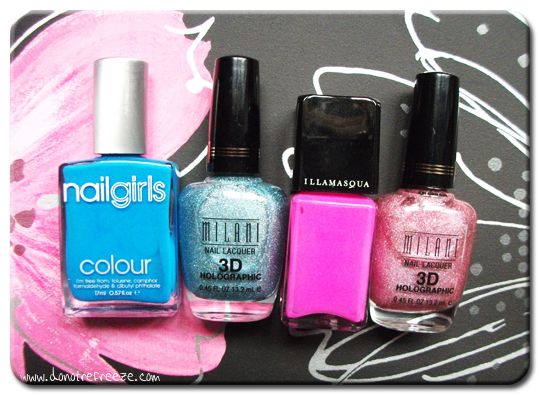 After my usual basecoat of Orly Bonder, I applied one coat of Nailgirls Blue #2 followed by one coat of Milani 3D Holographic in Cyberspace. The Nailgirls colour alone needs two coats to become opaque but I was only using it to give more colour to the holo on top. I did the same thing with the pinks – Illamasqua Obsess followed by Milani 3D Holographic in Digital. The Milani holos can become opaque on their own in two or three coats but their colours just don't pack enough punch for me, so I like to layer them over other polishes instead.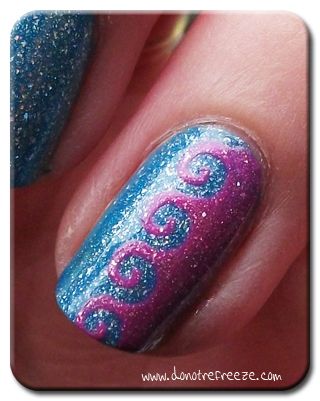 So, what do you think? What are your favourite holo polishes?