Whilst I don't have that much jewellery overall, I have rather a lot of earrings. I have a handful of necklaces, but they NEVER get worn because I never take off the one that Colin got me. Ditto for both my rings and bracelet – I never take any of that jewellery off so I don't tend to wear anything else. Earrings are a different story though. I LOVE earrings and I wear a different pair every day. I love them I love them I love them.
I have one of those lovely mannequin jewellery stands where I keep my necklaces, a really beautiful one that my mum bought me a few years ago, but it recently got to the point that I wanted a separate storage option for my most-worn earrings. I searched high and low for something that would be ideal for both dangly pairs and studs. Cue this wonderful little cream number!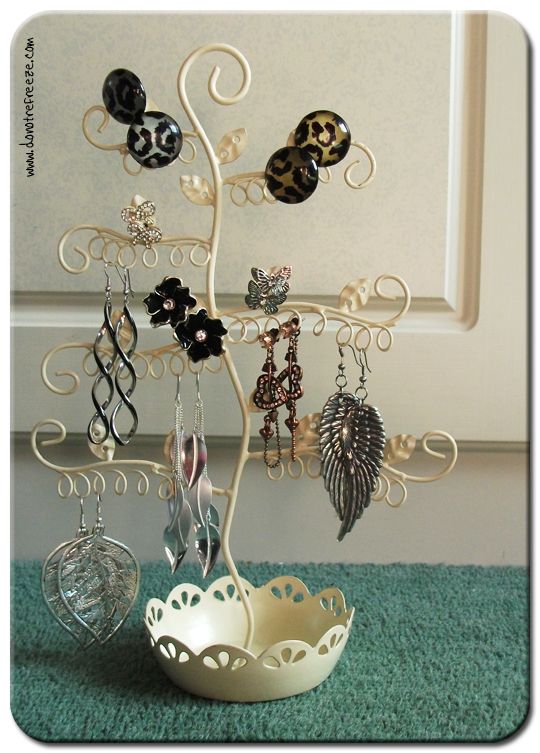 I got this on eBay for about a tenner. It's absolutely perfect for what I wanted it for, and whilst it's not very full at the moment I'll be able to fit lots more pairs on there. For now it's just home to my most worn pairs of earrings. The loops are ideal for dangly ones and any pairs with fish-hook backs, and the little leaves on the tree have holes in for studs! Brilliant. It also has a bowl at the bottom that I intend to use for extra pairs of studs when all the leaves on the tree are taken up, although it would also be ideal for rings.
Every time I pick up a little something for storage or decoration, I keep it in mind for how I want my bedroom to look when I move out. Not that that's in the immediate pipeline or anything (as IF I could afford it yet!), but I like to think ahead. I'm not going to bother redecorating my bedroom (the walls are currently hot pink and lilac, it was painted when I was 11..) because I feel like it's a waste of a few hundred quid if I'm not going to be living at home for many more years, you know? So all the little bits and pieces like this that I buy are in mind for how I want my bedroom to look in the future.
I love seeing storage and interior posts, so please feel free to link me to yours below to inspire me for the future! Also, if you want to know where any of the above pairs of earrings came from, feel free to ask :)
Where do you store your jewellery?