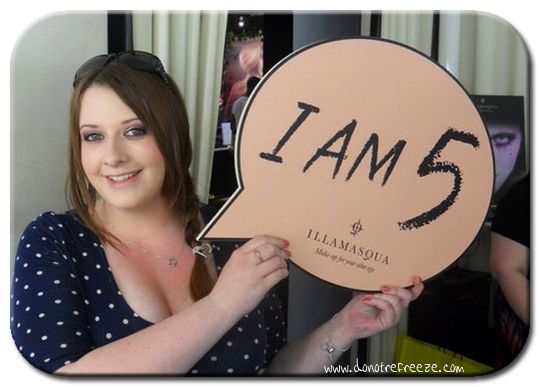 On my day off on Monday, I headed to central London to meet up with Kim and Klaire for a spot of shopping and to pop into the Illamasqua Skin Base launch.
We met at Covent Garden to go to Charles Fox first, but we stopped to watch a street performer. I normally just walk straight past them but this guy juggling on a huge unicycle was pretty fun to watch!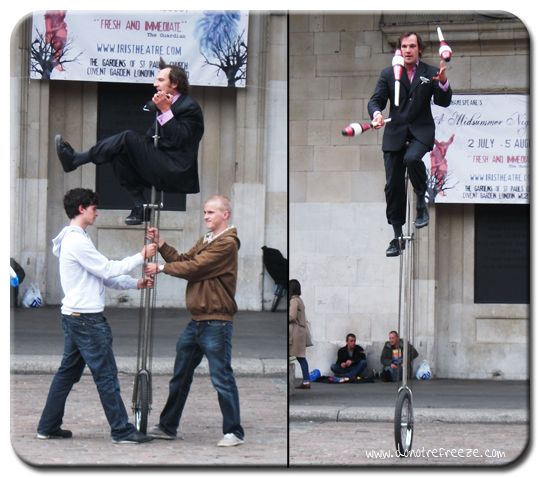 Cheeky snap of Kim and Klaire taking photos of Charles Fox
We had a bit of a mooch on Oxford Street, popping into Selfridges where I repurchased my favourite perfume – BeneFit's Laugh With Me LeeLee – then Primarchè with elbows at the ready. We discovered in Superdrug that MUA now do crackle polishes, they actually looked really good but I opted to pick them up in a different Superdrug later (only to find out that one didn't stock MUA at all.. fail). Also throughout the day we noticed that Andrea Fulerton and also Inglot are doing crackles too… I will be amazed if there's any brands left that DON'T do them by the end of the year!
Later, we headed on to Westfield for a touch more spending, where we also met up with Lu. It was great to see her, it had been a whole year since the last time! Not long later we made our way to the Illamasqua flagship store on Beak Street to be introduced to the new Skin Base.

I NEVER get bored of this store… Nothing not to love about it! Illamasqua will always be my favourite brand.
I won't say much about the Skin Base here as I'm sure you may have seen a few reviews already and I plan to talk about it separately. In a nutshell, though, Skin Base is Illamasqua's (and the UK's) answer to the cult Asian BB creams, minus the SPF and whitening ingredients. I was shade matched to number 5 – hence the speech bubble I'm holding in the picture at the top!
Another thing I wanted to show you – Illamasqua never cease to amaze me with their attention to detail. As the launch was for a face product, the drinks and nibbles were flesh-themed! Different skin-coloured macaroons, a light coloured apple juice, coconut and pineapple smoothie (SO delicious) and chocolate milkshake. Seriously, they don't miss a thing!
Whilst I was there, I also bought the Illuminator in Poised; I'd wanted this for about 2 years but I didn't like that it came in the same squeezy tube packaging as the lipglosses so never got it. But they've repackaged it into a wand with a brush – MUCH better! I also got the Precision Ink in Glister from the Toxic Nature collection, finally. It's just so gorgeous and interesting – I will definitely post about it.
Other than that, though, I didn't spend too much money as I'm trying to be good at the moment! I did grab a Good Things moisturiser to try, along with an Inglot cream blush, a couple of 17 products (just to get that free Nail Bar in a Bag kit), and two more flavours of Lip Smackers. I LOVE these, I apply them constantly 'cause they're so tasty.
I had a fantastic day, but my day was slightly marred when my Primark bag got soaked in the rain and consequently fell apart in the tube station, sending my purchases hurtling down the escalator. EPIC FAIL. I was mortified, but luckily people were kind and were picking stuff up for me and passing it back up the escalator to me!
Go on, have a laugh at my expense – if it wasn't me I would think it was hilarious ;P
P.S. Thank you ever so much to everyone who emailed me RE my last post about guest blogging!