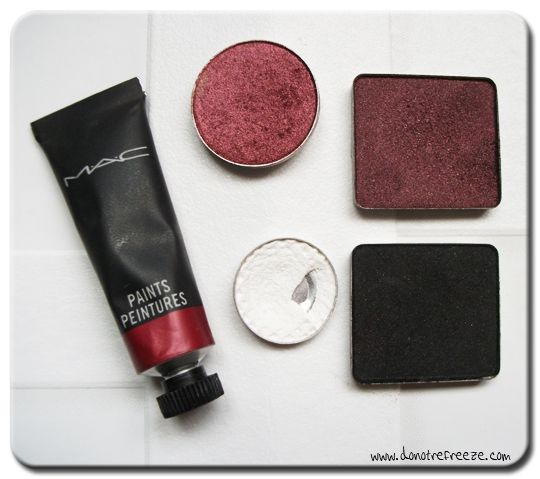 You may remember me saying in a recent post about my new love for MAC Paints that I would give the scary-looking Flammable shade a go in an EOTD. I wasn't lying – I did it!
I'm not normally one for wearing a whole lot of eye makeup, so red eyeshadow was certainly something very far out of my comfort zone. I actually think it worked, though! It made my eyes look VERY blue. I'm not sure why the colouring is different in the two following photos as they were taken about 5 seconds apart sitting in the same place, but there you go. It sort of gives you an idea of how it looked in sunlight, and in normal daylight. My brow looks exceptionally ginger in the first one!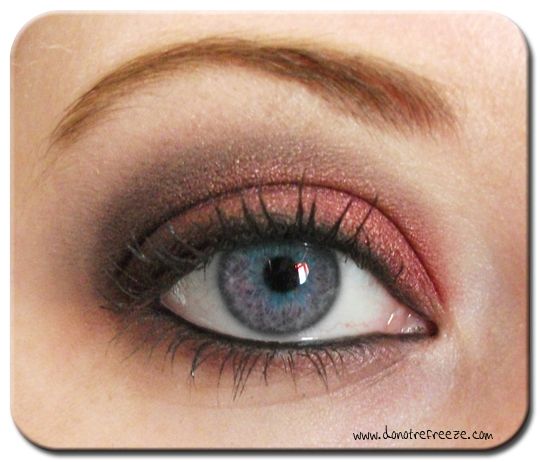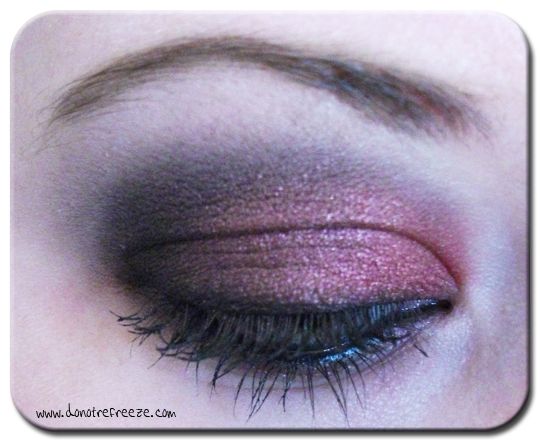 You can see at the top of the page the products I used. I obviously used the MAC Flammable Paint as a base (I didn't use any other eyeshadow primer – the Paints have exceptional lasting power on me!), and applied MAC Cranberry eyeshadow on top over the whole lid. I slightly darkened the outer half of the lid with Inglot 452 eyeshadow, and used Inglot eyeshadow 63 through the crease. The Inglot 452 eyeshadow is also along the lower lashline. I blended out the edges of the black with the matte white eyeshadow from the Sleek MakeUP Circus palette (it has barely any pigment but it's useful for blending out colours). I haven't included eyeliner or mascara in the photo, but if you were interested it was No7 Smoky Eyeliner and RMK Separate Curl Mascara.
I felt surprisingly comfortable in this and enjoyed wearing it. I might go a shade braver more often!
Have you recently done something out of your makeup comfort zone?