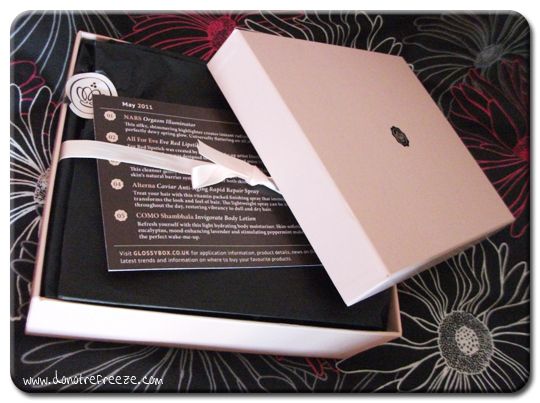 You've most likely seen a few posts on GlossyBox already – they rolled out their preview sample boxes to bloggers this week so naturally your dashboard/Google Reader/BlogLovin has probably popped a few up already. What's kind of annoying is that all the boxes contain the same thing! I can't be sure if the contents of the boxes will be the same for customers each month – I'm assuming not as the registration process includes the chance to 'create your own personal beauty profile on our site. This information will help us to choose the right products to fit your needs and tastes.'
If you've been living in a convent or something and haven't heard of Glossy Box, all is explained here. Basically, you pay £10 a month to receive 5 generous sample sizes of luxury high end makeup, skincare or haircare products. In theory, a VERY cool idea. £10 a month seems pretty reasonable when you look at it like that, but when you look at it on a larger scale I believe the contract you sign up for is for a 12 month recurring payment… that's £120 a year. One hundred and twenty pounds that you're basically spending on samples. Ouch!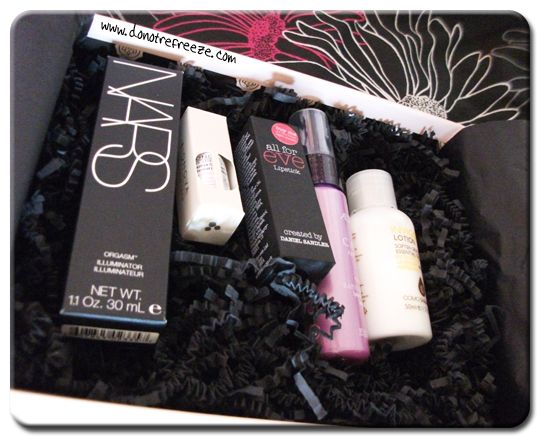 Although overall I was impressed with the idea, the service and the product selection, I have to admit that I probably would never have signed up to receive Glossy Boxes had I not been offered the chance to receive this preview. And I still have to admit that I probably won't be subscribing. I would probably do it if you could just pay for one box on one month that you felt like it, but I don't want to be tied to the twelve month thing. Having said that, I completely understand why the company need to have a contract like that, and for those that can afford it and feel that this is a worthwhile spend of their money it really is brilliant.
£10 does seem reasonable for what you can see above. A beautifully packaged box (it would be like having a birthday every month!) sent by Royal Mail Tracked delivery, and this month's box included a full size NARS Orgasm Illuminator.
I do have a problem with one of the products included in this month's box, though. The All for Eve lipstick. I'm sure you all know about The Eve Appeal and the All for Eve range, so I don't feel the need to explain it. But giving one of their products away (in the case of bloggers receiving this for free), or even putting it in the box that consumers have paid £10 for (when the lipstick itself is worth £10.50)… it just doesn't sit right with me when I know that ALL net profits from All for Eve should be going directly to The Eve Appeal. I don't know if that's just me who feels a little uncomfortable with that, but I couldn't in good conscience use it myself having not paid for it. I've given it to my mum's best friend who is terminal and loves red lipstick – that seems more 'right' to me.
In conclusion, if I could get over the whole money thing I'd SO be up for this. £10 a month seems perfectly reasonable, but I just can't see past the fact that you're essentially paying £120 a year for samples. I know everything's beautifully packaged and the sizes are generous, etc, sorry but I'm just a skinflint! If you're not as tight as me and can justify that, then go for it – I can't deny it's a brilliant idea.