Crackle polishes are definitely hot property in the nail world at the moment – every brand and their mothers are bringing out their own versions.

I still feel that Barry M deserve a little credit for bringing them to the UK mass market – I believe that CoverGirl did crackle polishes in the US years ago, and I'm pretty sure that BYS did some in Australia but last Autumn saw Barry M introduce crackles to England, which is horribly behind. Then China Glaze and OPI did crackle collections, followed by Models Own and 17.. I can't help but feel Barry M kickstarted this new craze, how about you?
Anyway, you are probably well aware by now that Barry M have released three new colours of their Instant Nail Effects to join the black one – pink, blue and white. I snapped them all up a few weeks ago and finally got around to swatching them over a bunch of different colours.
You might notice my nails are a fair bit longer in the swatches with the Pink Instant Nail Effects than the blue and white ones – those pink photos were taken about 2 weeks prior and work has since ravaged my nails even further! They were also taken on my sister's camera which I was borrowing since I broke mine. I have bought a new one (blue and white swatch photos) but it's kinda crap, the macro mode is awful and it has trouble focusing *sigh*. Enough rambling – pictures! Polishes they are swatched over are listed in thumb to pinkie order :)
Instant Nail Effects – Pink Fizz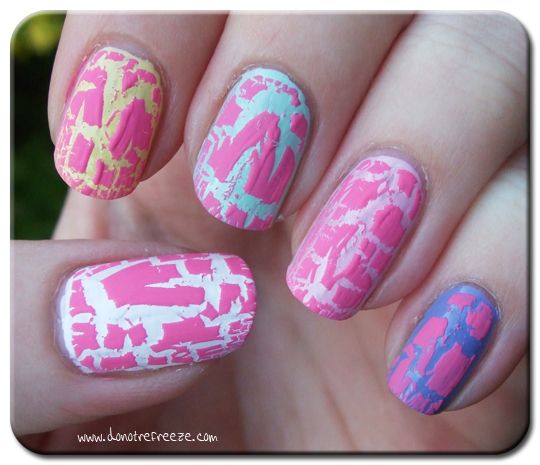 Color Club Alabaster, China Glaze Lemon Fizz, China Glaze Re-Fresh Mint, China Glaze Something Sweet, Filthy Gorgeous Minx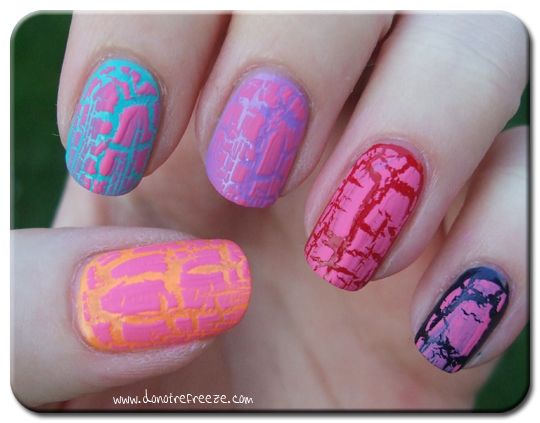 Sleek MakeUP Florida, Sleek MakeUP Turquoise, Illamasqua Jo'Mina, Revlon All Fired Up, OPI Russian Navy
Instant Nail Effects – White Frost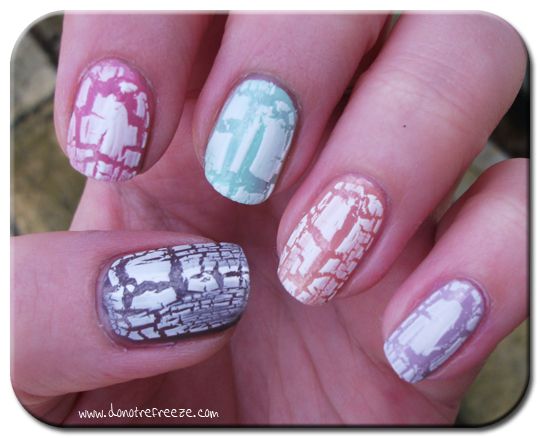 Confetti Moonstruck, Essie Flawless, China Glaze Re-Fresh Mint, Eyeko Nude Polish, China Glaze Light As Air

Illamasqua Scorn, Illamasqua Obsess, NailGirls Blue #2, Sleek MakeUP Florida, Revlon All Fired Up
Instant Nail Effects – Blue Print

Illamasqua Obsess, Sleek MakeUP Florida, Barielle Lemon Drop, OPI Gargantuan Green Grape, Eyeko Pastel Polish

Illamsaqua Scorn, Barry M Grey, OPI Jade is the New Black, Essie Flawless, Illamasqua Jo'Mina
The pink and white ones are absolutely lovely, and look awesome over a wide variety of colours. The blue was slightly disappointing, though – it's just a weird shade of blue to me, and the polish itself has its problems. I don't know if I just got a dodgy bottle, but it's significantly more gloopy than the others and it has a REALLY strong chemical smell. I did have a quick look for the ingredients on the Barry M website but can't seem to find them on there.
Hopefully these swatches can give you some ideas for colour combinations and maybe help you decide if you fancy picking any of them up – pink and white are definitely worth getting but if you ask me, you could probably give the blue a miss.
Barry M Instant Nail Effects are avaiable in Boots and Superdrug (as well as online), and cost £3.95 each. But it's worth noting that when Boots/Superdrug do their '2 Barry M Nail Paints for £5′ deals, it usually includes these. :)
What do you a reckon? Are you a crackle fan, or do you hate it?