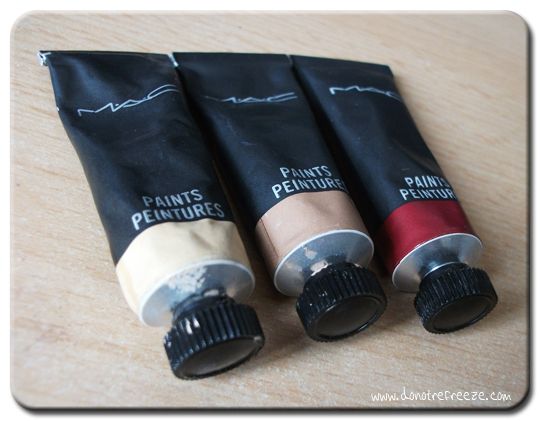 I bought these MAC Paints from one of the infamous Wayne Goss blog sales a couple of weeks ago (all 3 for £11, it would have been rude not to), and one of them, Sublime Nature, has quickly become a staple in my routine. I never normally bother with eyeshadow because it's time consuming for me in the mornings, but all this requires is a quick slick over the eyelids (no primer necessary), and then I take a bit of MAC Satin Taupe through the crease for definition. Completely effortless eye look but it definitely looks like I've made a bit more effort with my presentation. Here's swatches of the 3 shades:

L-R: Bare Canvas, Sublime Nature, Flammable
Bare Canvas blends right into my skintone, so I think it would make an ideal eyeshadow base on the days that I have time to create an eye look from scratch. These absolutely do not crease on me, even when I'm in the hot kitchens all day which is something of a miracle. They go on creamy and dry down to a soft powder finish. I just can't believe I'd never tried these before – it's a shame there aren't many more shades! Flammable is one that probably requires quite a bit of bravery to wear, but I'm definitely gonna give it a go in the next few weeks and of course I'll show you the results.
This is more or less how I've been doing my makeup every day for the last couple of weeks.
:: ELF Studio Tinted Moisturiser (Porcelain)
:: Illamasqua powder blush (Rumour)
:: Illamasqua cream blush (Rude)
:: Sleek MakeUP Luminaire concealer (01)
:: MAC Paint (Sublime Nature)
:: MAC eyeshadow (Satin Taupe)
:: ELF Studio cream eyeliner (Black)
:: ELF Studio eyebrow kit (Light)
:: Bourjois kohl (Black)
:: RMK Separate Curl mascara
:: Blistex intensive moisture lip balm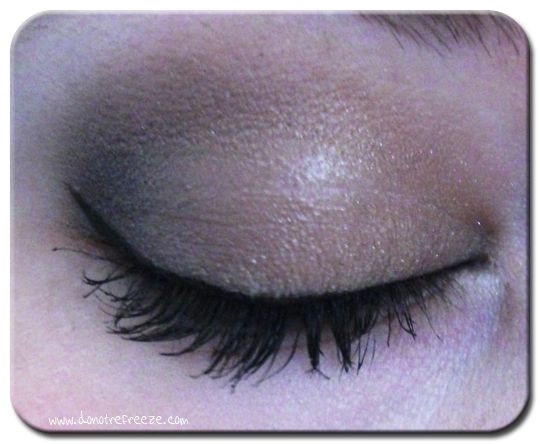 The colour went a bit funny on this one!
Does your everyday face include eyeshadow?