I've finally got round to creating the nail design suggested by my giveaway winner Ari. Ari suggested a design inspired by a Japanese Kimono, or more specifically this one:

Source
I would have preferred to do this when my nails were a fair bit longer so I'd have more space to work in – my nails are the shortest they've been in ages at the moment so I didn't have the room to be as intricate as I would have liked. Hopefully you all think it's okay though!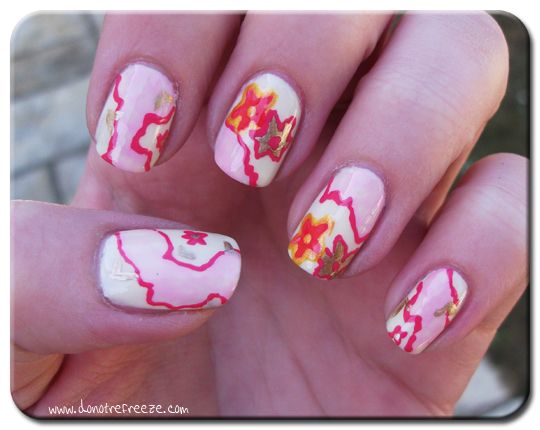 I used Illamasqua Load as my base colour – I actually bothered with three coats for full opacity but I needn't have in hindsight since most of the base colour is covered. I used an eyeshadow applicator to sponge on China Glaze Something Sweet and outlined these patches with the pink Nails Supreme pen. You can't tell so much in the photos, but sponging the Something Sweet left it quite patchy (good patchy!) allowing parts of the base colour to show through. It was like pink clouds!
The little V shapes were just for a bit of extra interest on the nails without flowers on, but I don't think they were necessary really. I used China Glaze Passion for the gold flowers and the V shapes, and Eyeko Coral Polish for the other flowers. I used the gold Nails Supreme pen to outline the coral flowers, but I wish I'd have bothered with outlining them in China Glaze Passion and a nail art brush to keep the colours matching. The Nails Supreme gold is far too yellow and looks out of place with the rest of the design!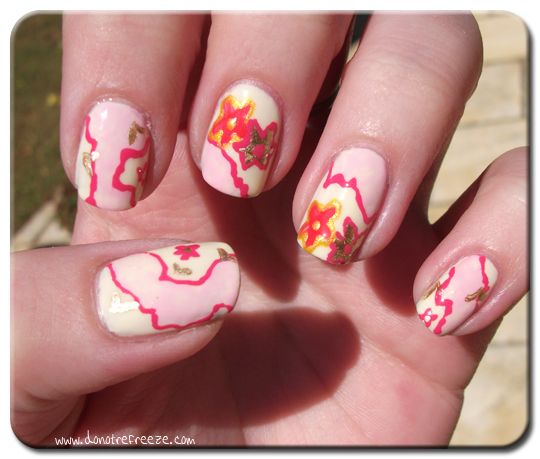 Depsite it's faults, I really enjoyed creating this design and I hope you all like it too! I especially hope Ari likes it :) thank you again for such a great suggestion!