…I am let loose on somebody's nails with instructions of 'bright colours, animal print and holographicness'?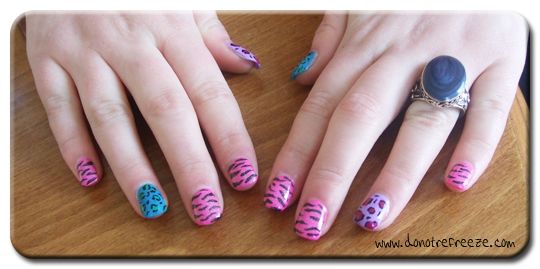 I don't get the chance to do other peoples' nails that often. I occasionally do my nan's, who 90% of the time plumps for a plain French manicure, or my sister's who prefers a plain colour and maybe a Konad flower or two. I have to admit that while I do enjoy giving manicures (particularly the painting part), it does get monotonous when I don't get to do fun things on other peoples' nails.
So, imagine my delight when my old friend Charlee – who, incidentally, is a nail technician herself – asked if I could treat her to a spot of nail art! I managed to fulfill all three of her criteria in one manicure; she loved the result and I had tons of fun doing it.
I went for a bright pink with zebra print on the index, middle and little fingers, topped off with holographic topcoat, and brightly coloured leopard print on the ring and thumbnails with the colours reversed on each hand.
Index, middle and pinky: Illamasqua Obsess, Models Own/WAH Nails nail art pen, China Glaze Wireless Holographic topcoat
Thumb: Nailgirls Blue #2, spots with OCC Chlorophyll, Nails Supreme nail art pen
Ring: Illamasqua Jomina, spots with Inglot 938, Nails Supreme nail art pen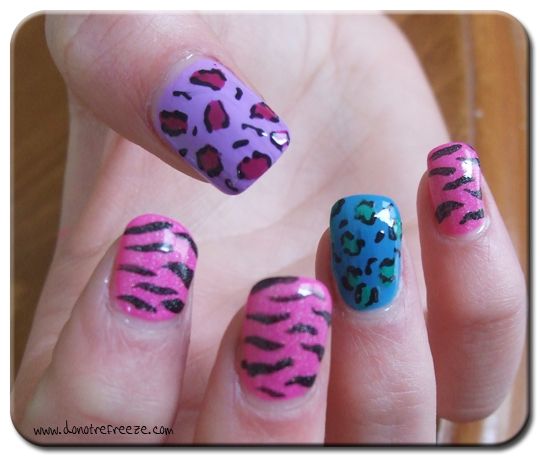 I just switched around the colours of the ring and thumbnails for Charlee's right hand.
So what do you think? Are you a fan of something bright, mismatched and in-your-face?