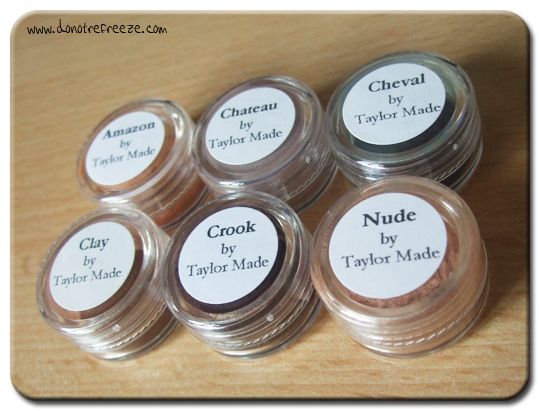 A few weeks ago, I heard that Taylor Made Minerals are going out of business. If you've been a follower of Do Not Refreeze for a LONG time (and I mean long, like late 2009) you might remember I went through a phase of loving pigments and trying out some different indie companies. I actually meant to order some samples from Taylor Made back then, but my interest in the whole thing quickly fizzled out when I decided that pigments and loose eyeshadows are too much effort for me!
Since Taylor Made are now closing down (not for any sinister reasons, don't worry – they just can't afford the cost of running the business any more), they are offering 40% off everything across the site until stock runs out. No special code required, it's just deducted on the basket page. I figured that the time had definitely come to finally try them out! I got 6 sample jars ($1.50 before discount). I was sensible and only picked colours I thought I would actually use. Here's how they look in the jars – you can see the sample size is pretty generous, I reckon there's more than a 1/4 teaspoon in each one.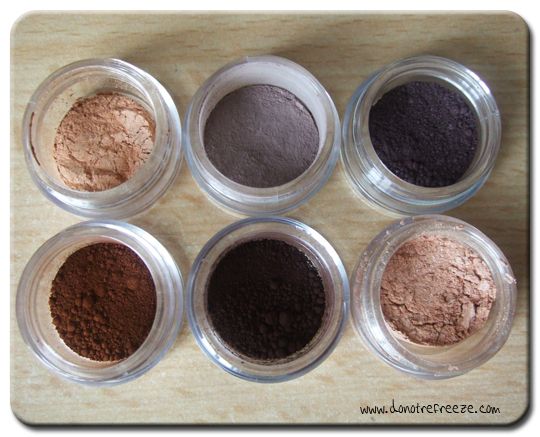 Top L-R: Amazon, Chateau, Cheval
Bottom L-R: Clay, Crook, Nude
And here are some swatches, in the same order. All swiped once with a finger onto bare skin, no primer or anything.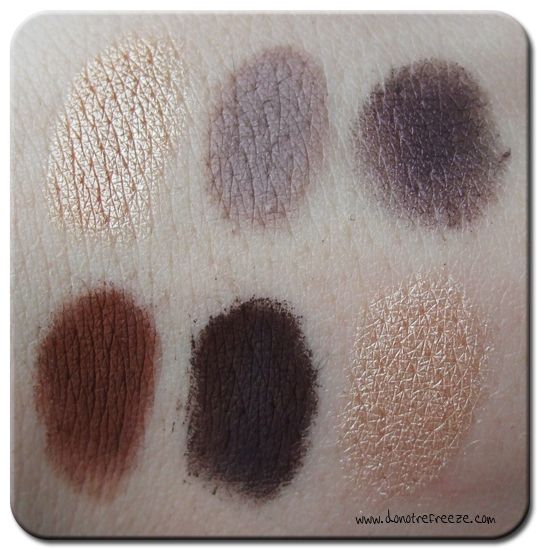 I must say I'm really impressed with the pigmentation, and how smooth they are to apply. The only dud was Cheval, which is described as 'deep, warm purple brown with no sheen or shimmer'. The colour is nice but you can see that it's a little more patchy than the others, and there are a couple of hard lumps in the jar that feel like big grains of sand. The description of Amazon was a way off – 'natural taupe, matte with light sheen'. Well, no… it's a shimmery pale gold! Crook ('a deep, warm brown – matte') is a bit darker than I was expecting it to be; it's almost black but no complaints really. Clay is really interesting – described as 'matte brown with strong red hues' – it's exactly that. I don't have anything like it, it's quite unique I think. Nude ('light tan with just a hint of peach and medium shimmer') is your usual nice golden champagne colour.. see below for a potential dupe discovery! My favourite of the bunch was Chateau. Described as 'light grey toned taupe – matte', it is the perfect matte lid colour, or a crease colour on a soft eyes day.
Now, back to Nude… when I opened the jar, I immediately thought it might be a dupe for Illamasqua's Furore pigment (which incidentally was my very first Illamasqua product). Now, they're not identical – Furore is a little more peach-toned while Nude is more golden, but they are VERY similar. What do you reckon? Nude on the left, Furore on the right.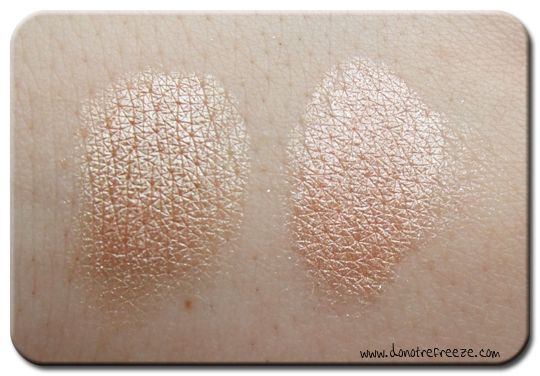 Overall, I would definitely recommend getting a little order in if you've got a spare few quid hanging about in your Paypal account. These 6 generous sample jars, including shipping, cost me about £4.50GBP (can't remember what it was in USD) so you can't go far wrong just giving them a go before they're gone. All the colours I got are still available – I highly recommend Chateau, and Nude if you'd like an Illamasqua Furore dupe. And if you have blue eyes, Clay is a really interesting colour that is sure to make your eyes look like sapphires!
Just one thing to bear in mind – as with all loose eyeshadows and pigments, I would always suggest applying your eyeshadow first before your face makeup to avoid fallout hassle!
Oh, and here's a really quick EOTD using Chateau and Crook.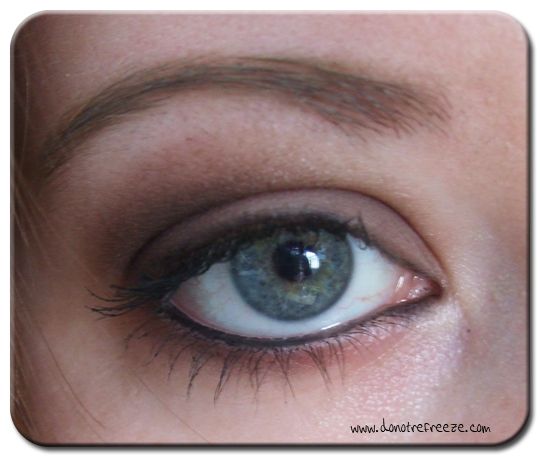 Have you ordered from Taylor Made Minerals before? Are you planning to grab a few things now before they disappear forever?