As you probably know by now, Sleek MakeUP held their second bloggers event on Friday. Unfortunately I enjoyed myself so much that I forgot to take very many pictures! Rest assured you will see plenty of blog posts and videos about the actual event throughout the beauty community, but I really wanted to show you the upcoming Mediterranean collection.
Sleek MakeUP are coming at us with two mini SS11 collections this year – Mediterranean, and Caribbean. Both collections feature a bright, bold i-Divine palette along with a bravely bright blush and corresponding Pout Polish. I don't have the Caribbean collection to show you, I'm afraid, but Maria has a blog post with some pictures. Whilst the Caribbean blush and Pout Polish boast an on-trend orange hue, the Mediterranean collection features an equally shocking magenta. My photo above makes them look a bit lighter than they really are – prepare yourself for pink that packs a SERIOUS punch.
When I initially saw the new summer collections at the event, I wasn't particularly enamoured. Brights aren't really my thing, and although I still don't really have any interest in the Caribbean offerings (orange, on MY skin tone?), the Mediterranean collection has really grown on me.
The blush is called Santorini (£4.29). You need to be incredibly light handed with this badboy to avoid clown syndrome. I would avoid dense blusher brushes, too, and go for something like a duo-fibre brush for a lighter distribution of product. You may also want to blend the colour further by giving it a quick buff over with the brush you used to apply your foundation.
Out of all the Pout Polishes I have tried, surprisingly Monte Carlo (£4.29) is one of the least pigmented. This is probably a smart move, though, as it means you can team it with brights from the palette on your eyes and not look like a mentalist. I am a big fan of these tinted lip conditioners – and don't forget they contain SPF15!
The i-Divine palette, Monaco (£6.49), features a good balance of matte and shimmer shades – the shimmers in this one are almost metallic! Every shadow is buttery soft with insane levels of pigment, except for two which I will point out below. What I really like about the palette, though, is its surprising versatility. If, like me, you're not usually a brights lover, you could be forgiven for skipping straight over this palette but upon closer inspection, it features a few shadows that can create an instant, barely-there neutral eye but then you still have some brighter colours at your disposal if you fancy being a shade braver.

Santorini, Monte Carlo
Bamboo, Aquamarine, Midnight Garden, Sunset, Washed Ashore, Magenta Madness
Summer Breeze, Sand Walker, Kiwi Zest, Lotus Flower, Hummingbird, Moors Treasure.
I am really excited by the palette. Just look at how buttery soft and pigmented they all are! With the exception of Bamboo (although the lack of strong pigment makes it ideal for a quick all-over lid colour or brow highlight), and Summer Breeze. The mattes are better quality than ever, and the metallic looking shimmers are just so smooth and blendable!
To end this preview, I just wanted to try and demonstrate the versatility of the palette. I bashed out a super fast EOTD on one side – a little boring and clichéd with sunset-like colours on the lid (Washed Ashore, Sunset, Moors Treasure) and a little blue on the lower lashline (Hummingbird). On the other side, I went for a barely-there eye (Bamboo, Sand Walker, a tiny bit of Moors Treasure), a bright cheek with Santorini, and a subtly pink glossy lip with Monte Carlo to tie in with the pink blush.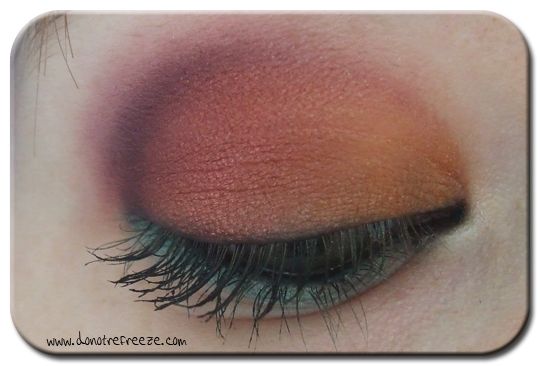 By quick, I meant about 3 minutes. Apologies for poor blending!

Lighter on the eyes, with the focus on the cheek.
I'm so pleasantly surprised by how much I like this palette that it may actually make the shortlist of holiday makeup for me. I intend to travel to Florida in the summer with as little makeup in my suitcase as possible as I plan to fill it right up to the luggage limit on my return!
I'm afraid I don't have a release date for the Mediterranean or Caribbean collections.. from what I've heard it could be anywhere between the end of this month and the end of June. I will try to get an exact release date from Sleek, and I will let you know as soon as I do.
So what do you think of the Mediterranean collection? Are you a brights fan?