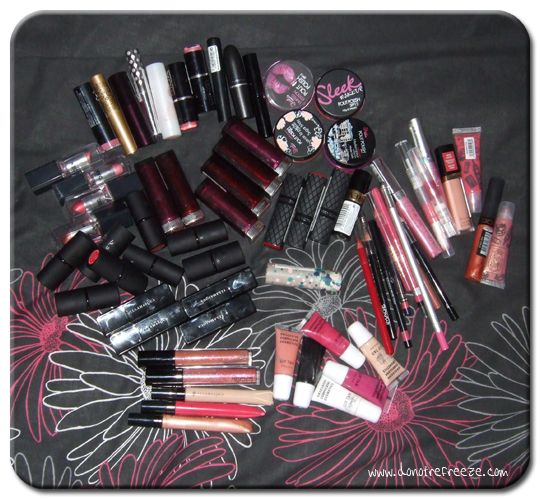 Every now and then, I reorganise the makeup in my storage drawers. I like to make it all nice and neat and ordered, but within a couple of months it just becomes a tiny little bombsite in each drawer where I throw things back in.. so I tidy it, then it happens again. Vicious circle!
The other day, I decided it was about time I tidied up my lipstick drawer. I didn't take a picture of it before, but trust me it was untidy. Above are the contents emptied onto my bed! And below, you can see everything neatly (well.. sort of) packed into the little drawer. Unfortunately though I've had to put a lot of stuff out of sight at the bottom of the drawer where I'm likely to forget about it. I really need to invest in some larger storage options because I have so much stuff that some things will inevitably lay forgotten at the bottom of a drawer… *sigh*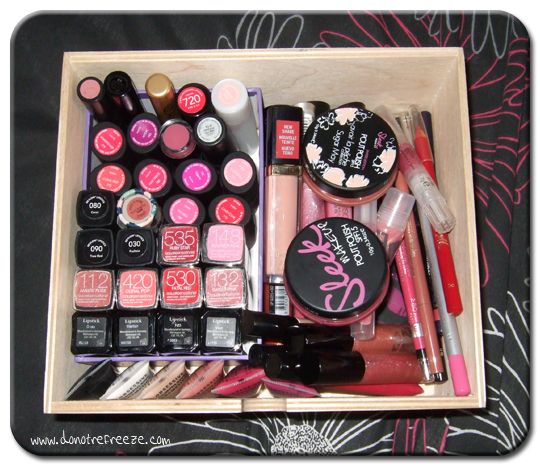 I also thought I'd take this opportunity to pick out some of my current favourite lip products and get my swatch on for you.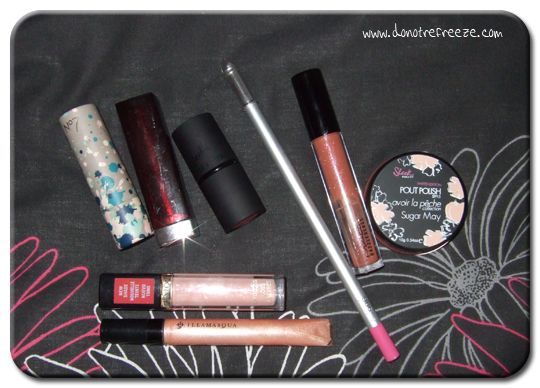 No7 Grace (LE), Maybelline Coral Pop, Sleek MakeUP Pink Freeze, Kryolan lipliner 906, MAC Bare Necessity Dazzleglass, Sleek MakeUP Sugar May pout polish, Revlon Peach Petal gloss, Illamasqua Soul gloss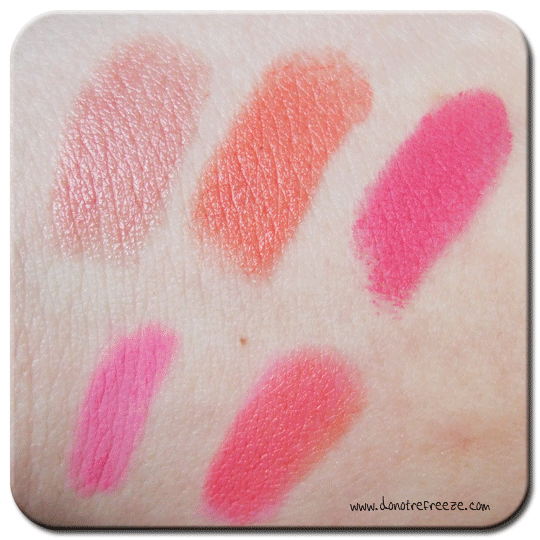 L-R: Grace, Coral Pop, Pink Freeze
Kryolan 906, Coral Pop over Kryolan 906
I mentioned Grace in my March Favorites – such an easy everyday lip colour and I'm running terribly close to the end – WHY didn't I pick up more when it was available?! Coral Pop is one that I've had for a long time, and often thought it was a little too orange for me but it's now part of my current favourite lip combo! Pink Freeze is a recent acquisition, and while the almost magenta pink colour is awesome I mostly love it for the name, haha. Kryolan lipliner 906 was mentioned in my February Favourites – and I have recently discovered that using it to fill in the whole lips and applying Maybelline Coral Pop over the top makes an amazing lip colour that just SCREAMS summer. :D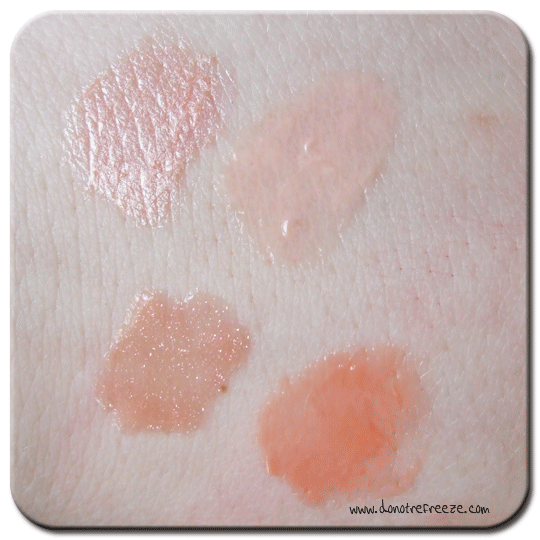 L-R: Soul, Peach Petal
Bare Necessity, Sugar May
I think Soul was the second Illamasqua lipgloss I ever got. It works so well over so many colours. It's a little sticky but I can bear it. Peach Petal is my favourite nude gloss – sheer but definitely imparts a slightly pale sheen to the lips which doesn't look ridiculous or ghostly. Bare Necessity is another favourite for the name; I can't help but singing the Jungle Book song when I wear it! Again quite sticky – is this a running theme for higher end lipglosses? Sugar May is a recent addition to my collection, and although it looks a little orange in the swatches it looks lovely on my naturally very pink lips, adding a subtle peach coloured glossiness.
What are some of your favourite lip products? How do you store your lip products?