If you saw my post at the end of January about the stuff I picked up from IMATS, you might remember that Inglot 203 was one of my purchases.

I only owned one flaky polish before (I still don't know if there's a 'proper' name for them) – that's GOSH Rainbow. Even though Rainbow can sometimes flash green, I definitely wanted this green one from Inglot!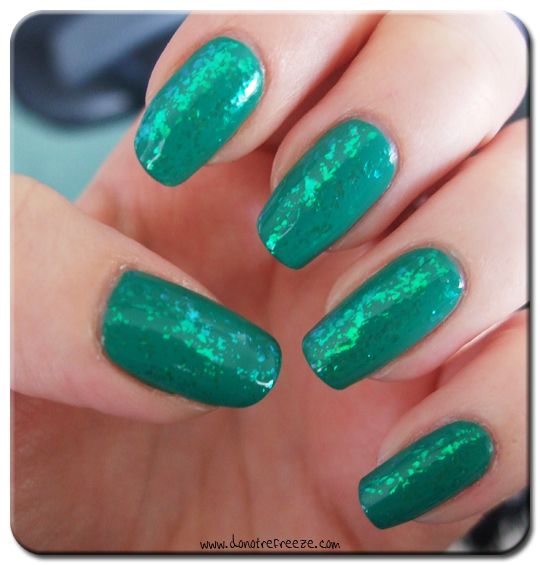 It looks pretty cool over a lot of colours, but I actually think it looks its best over green bases. In my opinion GOSH Rainbow looks best over a black base but Inglot 203 works SO WELL over other greens!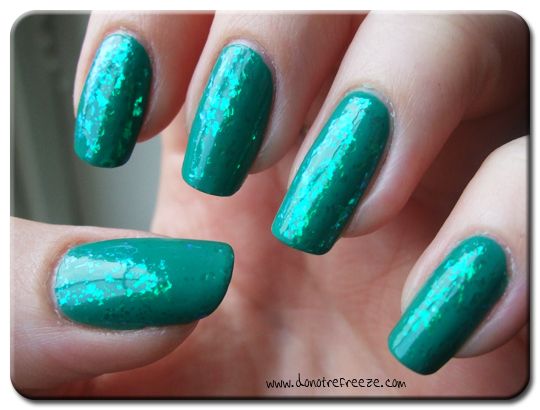 I'm wearing it here over Chlorophyll by Obsessive Compulsive Cosmetics, and while it was bloody hard to capture how awesome it looks I hope you can get the gist of it.
These are some older swatches, from February, where I tried it over three different greens. Chlorophyll, OPI Jade is the New Black and Illamasqua Rampage. Don't they all just look SO COOL? In fact, looking at those swatches makes me want to do a green ombre manicure topped off with Inglot 203…
I think I need some blue flakes next! Are you a fan of flaky polishes or not?
If you let me know in the comments about any colours you would like to see Inglot 203 swatched over, I will do a follow up soon with those swatches for you :)