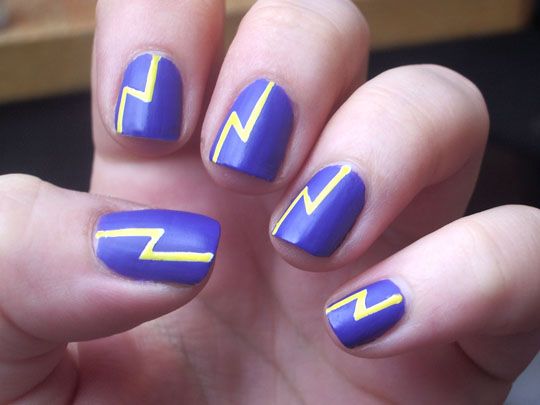 Look at me, spoiling you with all this new nail art talent! Today's fantastic guest tutorial is written by Emily Poole, owner of Emily's Nail Files. Get over there and follow her RIGHT NOW, she is brilliant. Over to Emily!
***
Hello Everyone!
Firstly, thank you to Leanne who invited me to write a guest post for you lovely lot! I've got an easy-peasy tutorial for you today, for Bad-ass Lightning Bolt nails.
This look is so simple to create, and really catches the eye. I wanted to show you guys something that literally anyone can create, you don't need any fancy tools or any special polishes :) All the equipment you will need is:-
:: Your two favourite nail colours (I am using Claire's matt purple, and Miss Sporty "Taxi!")
:: A white nail polish (I'm using Rimmel Tip Whitener)
:: A pair of scissors
:: Some Scotch Tape
:: A base coat and top-coat (I'm using Barry M 3-in-1)
1. Start by painting your nails with your base coat, then with the colour of your choice. Leave to dry COMPLETELY. Your nails must be completely dry, otherwise the tape will lift up the base colour – I've done it soo many times I'm too impatient! I want pretty nails NOW damn it! :D
2. Cut a strip of Scotch Tape a little longer than your nail. Cut a nick into the side and upwards to make a triangle shape. You will need 20 of these in all, two for each nail. Only cut a few at a time so the tape doesn't lose its sticky.
3. Place two strips side by side, turning one upside down. You can see the lightning shape taking place. We are going to transfer this as a stencil onto the nail.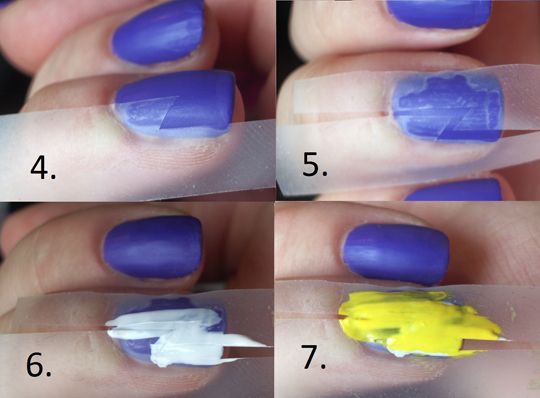 4. I wanted the lightning pattern down one side of my nails (but you can place it anywhere you like) so I place the first strip of tape down the right-side edge of my nail. If your tape is really very sticky, stick it to the back of your hand first before putting it on your nail.
5. Place the second strip the opposite way up, so that the lightning bolt shape is apparent. Make sure each strip is firmly pressed down along each edge so it creates nice crisp lines.
6. Take your White polish and fill in the Gap – you don't have to be neat, but be careful not to go over the edge of the tape onto your painted nail. (note: if the colour of your Bolt is darker than your base colour, you probably don't need a white layer – I just find it helps the colour to "pop".)
7. Once the white layer is tacky, go over it with your second colour of choice. While this is still wet, peel the tape off carefully in the direction of the triangular part of each tape stencil (this will stop the tape from tearing as you pull).
And this I what you're left with!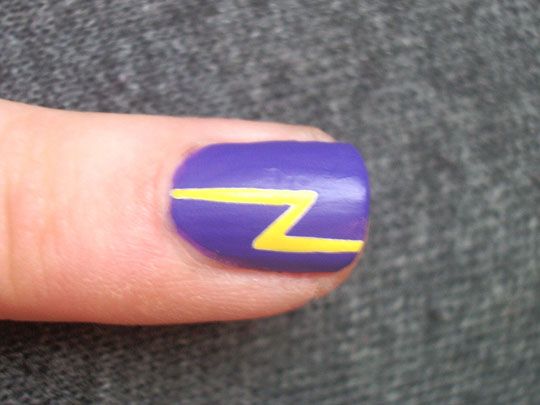 Add the topcoat of your choice – I decided to leave mine Matt – and you're away! Ready to rock people's world! :D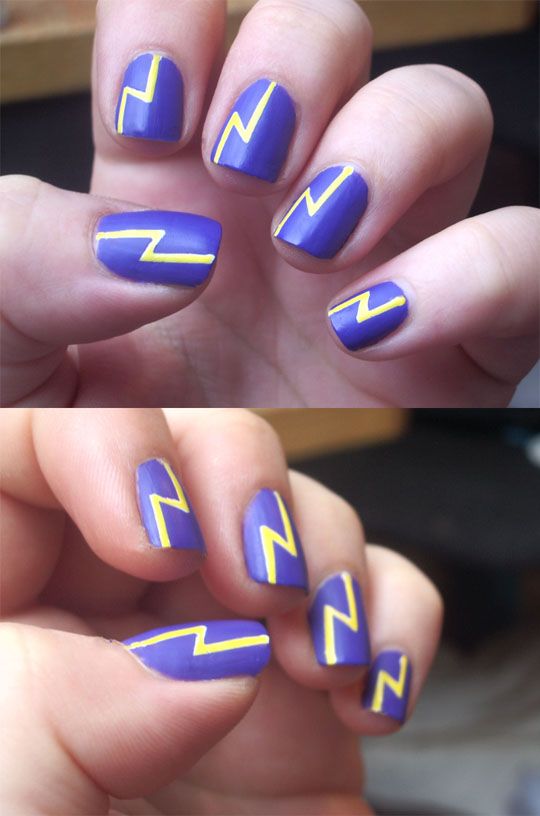 Depending on the colours and angles you use, you can create a multitude of different looks with just the one technique – it looks great with some glitter!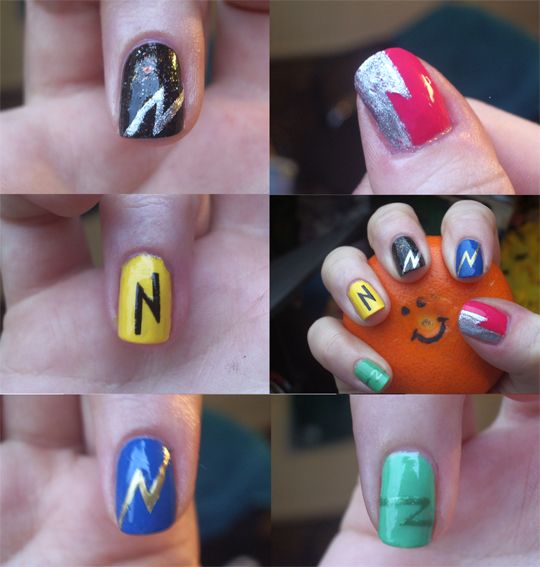 I hope you've enjoyed my guest post and will have a go at doing this design yourself, thanks again to Leanne for hosting – isn't her blog great?!!
Have a great day everybody, if you have any questions or would like to check out any other designs, you can head over to my Internet Pillow Fort www.emilysnailfiles.blogspot.com, where I will be hosting a big giveaway to celebrate 100 followers next week :) That's all from me, Emily OUT.
***
Thank you Emily! I absolutely love it, bad ass is definitely the only way to describe the design and I love the purple base colour you used! I will be trying this design out myself :)
What did you lot think? Will you be following Emily now? I hope so!