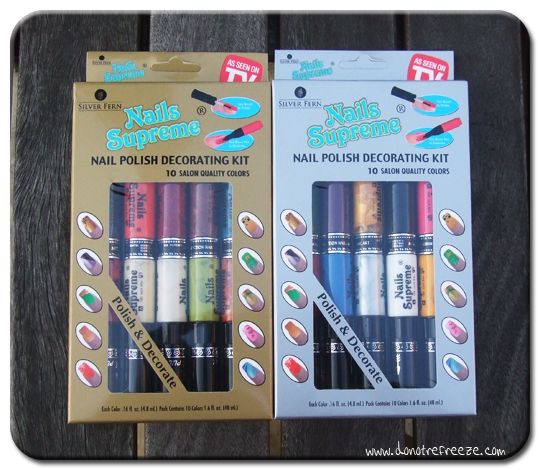 You might have noticed that I use Nails Supreme nail art pens in quite a few of my nail designs. In fact, the black and white pen is probably the single most indispensable tool in my entire nail art arsenal – and that's saying something if you've seen my collection post! I also have a sort-of review of the Nails Supreme pens here if you'd like to see.
Anyway – recently, Rebecca from Silver Fern Direct (the only official distributor of Nails Supreme products) contacted me to ask if I would be willing to let the company use some of my nail art photos on their website to demonstrate what the product can do. Naturally I said of course they can, and Rebecca very kindly sent me the above Matte and Shimmer sets as a thank you.
Of course I already own both of these sets, so the obvious thing to do with these was give them away! Please follow the rules carefully, any invalid entries will be deleted.
Rules

:: You must be a public follower of Do Not Refreeze.
:: Please leave your email address in the comments.
:: DO NOT leave a comment saying 'enter me'. I will literally just delete it immediately.
:: Open worldwide.
:: I will be choosing the winner between myself and random.org – I am going to choose my 10 favourite suggestions (see below) and let random.org choose the winner from those.
:: Open until 11.59pm BST on Friday 29th April 2011.
In addition to the above, you must leave a comment with a suggestion for the following:
Describe a nail design you would like me to try. If you have a picture of a nail design you would like to see me try and recreate, that's great too! Please give credit to the original artist where possible.
Best of luck :) x