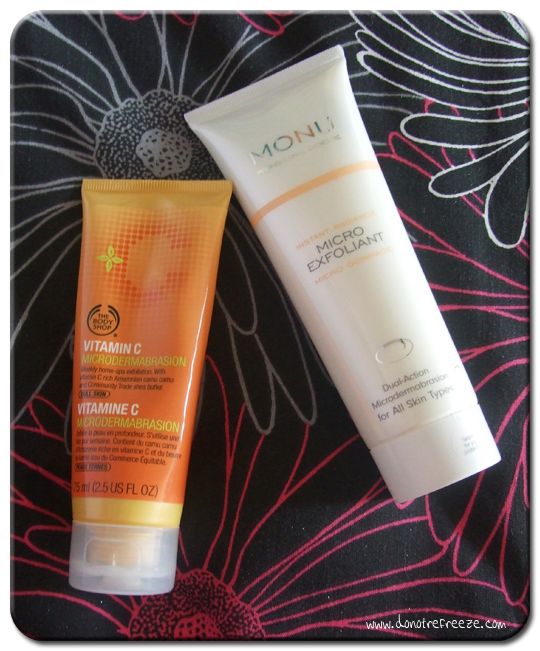 As much as I love to slather on a luxurious serum then moisturiser before bed, if I had to pick a favourite skincare item it would be exfoliator. My skin is a funny one, it's oily but it gets flaky patches all over if I don't give it a good scrub a couple of times a week. I used to be quite clueless and use harsh products that aren't really meant for the face, like Soap and Glory Flake Away, but in the last year or so I've really got into 'microdermabrasion' scrubs. If you don't know, they are basically just micro-exfoliants with really tiny particles that don't scratch at your skin but are really effective in removing dead skin.
The Body Shop's Vitamin C microdermabrasion (£12 for 75ml) has been a firm favourite of mine since the Baked to Last event last summer. I've been using it two or three times a week since last July and the tube's still not quite finished. Impressive!
I've only had Monu's Instant Radiance micro exfoliant (£13.25 for 100ml) for a few weeks but I've been using it in place of The Body Shop one since, and just wanted to compare the two products as they are similar in price.
Speaking in terms of value for money, the Monu product actually works out cheaper gram for gram – but I'll show and describe both of the products to you and you can decide which you think you'd prefer!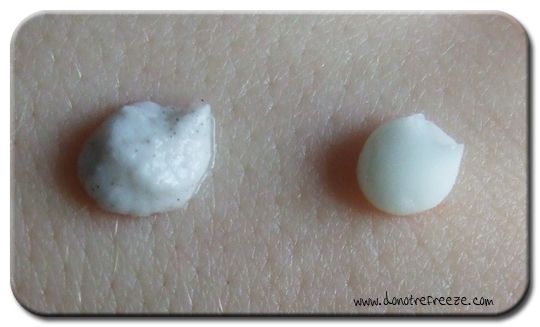 The Body Shop on the left, Monu on the right
When I began using the TBS product months ago, I immediately thought that it was the 'softest' scrub I've ever used – as in, not harsh and scratchy. But now, by comparison, the Monu product is even softer. You can visibly see the the scrubbing particles in the TBS one (which are apparently garnet particles), and the base that they are suspended in is like a wet paste in texture. You can't see anything in the Monu one, though, and the texture of the base product is incredibly rich and creamy. In fact, you don't notice the exfoliating particles in the Monu until you massage it into your skin.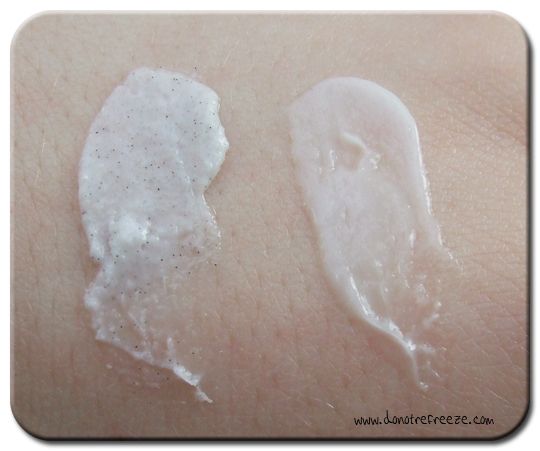 As far as scents go, they're both perfectly pleasant. I'm not too bothered about the smell of a product like this as long as it's not unpleasant. For reference, though, The Body Shop one has a citrus scent that I would describe as subtle, although it's still more potent than the Monu one which just smells clean (but not in a harsh chemical way), with a hint of fruitiness.
The power ingredient in The Body Shop's scrub is the Amazonian camu camu berry, which apparently has one of the highest vitamin C contents in nature. The Monu scrub contains papaya enzymes as their secret weapon, which sneakily digest dead skin cells.
To be honest, I don't think one performs better than the other. Sometimes the skin can feel a little stripped of sebum after a vigorous session with The Body Shop scrub, but since I have an oily skin that never worries me too much. On the other hand, as I mentioned with the Monu scrub the base is a rich creamy texture so naturally it leaves your skin feeling a little more hydrated. I guess this is down to the high content of shea butter, which is also an ingredient in The Body Shop's one but in a smaller quantity.
Both scrubs are aimed at all skin types and both have the same suggestions for usage – two or three times a week on oily skins and once or twice on dry, sensitive or mature skins.
I genuinely love both products and would recommend either of them to anybody. Although, having said that… I'd been planning to repurchase The Body Shop's one when I finished the tube but I think I may just change my mind and go for the Monu one for the slightly better value and overall more luxurious feel.