I would be shocked and appalled if you weren't even vaguely aware by now of Illamasqua's upcoming Spring/Summer 2011 collection, Toxic Nature. Everybody's talking about it, and rightly so! I attended the launch event for it on Wednesday evening, and was thrilled to see that Illamasqua have outdone themselves yet again.

We're all used to Illamasqua's mostly dark and moody feel, so this collection of lurid neons, muted pastels and muddy earth tones is quite a departure from what we're used to from them but there is still the unmistakable Illamasqua edge to the collection.
Initially dreamt up by Alex Box whilst she was stranded by the ash clouds last year, the collection is inspired by the 'natural world fighting back against the genetically modified society that plundered it'. So there's the Illamasqua twist on it! As opposed to most brands' Spring/Summer collections, where everything is sickly sweet, Illamasqua's ideas have evolved from humans destroying nature.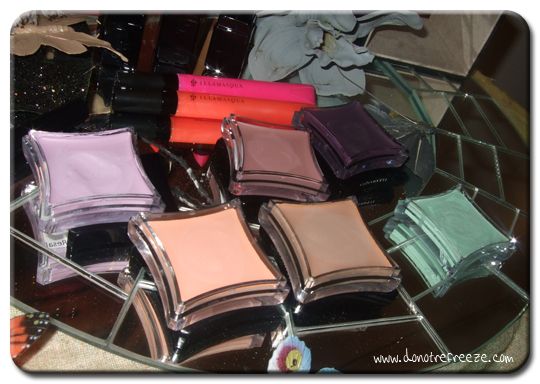 Arguably, the most exciting thing about this collection is the addition of a brand new product, Cream Pigments. A departure from the Liquid Metals and Cream Eyeshadows we already know, these thickly textured matte creams promise to be longer lasting and less likely to crease. These really interested me as they are a truly versatile product that can be used anywhere on the face or body. I absolutely loved Delirium and could happily wear it as an everyday eye colour but could also dab it onto the lips and blend it onto the cheeks for a truly multitasking product. Interestingly, we were told that the cream pigments can also be used in the hair!
Cream Pigment – £17
:: Emerge – Peach (EU only)
:: Bedaub – Mint
:: Dab – Lilac
:: Hollow – Toffee
:: Delirium – Rose Taupe (EU only)
:: Mould – Grape
I was also absolutely enamoured with the newest member of the Precision Ink eyeliner family – a shade called Glister. It's so unlike any eyeliner I've seen before and I MUST have it. It's a shimmering, opalescent nude colour which is a far cry from my beloved black liner, but something in me desperately wants to start sporting it on my lashline every day.
Precision Ink – £17
:: Glister – Glistening nude
The collection also features two new lipsticks, and two lipglosses. Many people are reporting the Sheer Lipgloss shades to be new but they are actually part of the permanent line, just being repromoted with Toxic Nature as they match the lipsticks. I really loved Atomic lipstick, but I have similar colours so will probably skip it. There is also a super on-trend bright orange for the brave among us!
Lipstick – £15.50
:: Atomic – Fuchsia violet
:: Flare – Bright orange
Sheer Lipgloss – £13
:: Divine – Fuchsia pink
:: Torture – Coral peach
I didn't swatch everything, but below are pictures of Glister liner, Emerge, Delirium, Dab and Grape cream pigments, and Atomic lipstick.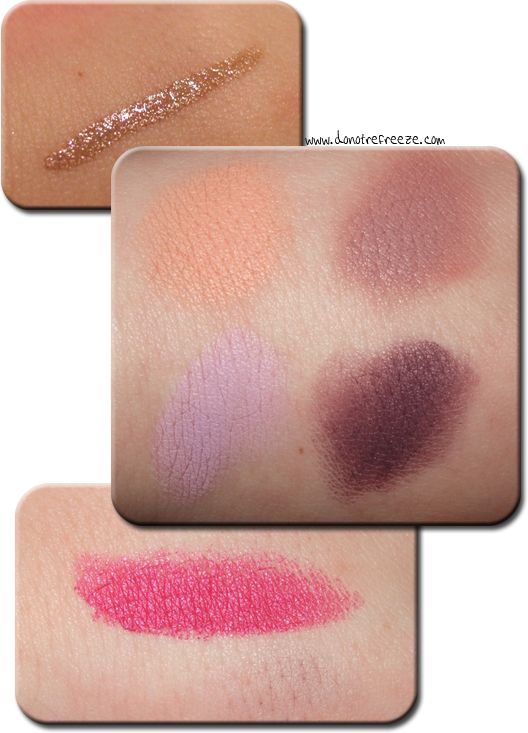 An Illamasqua collection wouldn't be complete without some nail polishes. This quintet, ranging from warm taupe and insipid peach to retina-burning green and orange neons, does not disappoint.
Nail Varnish – £13.50*
:: Gamma – Neon orange
:: Radium – Acidic lime shimmer
:: Stagnate – Grey mauve
:: Bacterium – Pearlescent ash ochre
:: Purity – Peach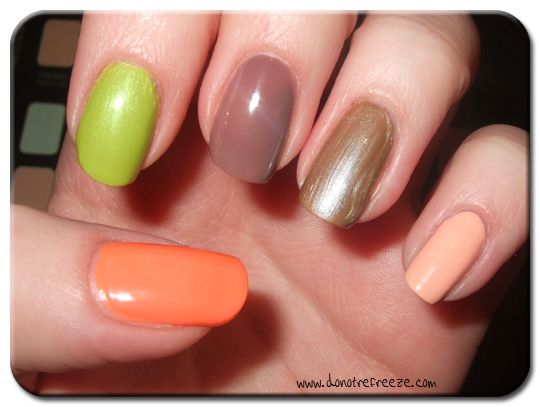 The very last item in the collection is the Toxic Claw (£35). I HATE these. Sorry! Another astromically priced pair of false nails for the thumbs, designed and hand crafted by Mike Pocock, these follow on from the Nail Quills. At least those ones looked cool, but I really dislike the Toxic Claw! They are multi-layered, and to me they just look like a pair of fat, disgusting woodlice. Again, I can't see many people willing to shell out £35 for these.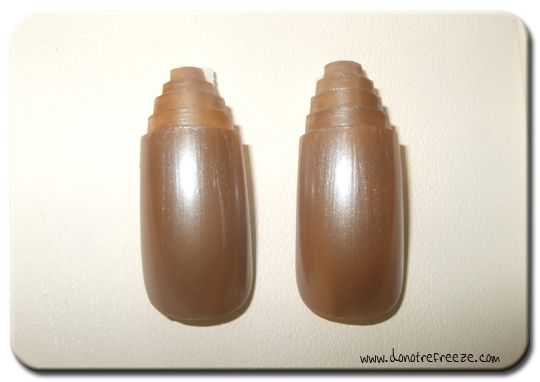 You know I mentioned about the cream pigments being used in the hair? Milly had a go at it using Ling as a model. Doesn't this look so cute? Obviously it would need a bit of combing through to get it looking just-so but you get the idea.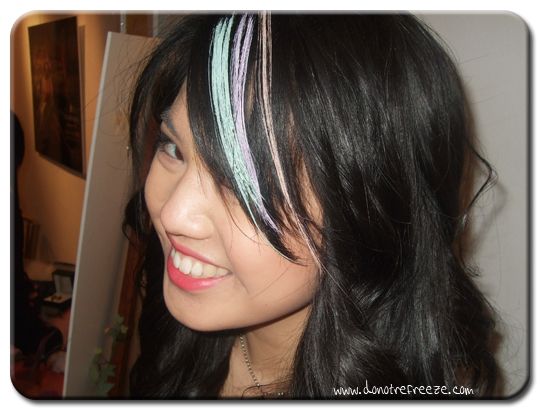 Well, I can't mention a new Illamasqua collection without showing you a couple of the promo images, can I? I swear, their images get more and more amazing every time. I feel completely inspired by this collection. How about you?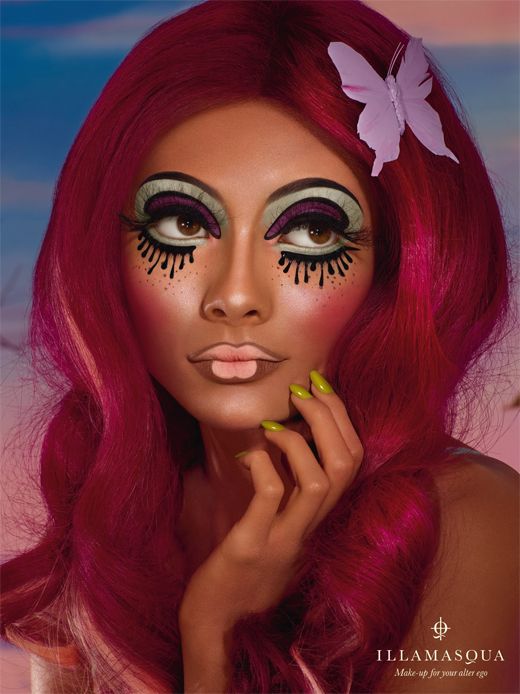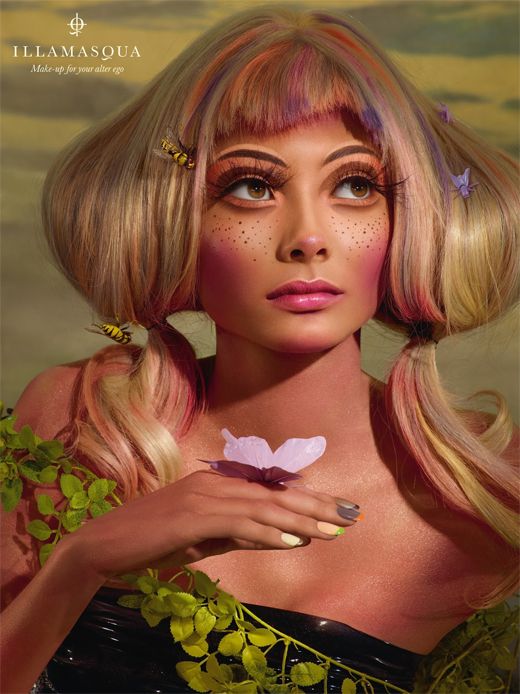 The Illamasqua Toxic Nature collection will launch online on 10th March, and in the Flagship Store and counters worldwide on 17th March.
Is there anything you desperately need from this collection? Tell me all about it!
* The polishes cost £13.50 individually, but there are a couple of money-saving options on the site. You can get a duo of Bacterium and Purity, and a duo of Radium and Stagnate for £21. That would save you £5 on each pair, if you're interested!