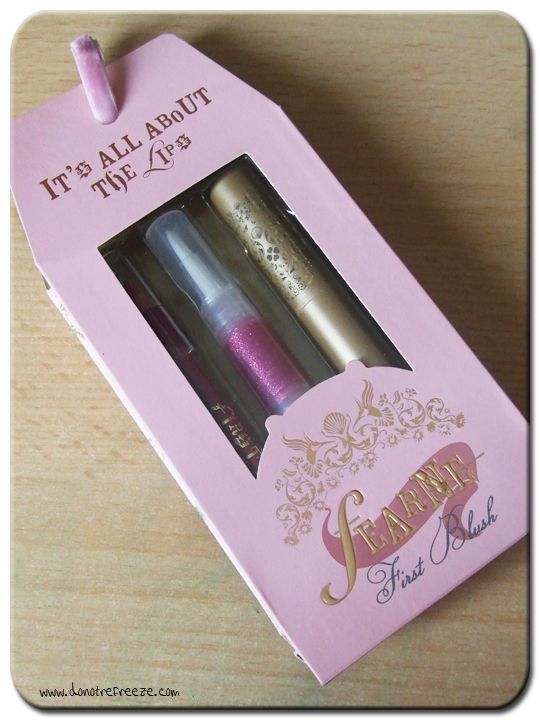 It can't have escaped your attention that the enviably well-dressed Fearne Cotton has added some more products to her little cosmetic line and it is to become more widely available in Boots stores. A couple of years ago, Fearne used to really get on my nerves (and I still think she says 'WOW' too much on the radio), but Celebrity Juice has totally converted me to her.
I haven't actually seen any of the products in any Boots stores near me so I wasn't sure what to expect, but I received a couple of bits from the range, and I really wanted to show you this 'It's All About The Lips' kit. I have the pink one, but there is also a red set, a purple set and a nude set.
Included, for the tenner it will cost you, is a lip pencil, lipstick and click-pen lipgloss. The lipstick is a normal size, but you can see the pencil and gloss are not full-size products. Unfortunately I can't tell you the weights of the pencil or lipstick as there is nothing written on the products or the outer packaging, but the lipgloss is 1.7g.
The pencil is just what I'd expect in a standard lipliner – firm, so easy to get a precise line, but quite creamy so easy to fill in the whole lip if you use it on its side. I actually really like the lipstick, a rosy pink shot through with subtle gold shimmer. Really summery! Both the pencil and the lipstick (especially when combined) last a good 5-6 hours but will naturally come off when eating and such. I'm not so keen on the gloss, it looks and feels like a cheap, less pigmented version of MAC Dazzleglass. It's very sticky, not much colour to it but lots of sparkle.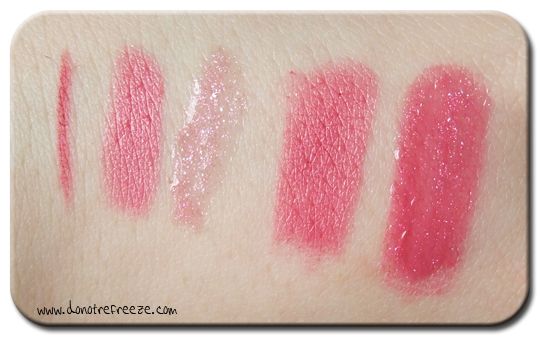 L-R: Pencil, lipstick, gloss, lipstick over pencil, lipstick and gloss over pencil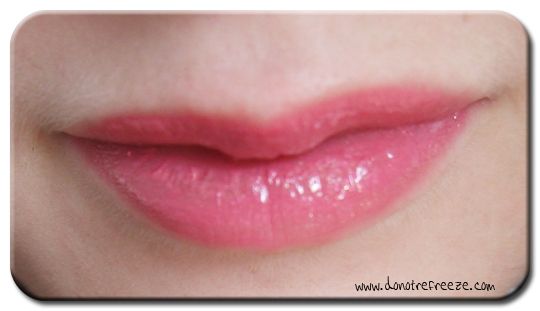 All three products layered
I like that you can get several different lip looks from the set by either using the products separately, or together in more than one combination. I just wish the products had individual names! I don't know if that's just me being pedantic, but if I was to wear one of the products in an FOTD or if someone asked me what I was wearing, I'd like to just be able to say 'Fearne Cotton Rose Gold' or something, rather than 'the lipstick from the pink lip kit by Fearne Cotton'. Is that just me? One more little criticism – I like the presentation of the products in the gift bag, but that does mean that you won't be able to swatch things in store which is an annoyance because you can't see what the lipstick looks like in its opaque packaging.
Overall, a nice little kit that presents reasonable value for money. I'm not likely to use the gloss, but the pencil is useful and I really like the lipstick especially. Lovely colours for summer that go beautifully with a plain eye with lashings of liner and mascara, or a soft peach or gold eye look.
What do you think? Do you reckon you'll be trying out anything from Fearne's range?
Fearne Cotton: It's All About The Lips sets are available in pink, purple, red and nude and cost £10 each from selected Boots stores and online.