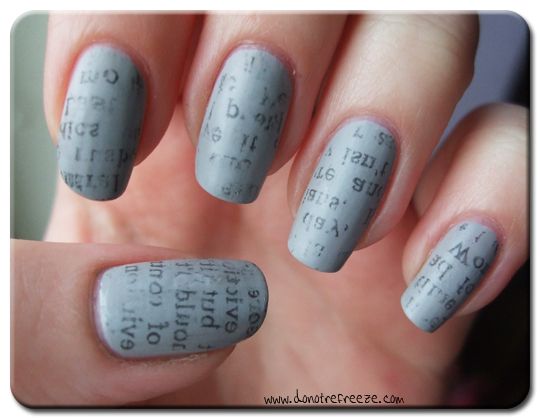 Have you ever seen newspaper nails before? I hadn't until I came across this amazing blog post recently. I was so excited by it that I had to immediately remove my polish and give it a go!
You can see that my attempt wasn't brilliant but it was a lot of fun to do. I tried it exactly as the tutorial suggested but had a few problems – the print was coming out really faintly so I changed a couple of things to work better for me.
Dominika used vodka to transfer the newspaper print to her nails, and she kept her nail sitting in the vodka for a while before placing the newspaper on top of it. Instead, I found that surgical spirit (rubbing alcohol) worked better than vodka to transfer the print, and instead of soaking my nails, I used tweezers to dip the newspaper into the alcohol and pressed that onto my nail.
You can see that the print still didn't come out perfectly, but it's certainly better than when I tried with vodka. I definitely want to give this a go again – I think it would be a really cool thing to master!
The base colour I used was Model's Own Misty Grey, and I also decided to finish it with No7 matte topcoat to make it look more paper-like. Have you ever tried newspaper nails?