I'd been uhm-ing and ah-ing about doing a nail collection post for quite a while now but was worried that some people consider these sort of posts to be braggy. I asked on Twitter sometime last week, and the answer was a resounding 'DO IT' so here you are! Honestly, there's not nearly as much as I thought there was until I laid it all out. Although I did recently throw out about 20 that were dried out beyond repair and give a few kilograms worth of unwanted polishes to Kim back in January.
I've been using these fugly-yet-functional office drawers for my nail stuff for quite some time now, they're just tall enough to allow every brand of polish I own to stand upright! I lined the bottom of each drawer with baize left over from when we re-covered the pool table to stop the polishes sliding about when I open and close the drawers. On the top is sanitiser, scrub and lotion for my 'kit' (does that make me sound like a knob?) which haven't got a proper home yet, and you can also see a super flattering photo of my sister on the left that was taken about 6 or 7 years ago!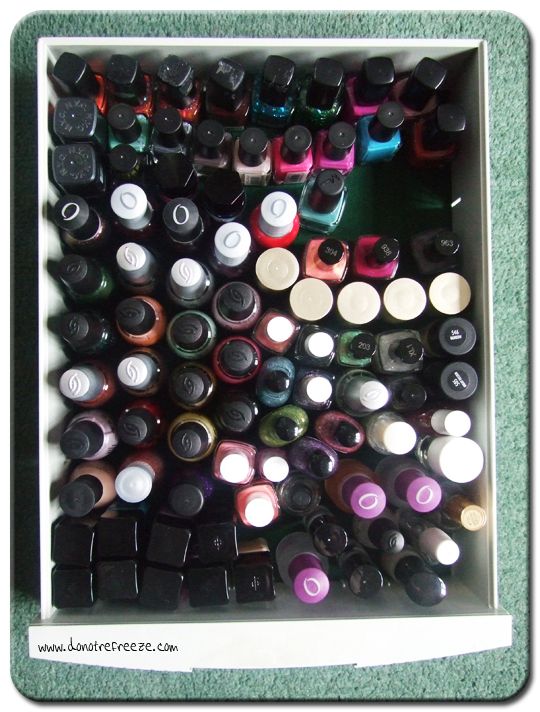 My polishes are roughly organised by brand although there are a couple of strays floating about separately. The top drawer is home to base and top coats, Illamasqua, China Glaze, Orly, Accessorize, Inglot, Essie, Milani, Barry M, BYS and NYC.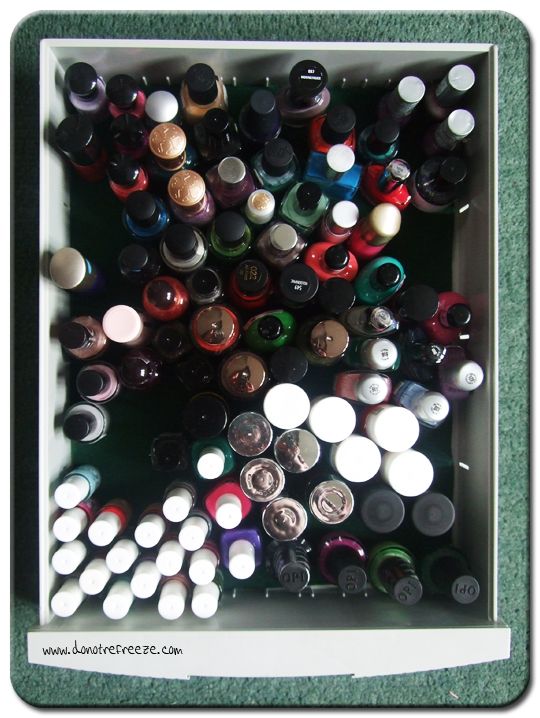 The rest of my polishes are in the middle drawer. Stuff like Eyeko, OCC, Models Own, Nails Inc, a bunch of drugstore polishes, a handful of American ones, and a couple of Asian ones courtesy of Jules!.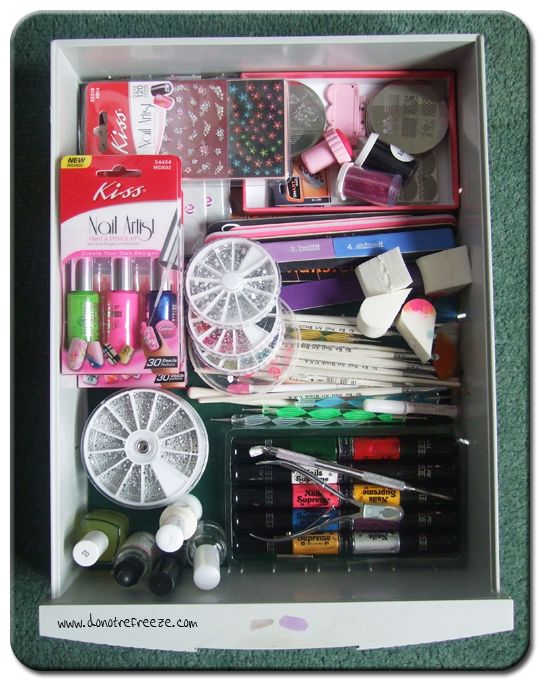 The bottom drawer is where nail art supplies live. Stripers and pens, rhinestones and manicure tools (cuticle pusher, nippers, cuticle remover and oil etc), stickers and water decals, files and buffers, you name it.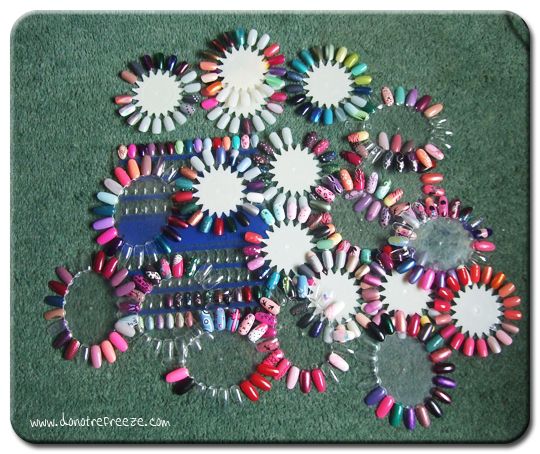 Quick bonus – nail wheels. I don't actually keep these in the designated nail drawers 'cause there's not enough room, but I do have an entire drawer dedicated to them in the set that's underneath! These were all from eBay. You might spot a couple of familiar nail designs – I sometimes test out an idea for a new tutorial on a wheel before going for it on my nails!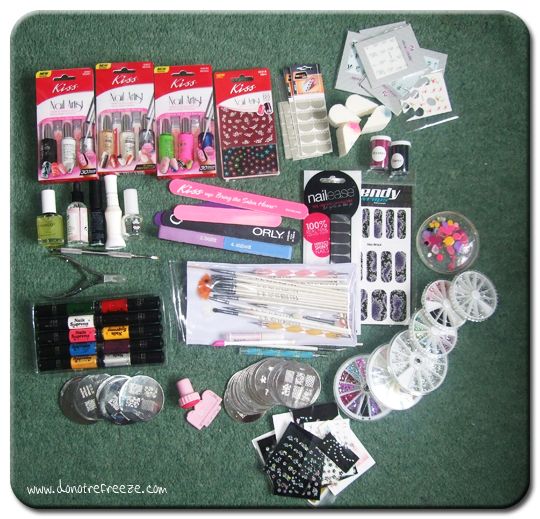 Contents of the bottom drawer. Nail art pens, Konad and BundleMonster stamping plates, nail art brushes and dotting tools of all shapes and sizes, a load of rhinestones in varying sizes, lots of stickers and water decals, a couple of loose glitters, manicure tools, SmART Nails stencils, sponges for gradients, nail appliques and some Kiss Nails products I received at the National Beauty Blogging Event on Monday and have yet to try!
Now we make a start on the polish drawers. Base and top coats, including what I always call 'effect topcoats' – I don't know what you should really call them. Stuff like GOSH and Inglot flakies, holo/sparkly topcoats, matte topcoats…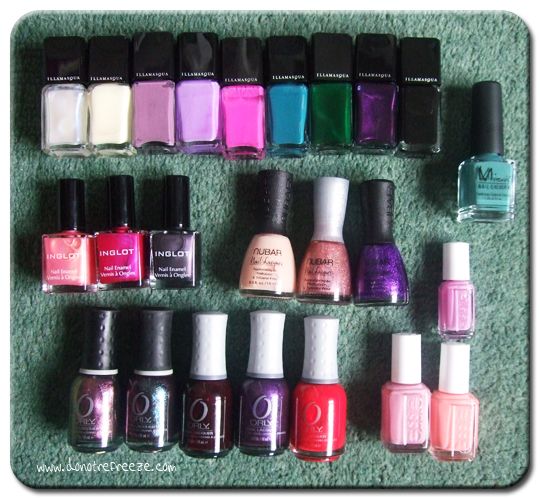 Illamasqua, Inglot, Nubar, Orly, Essie and one lonely Misa (Dirty Sexy Money! I have wanted this for SO long and managed to get it on Monday!)
China Glaze, Nails Inc (and Diet Coke!), a Clatty and an unlabelled from Jules, a couple of Sportsgirl from Jacie, and a couple of Pure Ice and a Confetti from Kayla.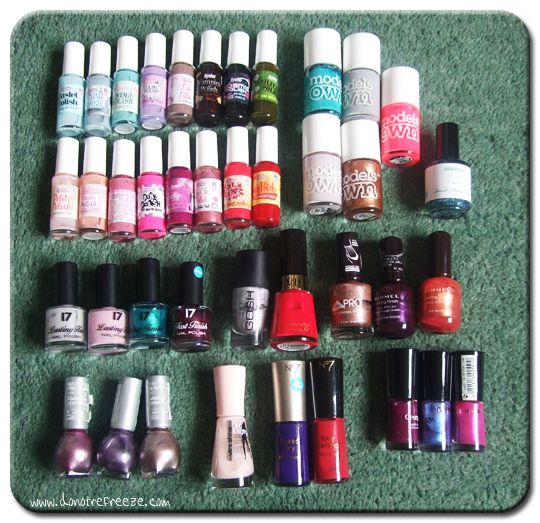 Eyeko, Models Own, 17, the elusive GOSH Holo (which I hate, btw), a lonely Revlon and Bourjois, a few Miss Sporty (fab for stamping), No7, George@Asda, Rimmel (shudder). And you see that single bottle next to the Models Own ones? That's a franken by Brooke, which I helped her to name 'Russian Gravy'. It's OPI Russian Navy with a crap-ton of glitter thrown in!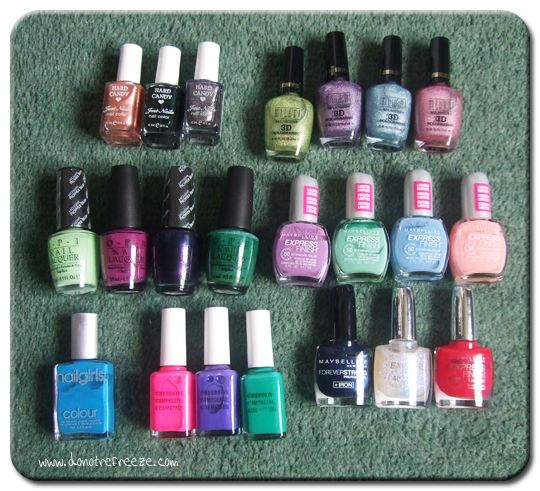 Hard Candy, Milani, OPI (yep, I only have four – I don't really 'get' OPI), American and British Maybellines, OCC, and a lonely NailGirls one.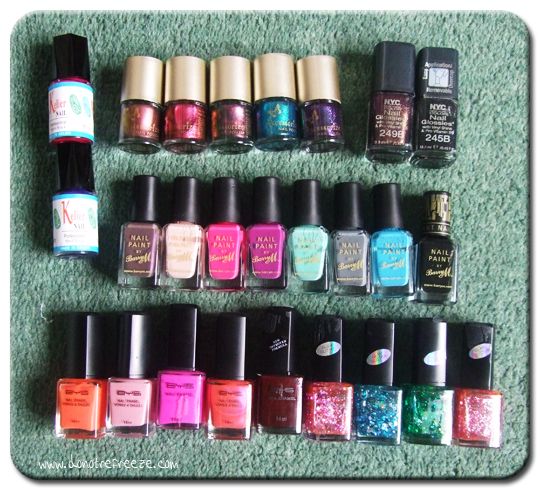 Nearly there now… Accessorize, Barry M, BYS, two NYC and two Kelier crackle polishes.
Vital (99p from a market stall..), Color Club minis, a couple of Glitter Gal minis, Claire's Mood, Guppy, Collection 2000, NYX, and a few odd ones – MaxFactor, Pixi, MeMeMe, another Clatty and another NYC.
And that's it! There's 186 there. Not actually as bad as I thought!
Have I given you any lemmings now?