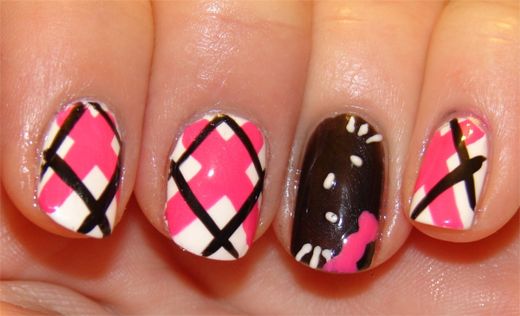 I have a guest post for you today, from a brilliantly talented lady named Stacie Fields. Stacie writes Kawaii Nail Art – just go and take a little peek at her blog for me, and then consider the fact that she started doing nail art in November 2010. Amazing, right?
Stacie kindly agreed to write a guest tutorial for Do Not Refreeze, I really hope you enjoy it!
***
Thank you so much for letting me guest post, Leanne. I am very excited so I couldn't just do anything so I decided to do Hello Kitty!
Step 1: After prepping your nails, paint your thumb, index, middle and ring fingers white, I used Models Own in Snow White. Paint your ring finger in black, I used Barry M in black.
Step 2: Paint on bright pink X on the white nails, make sure the white is reasonably dry before trying this or it will shift. I used Models Own in Sophie's pink and a Daler Rowney liner brush, it was in a pack of 7 I got from Dunelm mill, they have white handles.
Step 3: Using a nail art striper brush paint on black lines parallel to the pink cross.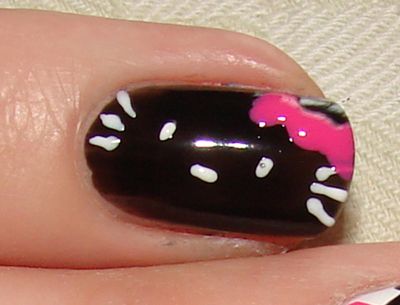 Step 4: Paint Hello Kitty's face on using the nib of a nail art pen.
Step 5: I used a short brush to do Hello Kitty's bow, basically 3 blobs in a row, with the 1st and 3rd I flared the brush to create the bow.
Final Step: Apply top coat. I used Seche Vite.
I hope you enjoyed this tutorial and would love to see your take on it
Stacie xoxox
***
Thank you so much for sharing this tutorial with us Stacie!
So what did you think? Will you be keeping an eye on Stacie's work from now? You should be! ;P