I haven't done a monthly favourites post since November's one! I did do a Best of 2010 post (and one for nail polish) in place of December Favourites, and I guess January was just too much of a busy month, especially towards the end! But I'll be back to doing these on their proper monthly basis now :)
:: Kryolan lipliner 906 – I wouldn't be without this any more. I got it at the IMATS in January (and mentioned it in my IMATS haul post). It cost something ridiculously cheap like £4.60 or so and I love it – the colour definitely features a blue undertone which makes it super flattering on my icy cool skintone. The product is so smooth and creamy, but firm enough to apply accurately without smudging. I like to fill the entire lip in with this before applying my lipstick – and it works so well with SO many shades! I actually even like the colour on its own with a slick of lip balm on top.
:: Illamasqua Wanton lipstick – Another IMATS purchase, but one I had wanted for ages. Quite a 'grown up' pink in my books thanks to the mauve tones in it, but certainly not aging or anything. My go-to lip combo this month has been Wanton applied with a brush over the Kryolan lipliner, the cool tones of the liner add another dimension of colour to Wanton from beneath. An easily wearable, but noticeable, lip combo!
:: BeneFit Sippin' & Dippin' Creaseless Cream shadow – I bought this from Marcia in a blog sale some time ago, and I've used it so frequently since! The photo above washes the colour out a bit, but this is a really, really beautiful golden peach that complements my blue eyes brilliantly. I have reasonably oily lids so I do wear Kryolan eyeshadow base underneath this (otherwise it does crease on me after a few hours), but the colour is what I'm more concerned about! It makes me feel so excited for summer, I love it.
Edit: Leanne informs me that Cheap Smells is selling this for £6.90 – if you like the look of it I suggest snapping it up now as apparently it's discontinued! Click here
:: Inglot eyeshadow 407 – Had this one for ages, I got it in January 2010. I neglected it for a super long time, but when I got Sippin' & Dippin' I noticed they were very similar in colour (although this is perhaps a touch more orange). As I just mentioned, my eyelids can get quite oily so I don't like to wear a cream product on them without setting it so this is the perfect thing to set S&D with! It's such a quick, easy summery eye, I don't even bother with defining the crease or anything. Just this, patted over a slick of S&D, some black liner in the waterline and lashes of mascara make for a super fresh look.
BeneFit Coralista blush – Had this for even longer! I bought this sometime during the summer of 2009 and it was a firm favourite for months on end but I've hardly touched it in about 10 months or so. Not really sure why as it's lovely! I wouldn't buy another BeneFit blush as I think they're so overpriced, but I do love this one (and it smells divine too..). Again, you can probably tell I'm more than ready for summer to show up as I tend to stick to matte blushes in the winter months! Well, I know it's still bloody freezing in England but I'm just getting hopeful what with the teasing bursts of sunshine.
Accessorize Pretty Pink blush – I use this as a highlighter, I wrote a little more about it in this post. This looks amazing just lightly dusted atop the cheekbones, especially when paired with Coralista on the apples of the cheeks as they are in a similar colour family. Obviously this is just a lot lighter, hence using it as a highlight!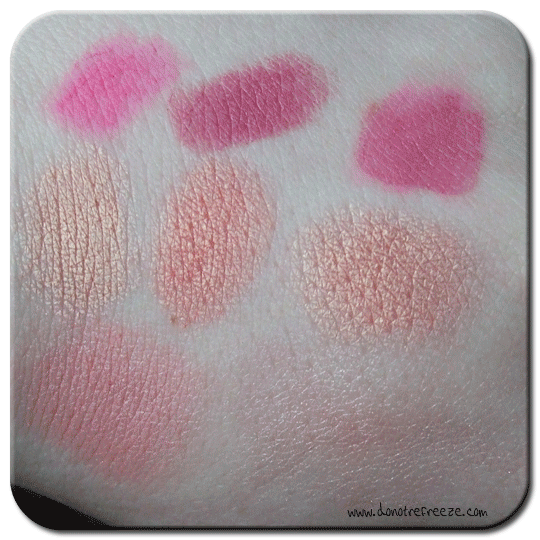 Top L-R: Kryolan 906, Illamasqua Wanton, Wanton over 906.
Middle L-R: BeneFit Sippin' & Dippin', Inglot 407, 407 over S&D
Bottom: BeneFit Coralista, Accessorize Pretty Pink
What were you loving most for the month of February?