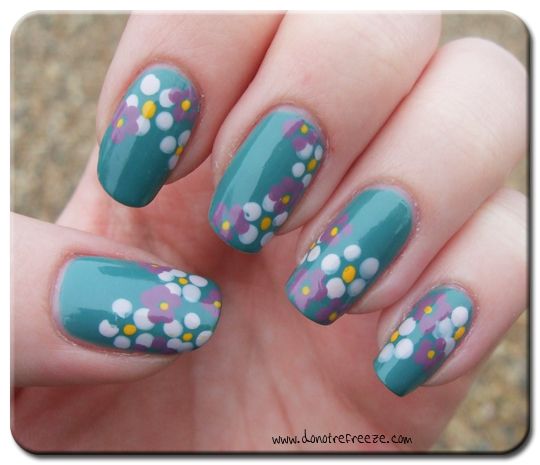 This was totally inspired by the lovely Stacie (who did a brilliant guest post for me last week if you didn't see it). So full credit to her!
I kinda suck at flowers, but I wanted something springy/summery on my nails, then I saw Stacie's post and just HAD to do something similar.
The base colour is Misa Dirty Sexy Money which I have wanted for AGES – like two years. I just never got round to ordering it online from anywhere, then I spotted it at the Professional Beauty Show and couldn't not get it! I can't remember how much I paid for it, somewhere between £3-5 I should imagine.
I'm certainly not disappointed with it – easy to apply, good brush, opaque, touch dries quickly; pretty much everything I want in a polish. GORGEOUS colour too, don't you think?
The flowers were made with a dotting tool and Illamasqua Velocity, and Models Own Utopia. I dotted the centre of the flowers with a yellow Nails Supreme nail art pen and finished with a slick of Orly's Polishield topcoat.
I actually got a few compliments on this one which was nice, as no one ever normally comments on my nails when I'm out and about! I have a confession, actually… when I've spent a particularly painstaking time working on a nail design, I'll try really hard to make people notice. Hahaha, you know, like when I pay for things in shops I try to make my fingernails as visible as possible. Or I'll say to the cashier 'ooh I like your nails' (even if they're all chipped and nasty) in the hopes that they might take notice of mine…
…Haha, that's really pathetic isn't it?
P.S. Hi Katie! ♥ Now get back to work!