I freaking hate your Gold Shimmer dry shampoo. Love, Leanne.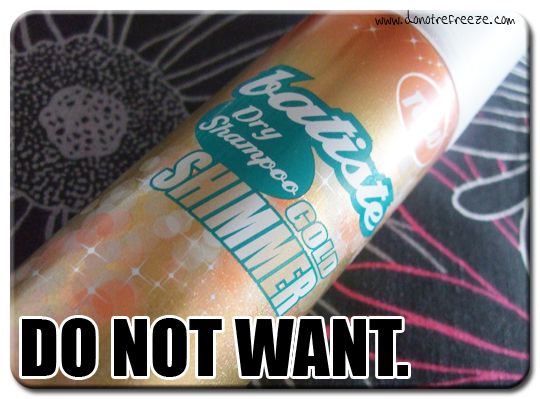 The original Batistes (my personal favourite is Tropical, which has a super summery coconut scent) are lifesavers. I love those. I never got round to trying out the Brunette version when they brought out coloured ones for darker hair to combat the grey tinge we often suffer when using Batiste, so I can't comment on those, but I can definitely comment on this monstrosity.
There are two of these – Gold Shimmer and Silver Shimmer (£3.05 for 150ml). I was given Gold at the National Beauty Blogging Event at the end of February, and oh my word I have never been so annoyed with a product in my life!
The description on the back of the can reads 'Batiste Dry Shampoo with Gold Shimmer revitalises greasy, dull and lifeless hair between washes. Instantly leaves your hair feeling clean, full of body and smelling beautiful with a hint of glamourous pearl shimmer. Quick and convenient to use wherever you are'. Subtle hint?! Convenient?! What a load of bull.
I was a little worried that there wouldn't be a 'subtle hint' of shimmer in it so I decided to try it on a day that I wasn't going anywhere just in case it was awful. And my god, WAS it awful! I used it very sparingly out of fear – very justified fear, it turns out. It was like a fucking glitterbomb had exploded in my hair. That's not the worst part, though.
I have a pretty big bedroom, and my full length mirror is on the opposite end of the room to my computer. Despite this, my desk and computer (and literally almost everything else in the room) is now COVERED in tenacious gold glitter that I can't get rid of for love nor money. How they can say this is 'convenient to use wherever you are' is beyond me – I guess they define convenient as GETTING FUCKING GLITTER OVER EVERYTHING WITHIN 10 FEET.
I was so incensed by this sparkling disaster that I wanted to write this blog post immediately. I was SO angry that I was close to tears, but it was shark week so I thought I was just being overly hormonal about it. But nope, over a week later and my room and carpet (despite three dusting and hoovering attempts) is still shimmering like a fairy spontaneously combusted in here. I'm furious.
Seriously, don't buy this. Please.