Oooh, and I'm gorgeous! You're disgusting, oooh and you're nasty!
…God I hate the Scissor Sisters, but I'm sure I'm not the only one who instantly hears that song when you read the words Filthy Gorgeous. I know I'm a little late to the Filthy Gorgeous party with this one, you must have seen a dozen bloggers show you a few shades each by now but I've had so many posts scheduled!
Trendy beauty service emporium Filthy Gorgeous (exclusively at Debenhams in London and Glasgow) have launched a range of 31 nail polishes including top and base coat. According to the press release, the line includes a 'plethora of shades that will leave any girl simply dying for a manicure'. I have to agree – the colours and the bottles really grab me from the pattern on the lid to the individual detachable plectrum adorning each one which I have since added to my keyring!
There's a whole lot of claims about the formula (which, by the way, is Big 3 Free) including water resistance, shine retention, high durability and so on. But you know me – I can very rarely keep the same polish on for more than a couple of days so I'm not really able to comment on durability. Besides, if you wear a good durable topcoat (which you always should do) then any polish will last as long as the topcoat allows. That's how I see it, anyway. They were very shiny sans topcoat, though, as you can see in the swatches below.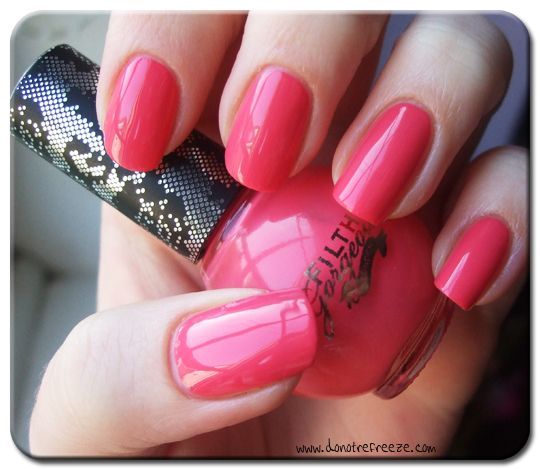 The first of three shades I received is Rosey Posey (part of the Spring/Summer 2011 collection) which is described as a coral pink. I don't know if I'd say coral, but it is a beautiful pink with definite hints of peachy-ness. I absolutely LOVE this, it screams summer and I imagine I'll be sporting this one a lot when the sun decides it's going to stay out for more than a couple of hours at a time.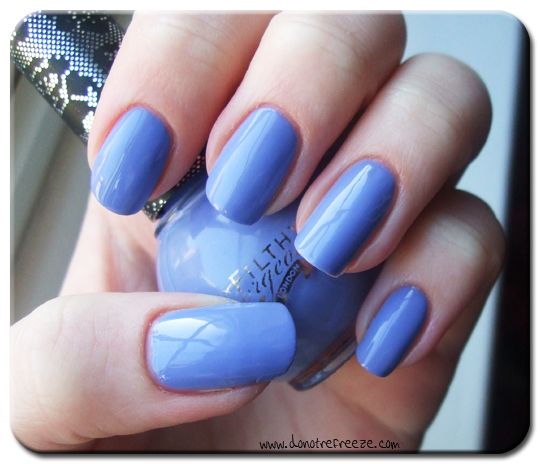 Next is Minx, also a SS11 polish. This hasn't photographed very accurately – the description calls it a cornflower blue, which it definitely is, but it's got a real purple tone to it which I could not get to show up in the pictures for the life of me. Another really cheerful summery colour, just imagine this to be a little more lavender and you've got it spot on.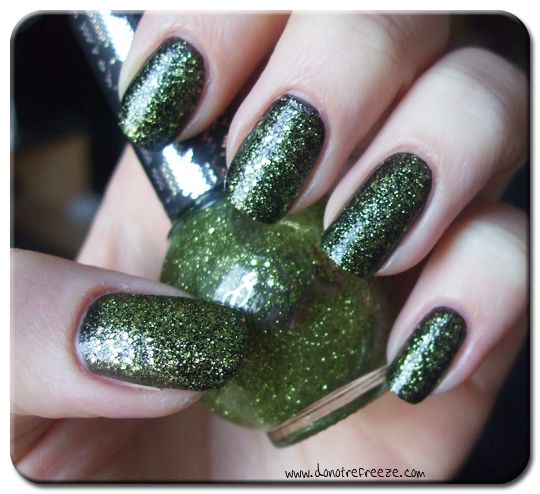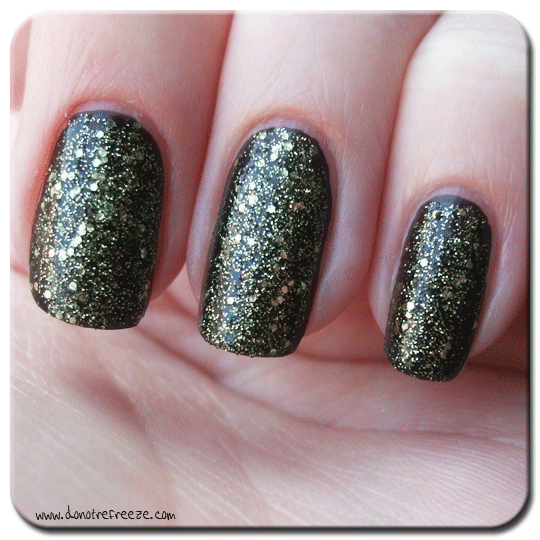 This is Rock Star. Part of the base range, it's described as an antique gold sparkle although I am much more inclined to call it a gold green sparkle! I am much more into glitters now than I ever used to be, and I just couldn't resist showing you more than one photo of this. I knew it was never going to work alone (most glitters in my experience work better for layering), and true to its moniker I decided to slap a coat of it on over black. It's SO hot! The fact that it contains two or three different sizes of glitters makes it so much more interesting and fun. I defy you not to even find this slightly awesome.
All three of the polishes applied like a dream and were touch dry within a few minutes. The cremes were opaque in two coats. I thoroughly enjoyed using these and can't wait to get more wear out of them, and definitely intend to pop along to Debenhams Oxford St and check out some more of the shades. Just two criticisms: They are a little pricey, and also each time I open one of the bottles I end up with weird black smudges on my hands. It washes off no trouble but it's very annoying (and really puzzled me the first time it happened).
Filthy Gorgeous nail polishes cost £9 each and are available from Debenhams in London and Glasgow, or from Debenhams online.