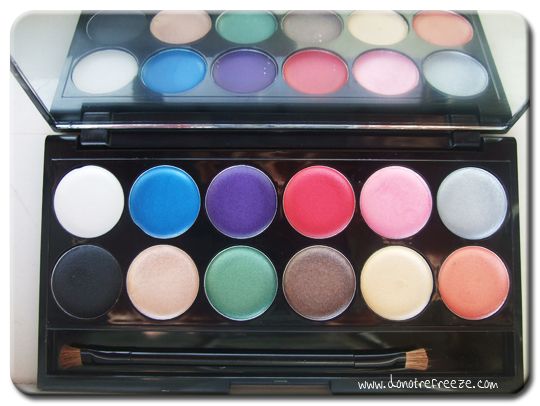 I'd be very surprised if you hadn't already heard of this – the Sleek MakeUP iDivine Primer Palette which hits Superdrug shelves today (16th Feb). The word is that Sleek were selling these a good fortnight before it's release date at IMATS last month, but I have to confess I didn't even go near the Sleek stand at IMATS as I was consumed with too many other brands!
As you can see above, the palette is composed of 12 different coloured cream eyeshadow bases. Unlike other recent iDivine palettes, this one doesn't have an insert with shade names so they will have to be referred to as 'the purple one from the primer palette' etc! It also has an actual brush instead of the obligatory sponge applicator, although the brush isn't very good and certainly doesn't work well with the formula of the bases. Shall we go for some swatches now?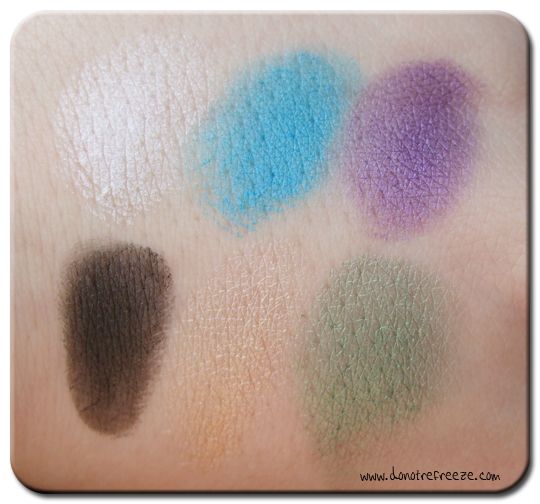 Left side of palette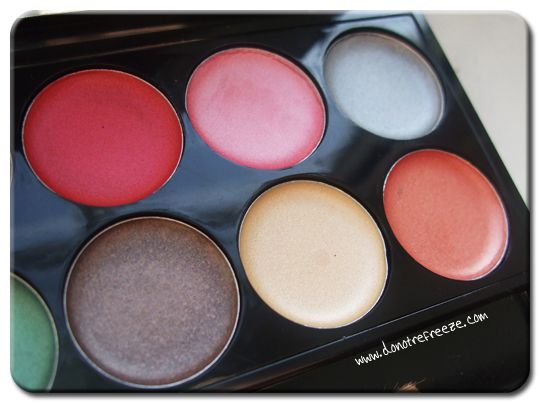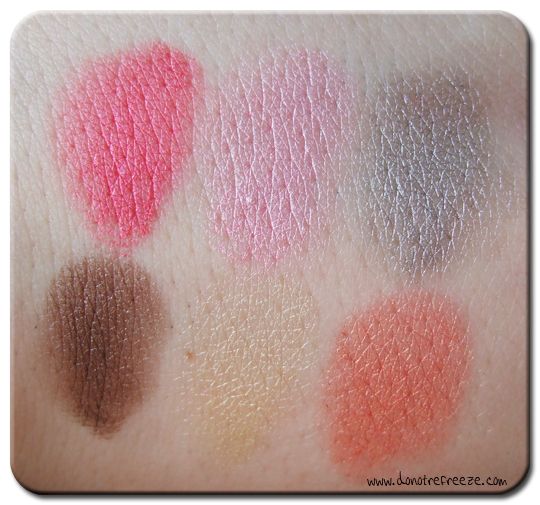 Right side of palette
I wasn't sure what sort of texture and consistency I was expecting from these, but they don't feel too wet or greasy. They certainly don't set by themselves, though so I don't think they're really ideal for wearing alone. In the swatches they appear quite pigmented, but on the eyelid it's a different story. I really struggled to get any noticeable colour payoff or even coverage from any of the colours when using them on the eye – I tried with both a synthetic brush and my finger (natural bristle brushes are a no go with these creams).
As much as I love Sleek, I have a real problem when a brand claims they have a totally crease free cream product. THERE IS NO SUCH THING. Why is this such a hard concept to grasp for any brand, anywhere? We're not stupid, we know that a cream product used on the eyelids will, by it's very nature, end up creasing but I for one would MUCH rather see a press release/advert that says 'remains crease free for 4-6 hours' or something realistic and truthful like that, than claiming the product is totally crease free.
"The long lasting formula of Sleek MakeUP's new iDivine Primer Palette is like no other eye shadow base. Each of the 12 creamy shades is highly pigmented to breathe a new lease of life into your existing eye makeup. The super smooth texture glides onto the eyelids effortlessly without creasing, making it the perfect base for your favourite shade."
DON'T LIE! It creases, and it creases bad. Despite lack of colour payoff I tried using these under powder eyeshadows a handful of times since I received the palette, and each time my eyeshadow has sexily migrated into my eye socket within an hour.
Sorry, I do really love Sleek MakeUP as a brand but this product was just way off the mark for me. Sleek, you do powder eyeshadows SO well – stick to that, it's your forte! Or develop some new colours of your Molten Metals!
If curiosity gets the better of you (and let's face it, my opinion isn't fact – you might get on fantastically with the product), the Sleek MakeUP iDivine Primer Palette is available online and in Superdrug stores nationwide now, for £6.99. I'm not sure if it's a permanent addition to the iDivine range, so if you do want to try it I'd suggest doing it sooner rather than later!
PS: I finally caved in and make a Facebook page for Do Not Refreeze. Would be very pleased if you 'liked' – I'm a total beginner with Facebook as I don't have a personal account but I'm hoping having a page will be a good thing!