This Spring, lipstick legend and Australian entrepreneur Poppy King has collaborated with No7 to create an exciting range of lipsticks and matching lipglosses with the sole intent of bringing women back into wearing lip colour. Hallelujah!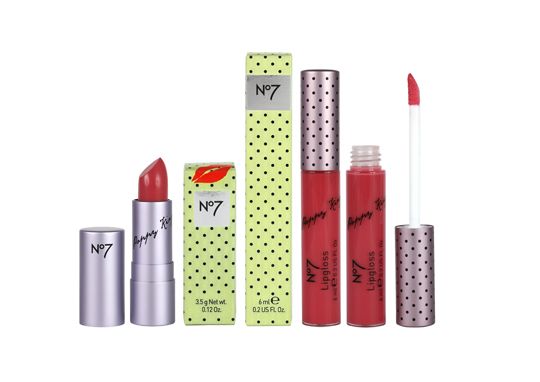 I attended the launch for the range on Tuesday – which will become available in stores towards the end of March – at the frighteningly posh Dorchester Hotel in Mayfair. Honestly, I have never felt so trampy and out of place in my life. But, that aside, Poppy herself was an absolutely wonderful woman and I was delighted by her thought process and her amazing attention to detail for every aspect of the new products.
You see the spotty packaging in the product image above? I would never have imagined that it was inspired by Marilyn Monroe's iconic beauty spot, and by Man Ray's lip motifs. You could never accuse Poppy of throwing something together – she considers every tiny little detail and has a reason for everything. I must admit, the range was completely the opposite of what I was expecting. When I saw 'Poppy King' in the email I instantly expected some bold, opaque shades but these lipsticks are soft, sheer and understated (although absolutely buildable if you desire). Poppy's reasoning behind this is that over the last couple of decades, women have shied away from lip colour and are much more comfortable in a natural looking nude lip; obviously this isn't an issue for most of us in the blogosphere, but we're talking generally here. Rather than trying to force bright, bold, opaque lip colours immediately upon these women, she wants to sort of slowly ease them into feeling more comfortable in lip colour.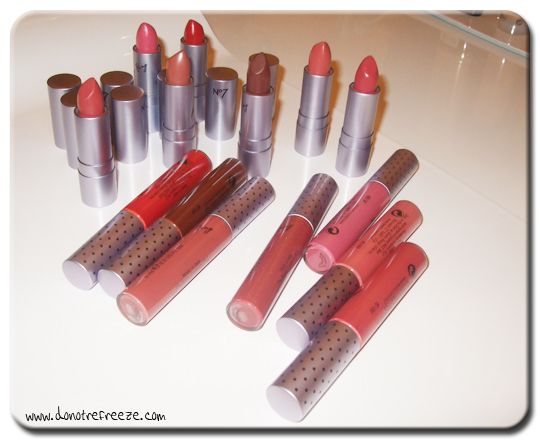 Poppy's first lipstick range, released in the early 90′s when she was just 18, was based on the 7 deadly sins. Now, for this No7 collaboration, she has designed 7 lipsticks and 7 matching lipglosses – certainly a prolific number here! Here's a little ad-libbed breakdown of the colours included:
:: History – The obligatory red. There really is so much history behind red lips and what they symbolised for women through the ages, don't you think?
:: Power – Rose. A subtle but powerful lip colour can really say 'I mean business'.
:: Glamour – Pink. This was my favourite one – Poppy rightly pointed out that most people would assume Glamour to be the name for the red in the range, but she believes real glamour is more classic, elegant and dignified.
:: Seduction – Blackberry. The darkest shade in the range gives connotations of mystery and has a real gothic femme fatale feel to it, but not scary!
:: Intrigue – Pink Nude. Poppy explained that this shade is an intriguing one because it can either be seen as one thing or the other.
:: Confidence – Nude. Again, you'd think of a colour like red for a lipstick named Confidence, but Poppy recognises that today's woman feels more confident in a nude lip.
:: Allure – Peach. Designed to be paired with healthy, glowing skin to give off that radiant vibe that is so alluring.
Lisa Eldridge was also at the launch to talk through the 7 looks she had created on the gorgeous Keeley Hawes, face of No7, for each lipstick. This isn't the best shot, but you get the idea. And you can see Poppy smiling away in the corner!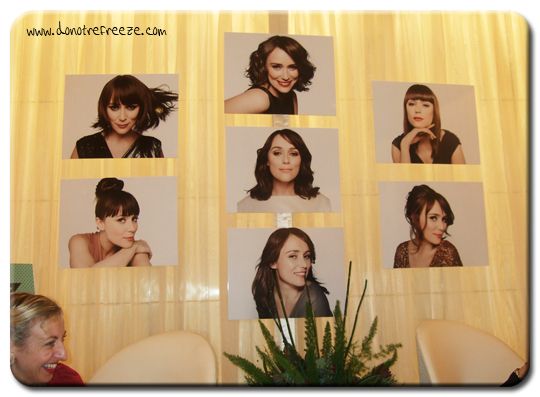 The lipsticks feel so luscious to wear, and even though I am an advocate for bold lips I actually like that you are completely in control of the level of colour intensity you can achieve with these. The lipglosses are not sticky at all, and just finish off each lipstick perfectly although I don't think these are as much of a must-have as the lipsticks.
No7 and Poppy King Lipsticks, £12, and Lipglosses, £11, are available from 23rd March 2011 in Boots stores nationwide and online. When they are released, I definitely want to pick up Glamour and also possibly Allure. Which ones are you liking the sound of?
P.S. Don't forget the £5 No7 vouchers are back at the moment! They are valid until the 27th of March, so if you're wise and you want to give this new range a go then save a few up like I'm going to do!