I've always been quite fond of 17 as a drugstore brand. They manage to effortlessly combine value and quality, which I really appreciate as I find most brands in the same price range to be very hit and miss.

I was kindly sent a couple of bits from 17′s new Spring collection, Vintage Love, to try out. Here I'll be showing you the Pretty Pastels eyeshadow palette and two of the Lasting Fix nail colours in Sweet Kisses and Chaperone.
The Pretty Pastels palette (£5.49) is packaged and presented so adorably! I generally always prefer black packaging over white/cream colours but this definitely looks cute and retro. I think I can make an exception for it! I love the way the colours are laid out inside the palette, too, rather than just in square or circular pans. There's also a mirror in the lid, which is always a plus. The sponge applicators that come in products like this used to really irk me, but now I just chuck them straight in my nail art drawer to add to my sponging arsenal!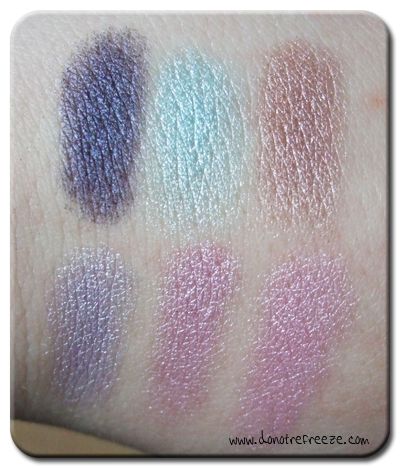 Here's the swatches from the palette. I really like the pinky nude sort of colour on the top right – that's so my sort of lid colour! The dark blue looks nice for something to smudge along the lashline, and I'm sure I could work the pinks into a look. I'm not in love with the cool lilac and light blue, though – they're just not colours that look good on me! The shadows themselves are pretty smooth to apply, though, and certainly well pigmented for the price when you consider they cost about 91 pence each. The only thing I long for is a matte highlight colour in palettes like this, just for convenience!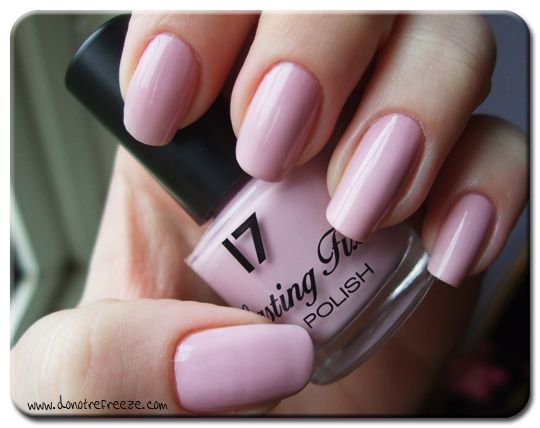 This is the Lasting Fix nail polish in Sweet Kisses (£2.99). I really like the 17 nail polishes in general – the Lasting Fix range more so than the High Gloss ones as these dry a lot quicker and apply more smoothly. These are lovely and opaque, perfect in two coats and each coat is touch dry within a few minutes. I do love pastel shades on the nails for Spring (I'm such a cliché, I can't help it ;P), first of all this colour reminded me of Something Sweet from China Glaze's Up and Away collection (Spring 2010) but this is much less stark and in your face. If you missed out on Up and Away, though, this is a good substitute!
This one is Chaperone (£2.99). This is quite similar to Models Own Misty Grey, but perhaps slightly more blue leaning. I love a light grey on the nails – it's an edgy sort of twist on traditional pastels but it's still got the qualities to lift you out of the winter funk and ease you into Spring/Summer brights. Like Sweet Kisses, wonderfully opaque and perfect in two coats. You can see how glossy the finish on both the polishes is, too – these swatches are without topcoat. No complaints here!
The 17 Vintage Love collection also features another eyeshadow palette in Metallic Nudes (full of golden neutral tones) and two more nail colours in Woo Me (very pale lilac) and Forever (pale coral-peach). Available in Boots nationwide and online, and it's all available now :)
Have you picked any of these bits up already? If not, will you be getting anything?