I'd never heard of Grafton International Ltd before, until sometime in December when Sarah asked me if I'd like to come along with her to gain a nationally recognised manicure qualification! What a silly question – OF COURSE. I also had the pleasure of meeting Kaushal on the day, along with Farrah who also works for Graftons. Kim was supposed to come too but she got messed about by the trains and couldn't make it!

So anyway, after a solid month of excitedly counting down the days, I met Sarah at Euston at an ungodly hour last Wednesday morning to travel all the way up to Tamworth in the West Midlands. I'd never been further north than Lowestoft before so my truly Southern accent felt very out of place! A ten minute taxi ride from Tamworth station deposited us at Graftons' head office, where we were greeted with one of the nicest places to work that I've ever seen! After being joined by Kaushal, we were led to one of the teaching rooms. Graftons is first and foremost a UK distributor of products that aren't widely available here, and not only do they boast an excellent PR and Marketing department but they also offer training in nails, skincare therapies and all that jazz.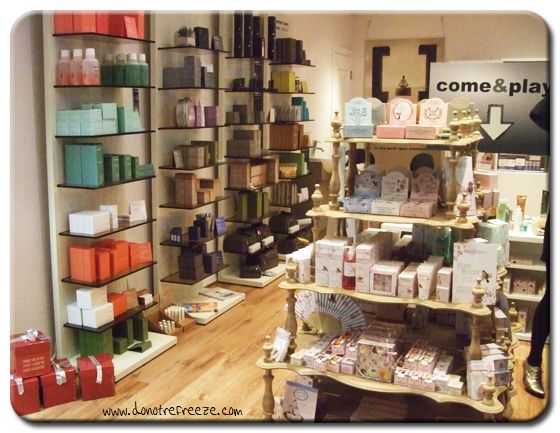 Before I talk more about the day, I just wanted to mention the little on-site shop they had. It smelled so good, and was stocked floor to ceiling with the most adorable products – check out the ones above that look like little cakes! I made a beeline straight for the bargain basket (haha) and managed to get my hands on Orly's Space Cadet and Galaxy Girl from the recent Cosmic FX collection at £2 each. Bargain indeed!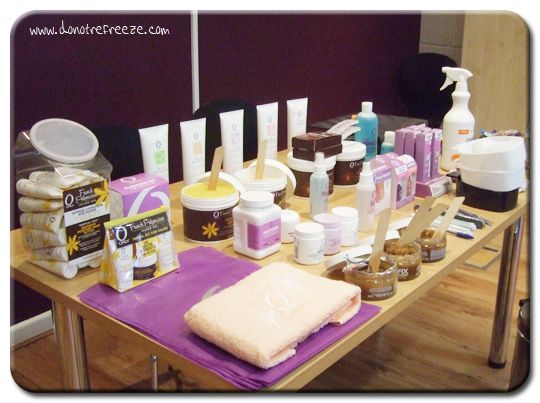 We were blessed with the chance to be taught by Laura Hughes, Graftons' top educator. And she'd lovingly arranged all these gorgeous products for our perusal! How's that for attention to detail? We had a fun icebreaker type exercise, where we had to list 5 facts about ourselves but one must be a lie. Then we all had to guess which ones were the lies! Here's the five facts I used, see if you can guess which one isn't true, just for fun:
1. I use a false surname on the internet
2. I don't have a passport
3. I've never bitten my nails
4. The only colour I've never dyed my hair is blonde
5. I've never had a leg wax
Guess away! Hint – one of them is currently true but will be a lie in the next few months' time so don't guess that one!
Anyway, I learned so much from Laura who was a brilliant teacher. I actually had fun learning all the technical bits and pieces! We also were told an amazing bit of nail trivia – the French manicure was invented and patented by Jeff Pink, Orly's founder! I NEVER knew that. I suppose I'd never really thought about where it came from before. Jeff came up with the idea of a white tip and a sheer pink whilst working in Hollywood in the mid 1970s, as a way to cater for each actress's multiple wardrobe changes. Prior to this, the manicurists were having to repaint each actress's nails for every costume change – effort! Jeff later took his new 'Natural Nail Look' to the runways of Paris where it went down an absolute storm. On his plane ride back to the US, Jeff decided to name his creation 'The French Manicure' in honour of his new Parisian friends. Amazing, right? Oh, and here's another little nugget of information – Orly are looking to broaden their exposure in the UK, starting by introducing Orly Minis in Boots from around March time! Watch this space :)
After all the textbook knowledge was down, we had a practical demonstration from Laura, on Farrah.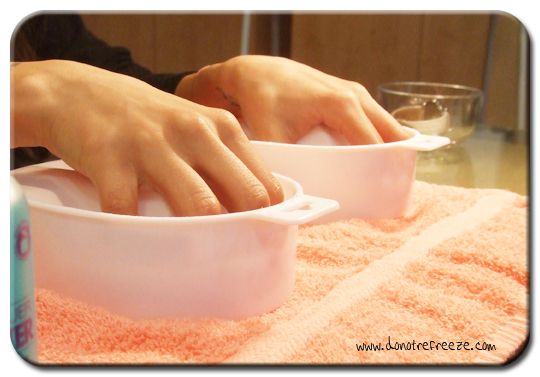 Farrah's fingers enjoying a nice fizzy soak in Orly's Nail Whitener – amazing product, I hope to buy it for when I start gathering clients.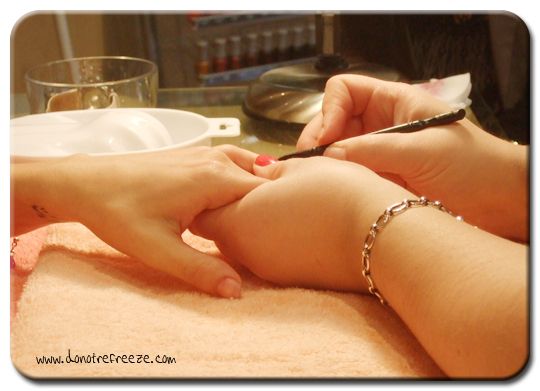 Some cuticle work happening here.
After a thorough demonstration from Laura and a bite to eat, we were let loose on each other! I had lots of fun and was completely stoked at how impressed Laura was with my practical work.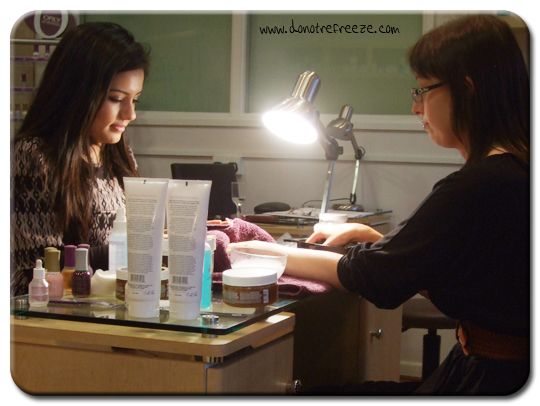 Kaushal working on Sarah's nails.

Farrah's fingers when I'd finished with them!

Brains bursting with newly learned information at the end of the day!
At the end of the day we were presented with our nationally recognised Orly manicure certificates, and a generous goody bag to take away.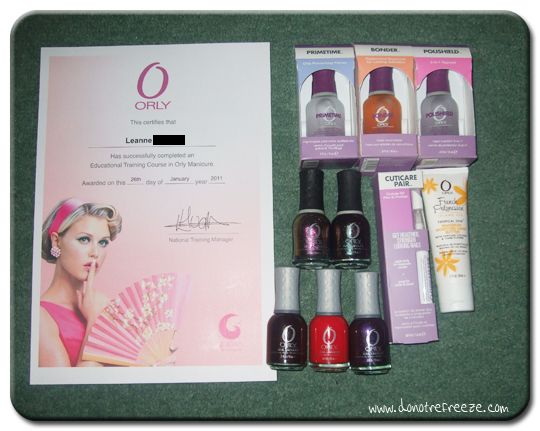 The things I was lucky to waltz away with!
I had an absolutely fantastic day, millions of thanks to everyone at Graftons (particularly Laura and Farrah of course), and to Sarah for thinking of me in the first place!