I did plan to do a couple of Valentine's themed Easy Peasy nail tutorials for you, but I left it far too late to start thinking about it and have had a big old creativity fail, I literally can't think of ONE original idea. So to make it up to you, despite my contempt for the commercialised rubbish that is Valentine's Day, here's a little giveaway instead – I hope that's okay!

I've included a couple of bits from Sleek's Valentine's Day collection (one of which is a dupe for a NARS product according to Wayne Goss), two Accessorize polish (yes, giving the same pair of polishes away AGAIN because I love them that much, I want everyone to experience them), a cute pair of bottom eyelashes from KKCenterHK, and four sets of SmART Nails stencils.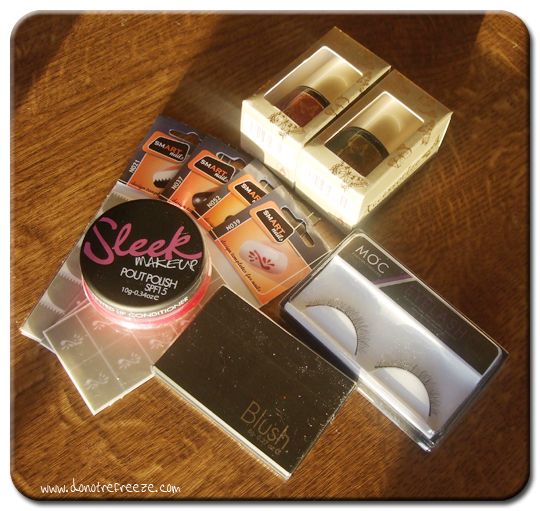 The winner will receive…
:: Sleek MakeUP Limited Edition blush in Scandalous
:: Sleek MakeUP Limited Edition pout polish in Scandal
:: MOC handmade bottom lashes in M4
:: Accessorize Illusion nail polish in Aztec
:: Accessorize Illusion nail polish in Pink Spice
:: SmART Nails stencils in N021, N037, N039 and N052
The basic giveaway rules apply…
:: Open worldwide
:: Must be a follower of Do Not Refreeze
:: One entry per person
:: Leave your email address in the comments
:: Winner will be chosen by random.org
:: Open until midnight GMT on 25th February 2011
In addition to that, you must tell me this in your comment…
Who is the person you admire the most? Your mum, your celebrity idol? Tell me who and why below to win.
That's it! Good luck :)