A while ago, I saw some cool nails on one of the nail art Tumblr accounts, where the nails were white and they had some multicoloured leopard print at the tips. I couldn't remember exactly how it looked, but I changed it up a little bit and used a cream base, and put the leopard print patches in random areas of each nail.
I used three coats of Illamasqua Load as the base colour. This is the only Illamasqua polish I own that requires three coats, it still looks sort of patchy in some places after two. Here's the different polishes I used for the dots..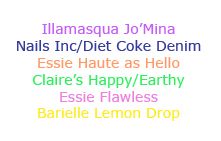 I used the Claire's mood one 'cause I don't have any other really bright greens, but doing so gave it such a cool little novelty touch – when I washed my hands in hot water, the green dots would go so light they almost disappeared, but when my hands got cold the green would get darker. Fun :)
Oh, and I used the black Nails Supreme pen to outline the dots. You might be able to see the fine black smudge on my middle finger from where I didn't give the black pen time to dry before I got impatient with my topcoat!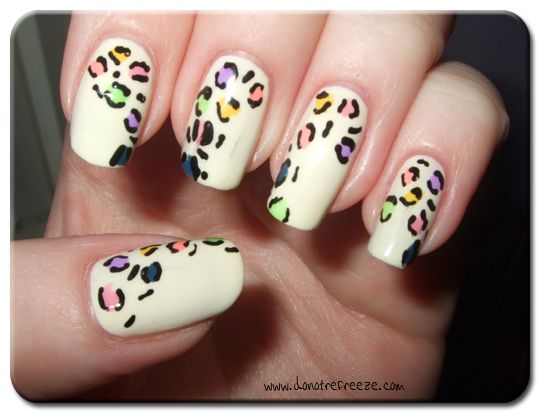 Hope you like :) and kudos to the lady who came up with the design I was inspired by! I couldn't find it when I looked for it, but if I do come across it again I'll definitely edit this post.
Oh! By the way, the winners of my Accessorize mini giveway have been emailed, for those who asked. I didn't see the point in a big announcement since it's just one polish each :)