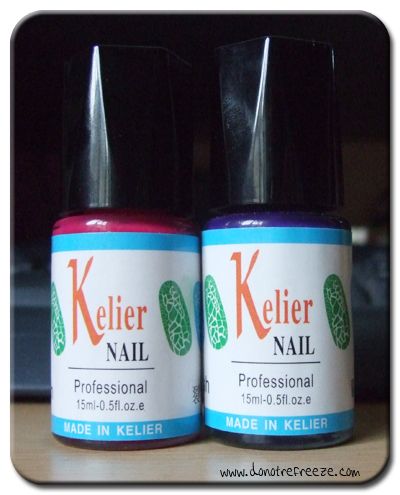 When asked to review these on behalf of Born Pretty Store, I jumped at the chance. I'd never used a crackle polish before the Barry M one, and I instantly fell in love with that so I couldn't wait to try these ones too!
I'm guessing that most of you will have heard of Hong Kong based Born Pretty before as it's been mentioned by quite a few bloggers in recent months, but in case you're not familiar with the idea behind it, basically the more you buy the more you save; that is, if you buy in bulk it becomes cheaper per item. But realistically, people like us aren't going to buy a product more than one or two of the same product, are we? Still, the Kelier crackle polishes are still phenomenally cheap at $4.52 each, or you can buy a set of four (black, blue, green and red) for $15.29. Shipping from Born Pretty is free, by the way.
I tried the purple and red (which is actually pink) crackle polishes, and decided to try them over China Glaze Passion (gold) and Cherish (green). For those who don't know, you can't use a crackle polish on it's own – it won't crackle unless applied over another dry polish.
After using the Barry M cracking polish, I was expecting a really thick consistency from these that would crackle into big chunks on my nails within seconds. These are VERY different though! They are more like a normal polish in consistency, and they took a good 5 minutes before they even began to crack. At first I thought I'd received dud ones that didn't crackle but after some painfully slow minutes it started to crack!
The picture above shows how much it had crackled after about 10 minutes – still not quite finished! As you can see, the crackle effect on these is a lot different to the Barry M (and others), but I quite like it. I don't necessarily think it's better or worse, it's just different and I like a bit of variety! I decided it had crackled enough to apply a topcoat after about 20 minutes.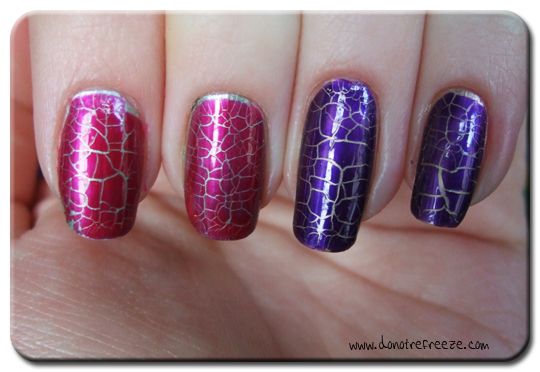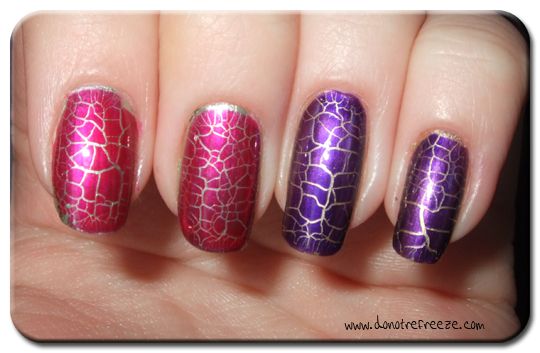 Even though it took quite a long waiting time to achieve the desired effect from these polishes, I'd definitely recommend them, and Born Pretty Store, for a bit of cheap and cheerful fun!