Current! See what I did there? No..? Just me then.

In honour of my nerdy but sexy computer programmer boyfriend, I decided to do some circuit board inspired nails :)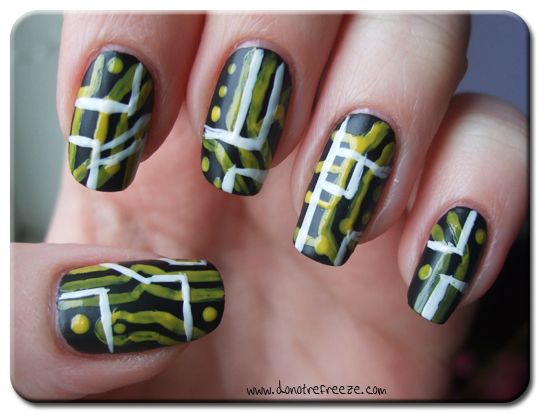 They do look awfully messy up close but in real life, they looked pretty sweet even if I do say so myself! I didn't do a tutorial 'cause all it really required was a bunch of systematic-looking lines and a few strategically placed dots.
I used two coats of Illamasqua Scorn as a base coat, mainly because it's the best black I have but I realised afterwards that the matte finish of this polish made it even more suited to the design. The yellow parts were done with a bright yellow MeMeMe polish (can't think of the name) and a nail art brush – I wish I had an opaque yellow striper to do that with, it would have been much neater. The white parts overlaying that was just a cheap white eBay striper.
I wish I'd decided against adding a topcoat (the picture at the beginning of the post is sans-topcoat) because the extra shininess just detracted from the overall look. If I was to do this again I'd leave it sans topcoat as the shiny white and yellow lines over a matte black base was a really interesting combination. Even so, pretty eyecatching aren't they?
I'm thinking of maybe trying this again with a dark green base colour and silver and copper coloured lines… thoughts?