You may already be aware that ELF have released a new eco-friendly range of Mineral Brushes – I've tried a few of them out and must say I'm impressed.
I am a big fan of ELF Studio brushes anyway (the flat topped powder brush is my single favourite tool for applying foundation), and these certainly don't disappoint. The 100% Taklon bristles are reportedly antibacterial, as well as being pretty much the softest material for brushes in my experience. I have a reasonably well balanced collection of natural bristle brushes and synthetic ones, but I am pretty sure these are the softest I've ever had along with the ELF Studio brushes, which are also made of Taklon.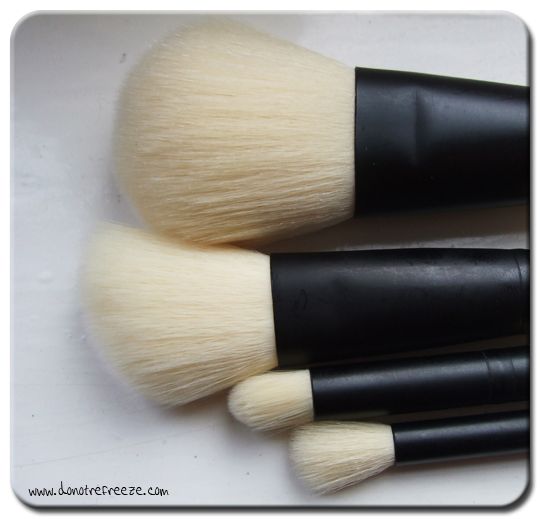 Top to bottom: Complexion brush, Angled Blush brush, Contour brush, Blending Eye brush
All of the brushes are densely packed with bristles, and not too floppy. If there's one thing I can't stand, it's a brush without any firmness behind the bristles as you don't have enough control over placement of your products and end up with a messy job! The Contour brush is the stiffest of these four, which makes it ideal for placing colour into the crease of the eye whereas the Blending Eye brush has a lot more give in the bristles making it more suited to blending colours out after they've been placed. The Angled Blush brush is just your standard one, ideal for contouring the cheekbones if that's something you do. The Complexion brush is so delightful to use due to it's softness! It's a good in-between sort of size which makes it perfect for blush, bronzer or finishing powder, whichever you like.
My only real bugbear with these brushes is their colour! I had them sitting around for a good two or three weeks before I used them because I didn't want to spoil their pristine cream coloured bristles. All the other brushes I own are either black or another dark colour, and even though these ELF Mineral brushes hold up well and don't shed at all when washed, there's definitely a bit of staining going on. If anybody has any tips for me regarding this, please let me know in the comments!
The Mineral range includes most (not all) of the brushes from the Studio range, and they are essentially identical but for the bamboo handle, recycled ferule and cream coloured bristles. Each Mineral brush costs £5.50, versus £3.50 for each Studio brush. It's up to you and your eco-friendly values (and preference of cream vs black brushes!) to decide if the extra £2 is worth it.
The Mineral brushes are also available in a couple of money saving sets, which you can check out on the website.
Honestly, I think you'd be hard pushed to find brushes that offer the quality that ELF do for such a reasonable price anywhere else. As always, ELF brushes get a two enthusastic thumbs up from me!