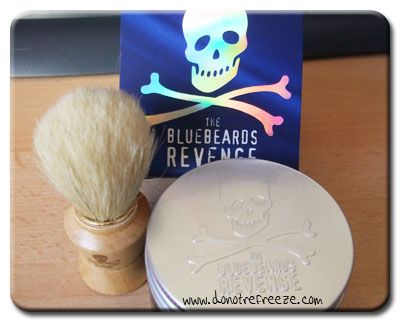 If you are a follower of May Loves Makeup, you will more than likely remember that she did a giveaway for this very same shaving cream last month (and if you're not a follower of May's, you should be. Seriously). I entered the giveaway, telling May that I used to nick my dad's traditional shaving cream and brush ensemble to shave my legs when I was a few years younger!
I got a very pleasant surprise when Nick from Bluebeard's tweeted me telling me to leave my dad's shaving cream alone, and asking if I'd like to give The Bluebeards Revenge a whirl! What an attentive company. Massive thumbs up from the get go! Along with the shaving cream and brush, I got a short magazine type publication with info, testimonials and the like – I assume this comes with every purchase and was really funny to read. Totally sarcastic and completely my sense of humour!
The Bluebeards Revenge is a paraben free premium quality shaving cream developed especially for Desperate Dan lookalikes – you know, the poor guys who have to shave every day to keep their beard at bay and don't suffer so much with a five o'clock shadow as a 'two hours post shave' shadow.
Since ol' Bluebeard is developed for super hairy men, it contains a unique active ingredient called Declerine™. This ingredient has been proven to reduce hair growth. Really! In tests, Declerine™ showerd a 30% decrease in hair length as well as a 16% reduction in hair density after 60 days. If it can do that to a man's diamond-strength facial hair, imagine how well that might fare on our lady leg hairs?!
The product smells absolutely divine. It's so clean and manly, I could sniff it all day. Get your fella to use this and not only will he appreciate the ease of the shave but I'm sure he'll appreciate all the neck nuzzles that you won't be able to resist giving him. It smells SO GOOD!
For those who somehow hadn't realised this yet, I wasn't trying this product out for use on my face. Obviously it's for my legs! I didn't use it in the shower, I just did it standing in the bathroom with a sink full of water to rinse my razor between strokes. I just dipped the very tip of the brush in the cream and that was enough to do a whole leg from ankle to mid thigh. This is all you'll need for each leg: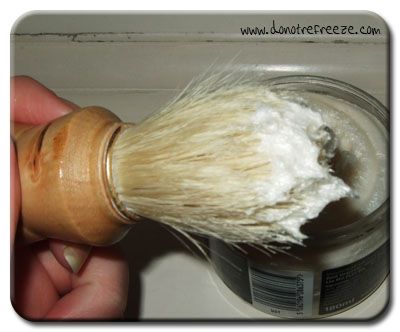 Just a splash of hot water is all this needs to create the most luscious lather. Well, I say lather, it's not bubbly or anything, just deliciously creamy (and again, smells good enough to eat). Just buff the brush all over your pins in circular motions until they're covered in gorgeous luxurious lather. For men, using a shaving cream and brush often leads to a closer shave as the buffing motions with the brush help to lift the hairs away from the face. Same principle goes for our pins!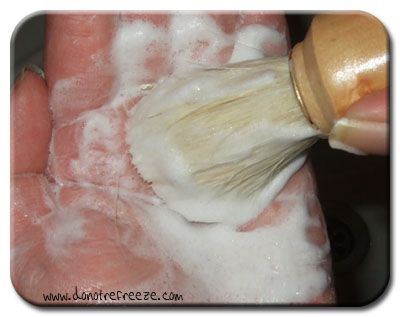 Lovely lather… in my hand as I'm not up for showing you lot my bare legs. They're BIG. Haha :) but what you really want to know is how well it works. I can neither confim nor deny anything about the Declerine™ claims of reduced hair growth as I've only been using this for a couple of weeks (every 3-4 days), but I can promise you that this is the BEST shave your legs will ever have. No word of a lie, my legs are smoother after a shave with this than they ever have been after a wax. And, because the brush lifts the hairs, you can still get an immaculate shave with just a few days' growth. It even made my underarms feel smooth, which I don't think they have done since before I even hit puberty. Haha. Plus, if you spend a bit of time doing it as a separate beautification job and don't just leave it as an afterthought in the shower, it really feels like a good pampering session as opposed to the chore it usually is!
I am definitely going to repurchase this when my sample runs out – which won't be for a LONG time yet since you only need the tiniest bit! I highly recommend it for a bit of a treat to yourself :) I promise it will make shaving less of an arduous task! And, like I said, if you let your man use it you won't be able to stop sniffing him. Mmm!
The Bluebeards Revenge retails at £14.99 for 180ml (which will last you forever) and they will throw in a FREE shaving brush (normally £6.99). You can get it here from the Shaving Shack. If you've shaved your legs with the aid of a proper shaving cream and brush before, I hope you'll consider giving this one a go. And if you never have, you're missing out!