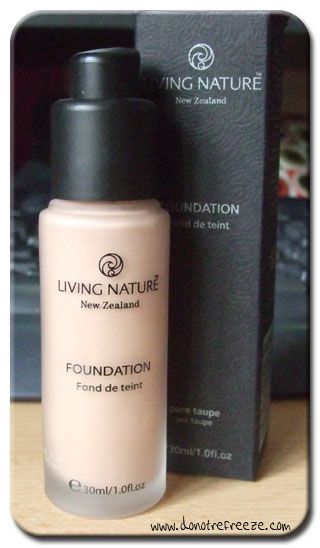 I was recently asked by an online store, Saffron Rouge, if I'd like to try the Living Nature organic foundation. Saffron Rouge are a USA based company who boast a stock of all organic products. I'll admit from the word go that they are pretty expensive, and international shipping can get quite pricey, but the products are supposedly of outstanding quality. So what did I think of the foundation?
"A light-weight foundation that leaves your skin looking soft, fresh and flawless. Lets your skin breathe and feel wonderful."
I tried the shade Pure Taupe, which is the lightest colour they do with a pink undertone. I was really interested to see how I fared with this as I've gone off all my old foundations since I fell in love with my beloved Kryolan foundation.
For a start, let's discuss the packaging. Nice thick sturdy glass bottle with a pump – thumbs up. But no lid for the pump?! Thumbs dooown. This is really not ideal for travelling, as if the pump gets pushed in your makeup bag you'll have a big foundation-coloured disaster on your hands.
Here's the bit that none of us like, but have to endure for review's sake. Before and after of my angry teenage skin: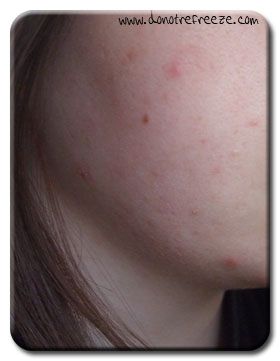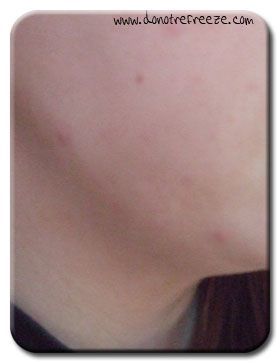 What do you reckon? It's a marked improvement. The coverage is really quite good, and it feels nice on the skin, just a bit heavy. It's supposed to be a lightweight foundation but felt quite heavy and thick to me, although that could be down to the fact that my favourite Kryolan is really very fluid and I seem to have forgotten than other formulas are generally a lot thicker by comparison! I certainly didn't dislike it, though.
It's just a touch too dark for my skin – it will be fine in the summer when I have a bit more colour in my face but whilst I'm in Casper mode I'm always so paranoid about wearing a base that's too dark. I'm one of those people that's always scrutinising other people's makeup and fingernails when I'm out and about so there's no way I could go out in a foundation that was too dark for me!
This one's fine, though, if I either apply it with a damp sponge, or mix it with an equal amount of moisturiser before applying with a brush. This also makes it feel slightly less heavy, which makes me enjoy it even more. Here's a look at the full face.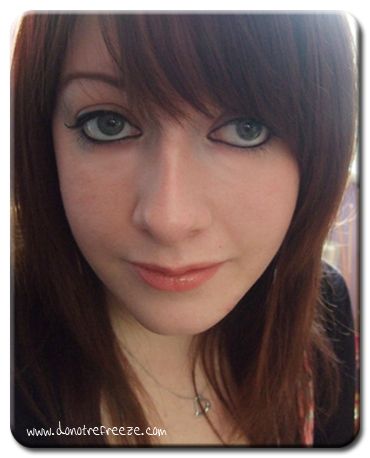 If you're into your organic products and fancy treating yourself to a medium coverage foundation with a semi-matte finish, maybe you'll be interested in giving the Living Nature foundation a try. $37 from Saffron Rouge.