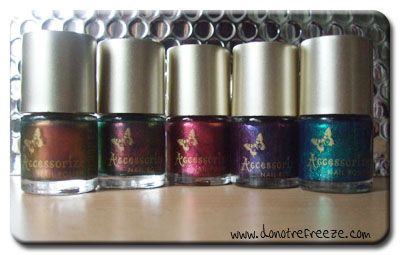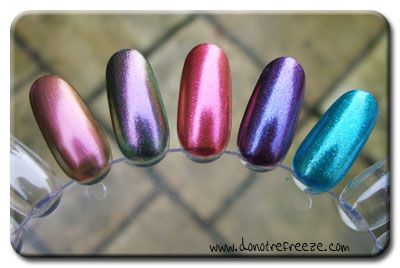 L-R: Bronze, Aztec, Pink Spice, Purple Dream, Mermaid
These are brilliant. Simply bloody brilliant. I just can't begin to describe to you how much I love these polishes! Definite new drugstore favourite.
They cost £4 each and just have the most gorgeous duochrome finishes. As you should probably know by now, Aztec is a perfect dupe for Mean and Green, and Pink Spice is a good dupe for Bad Fairy – both released by MAC as part of the Venomous Villians collection last year.
Take a look at some slightly bigger swatches. I promise you these aren't edited at all, just taken outside on a moderately overcast day. They are honestly this delicious! They all take 3 coats to look perfect but each coat dries quickly and it's so worth it.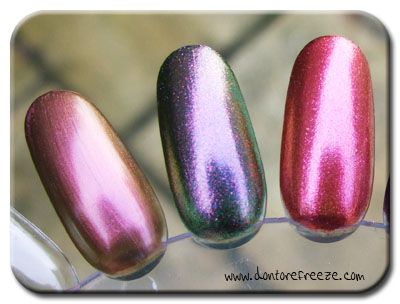 Bronze, Aztec, Pink Spice

Purple Dream, Mermaid
Did you miss out on the MAC nail polishes? Did you get the MAC ones and absolutely hate them because the quality was so appalling? Do you just think Aztec and Pink Spice are gorgeous and want them anyway, regardless of any MAC similarities?
Oh good, then you're in luck :) I bought an extra of Aztec and Pink Spice for you guys to win. There'll be two winners, one polish each. To qualify, please tell me below the reason you first started following Do Not Refreeze. I'd love to know :) open worldwide, by the way. I'll pick two winners on the 1st of Feb. Good luck!
But anyway… go out and buy some of these polishes. You won't regret it.