Like last year, Nails Inc have joined forces with Diet Coke to bring you a set of four lovely nail polishes. The inspiration from this year's quartet comes straight from the catwalk, with Caramel, Denim, Plum and Heather Gray (GREY, not Gray!).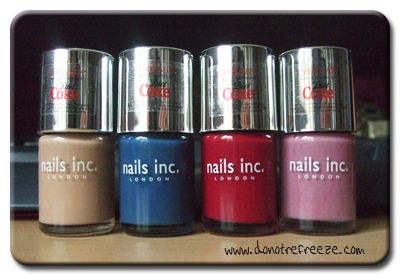 I have no idea how Nails Inc make any money, they are always doing some sort of promotion like magazine freebies etc. But I'm not complaining! ;P

Caramel, Denim, Plum, Heather Gray
These are all two coats – all very nice and easy to apply, and all pretty fast to dry. My favourite is probably Denim, I don't have any other blues like that. My least favourite is Caramel, it's definitely not my kind of nude, it's much too beige/yellow for my skintone. I also love Heather Gray, which I thought was very akin to Illamasqua's Velocity. I had an inkling that Plum was a close match for Paris from last year's collection, which I really liked; turns out that they're relatively similar. See below for a comparison of these :)

Plum, Paris (2010), Heather Gray, Illamasqua Velocity
You can see that Paris was quite a bit more pink than Plum is, but that's about the only major difference. As for Heather Gray and Velocity, again Heather Gray is a little more pink toned but they are pretty close. If you'd seen Velocity before and liked the look of it, but understandably don't want to shell out £13.50 for an Illamasqua nail polish, definitely get your hands on Heather Gray. And then you can chug the coke afterwards!
Overall, this is another inspired and generous collection, and I can only hope that the Nails Inc / Diet Coke will become an annual occurance. If you missed out on the promotion last year and aren't familiar with how to get your free Nails Inc polish; pop in to Boots, grab two 500ml bottles of Diet Coke and your chosen colour, et voila! Even if you're not a Coke fan (I'm not myself), you can't deny a bargain like that. And if you do like it, why not treat yourself to 8 bottles of the stuff to complete the full collection of polishes? ;)
One tiiiny little criticism – I prefered the bottles of last year's polishes. The Diet Coke sticker on the lid looks cheap. :(
Did you see my Bluebeards Revenge review? The Bluebeards themsevles featured my review on their website ! Not only that, but they offered an exclusive discount code for readers of Do Not Refreeze as there were a few of you who expressed interest in trying it out. You can score 10% off Bluebeards Revenge with discount code FREEBBR10. This code is valid until 15/02/11 – perhaps you could get your man a tub for Valentine's Day! For details on where to buy please see the review post.