You must have been living in a convent for the last week or so if you've failed to hear of Illamasqua's mini collection for Valentine's day, called Throb.

I'm not going to spam you with product images as I would quite frankly be shocked and appalled if you somehow hadn't seen them already, but the collection consists of Sangers, a blood red lipstick, Intense lipgloss in Succubus, and three nail polishes – Throb (blood red), Load (rich cream) and Scorn (matte black). You may recognise Scorn as the one that was released along with the Handmade Nail Quills.

Scorn, Load
I was kindly given the opportunity to try Scorn and Load, which is great as it gave me a chance to attempt to recreate the beautiful nail look used in the promo images… this one: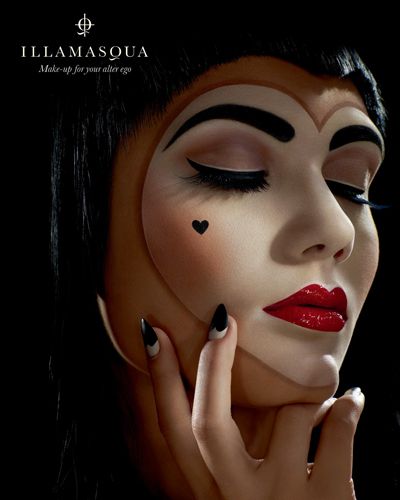 I certainly gave it my best shot but it just doesn't look as cool with squoval shaped nails like mine. But no way in hell am I willing to file my nails into points! Haha.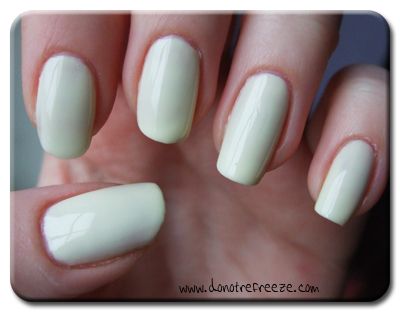 Here's two coats of Load. Gloooriously creamy cream. Looks good enough to eat! Quite an unusual colour for the nails but one I like all the same – a slightly less stark alternative to white. I'm not sure if it's a touch too yellow-leaning for my skin tone though. If I was going to wear this alone I might have added a third coat but since most of it would be covered here, I left it at two.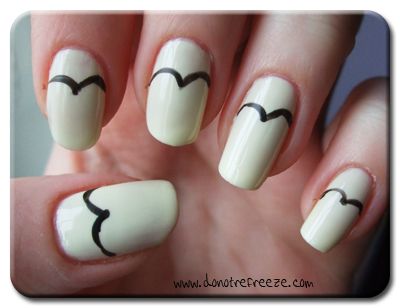 Then I dipped a nail art brush into Scorn and added some Pringles man moustache shapes! They look like upside down moustaches here but I did have my hands up the other way when I was doing it! I used a nail art brush dipped in Scorn as opposed to a regular black striping polish because Scorn is a matte finish so it would have looked odd with this part done in a shiny polish.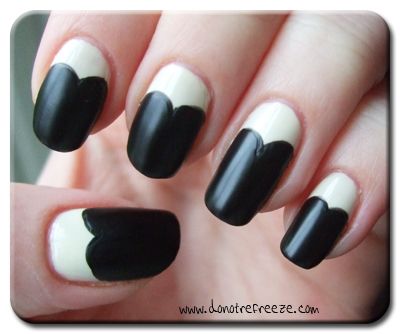 Aaand then I just filled the rest of it in. It's a little wonky, but never mind. I'm really impressed with Scorn, it's SO opaque, I only needed the one coat to do this part. I really love the finish, too, I love how it's more satiny than full on matte. It almost looks like leather!
Illamasqua nail polishes retail at £13.50, and the Throb collection is out now. Available from counters, the flagship store and online.
Overall, two very welcome additions to my collection of Illamasqua polishes!